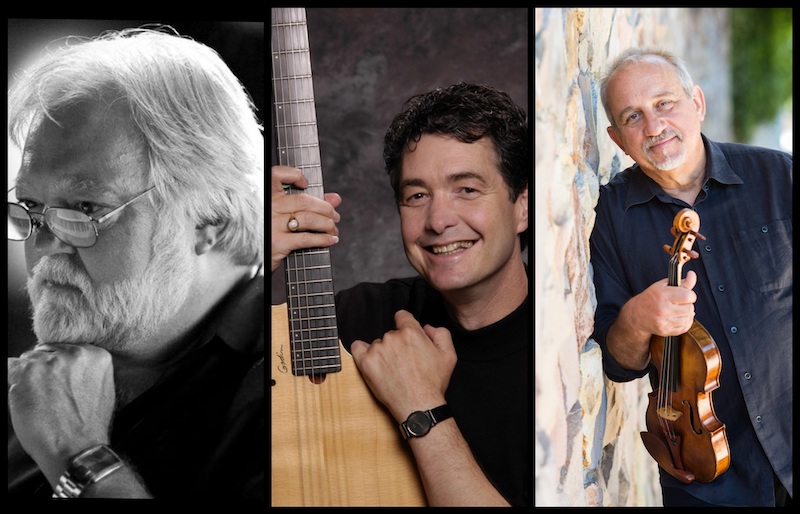 Fri July 23, 2021
THE EDDIE PASTERNAK TRIO (free during dinner)
Doors: 5:30PM Show: 6:00PM
While dining in the restaurant, enjoy the music of:
THE EDDIE PASTERNAK FEAT. JEREMY COHEN & LARRY DUNLAP
Eddie Pasternak is a delightful presence with an abundance of warmth, wit, and charm. He consistently presents himself with the greatest of elegance and class. It is his combination of musicianship, style and personality that sets Eddie apart from other fine local musicians and makes him the perfect musical choice for the sophisticated venues of the San Francisco Bay Area.
For a quarter century, Eddie has been a mainstay of the Bay Area music scene. Eddie's guitar work has been a welcome feature in swing-oriented performances with former members of Count Basie and Duke Ellington's bands as well as in Motown dance bands. He has frequently performed in the Bay Area's finest hotels and major local events. Noted Bay Area music critic Lee Hiderbrand describes him as a "remarkable guitarist who plays basslines and chords simultaneously. He generates intense swing.
Jeremy Cohen's electrifying jazz violin performances have earned him nationwide accolades. Classically-trained and a student of Itzhak Perlman and Anne Crowden, Cohen's eclectic style reflects his respect for a wide range of violinists from Perlman and Fritz Kreisler to Joe Venuti and Eddie South.
Cohen has performed as soloist with numerous orchestras including the Virginia Symphony, the California Symphony and the Reno Philharmonic. His recording credits include motion picture and television soundtracks including "The Dukes of Hazzard" and Jane Fonda's "Dollmaker," and as concertmaster on recordings with Linda Ronstadt, Ray Charles, Aaron Neville, Howard Keel and Cleo Laine. He appeared on Carlos Santana's Grammy-winning CD "Supernatural" and the original "Star Wars" compilation CD with John Williams. On the stage he was the solo violinist in "Forever Tango" and "The Best Little Whorehouse in Texas" and has toured and recorded with the 2006 Grammy winners, the Turtle Island String Quartet.
Larry Dunlap