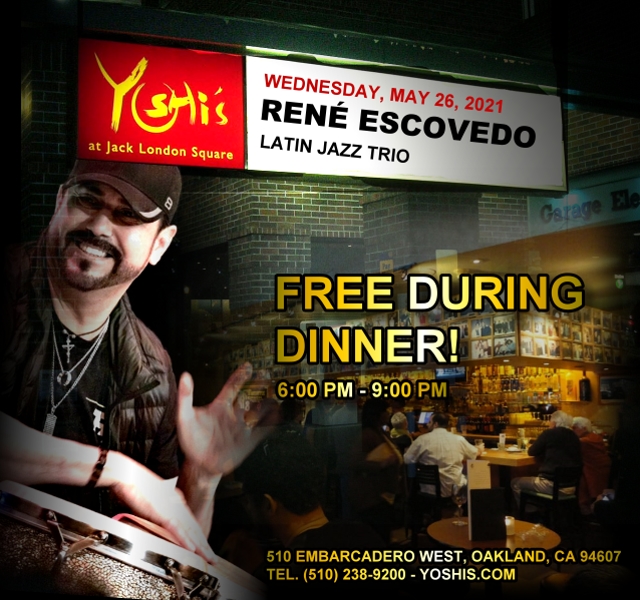 Wed May 26, 2021
RENÉ ESCOVEDO LATIN JAZZ TRIO (free during dinner)
Doors: 5:30PM Show: 6:00PM
While dining in the restaurant, enjoy the music of:
RENÉ ESCOVEDO LATIN JAZZ TRIO
René Escovedo is a percussionist, music instructor, and bandleader based in the San Francisco Bay Area. Born to the famed Escovedo Latin music family (Pete Escovedo, Peter Michael Escovedo, to name a few), began his music education in grade school. At the age of nine, he got his first jazz drum kit and began his life-long artistic journey as a percussionist. Self-taught, initially he played whatever music was popular throughout the years, but honed in his skills by being around his uncles. That gave him the opportunity to attend many performances at renowned venues from an early age; places like The Greek Theater in Berkeley, The Fillmore Theater in San Francisco, Yoshi's in Oakland, The Stone in San Francisco. He would eventually, go on to perform and all those venues, and many others.
Later in his career, he went on to study music performance and production at Alameda College.
A consummate professional who's always working on developing his skills as a musician, he's also the founder and leader of two bands, The Fuse, a powerful instrumental ensemble, and René Escovedo & The New E!, with an emphasis on R&B, Funk, and Soul. René is also an international touring percussionist with Con Funk Shun, the legendary R&B, and funk band that throughout the years has had four consecutive Gold's and one Platinum album, 20 hit singles including 8 Top Ten R&B Hits, among other artistic achievements.
Grateful to those who took the time to teach him, René has gone on to become a music teacher himself, providing small group and individual lessons with fun contemporary materials that support active engagement.