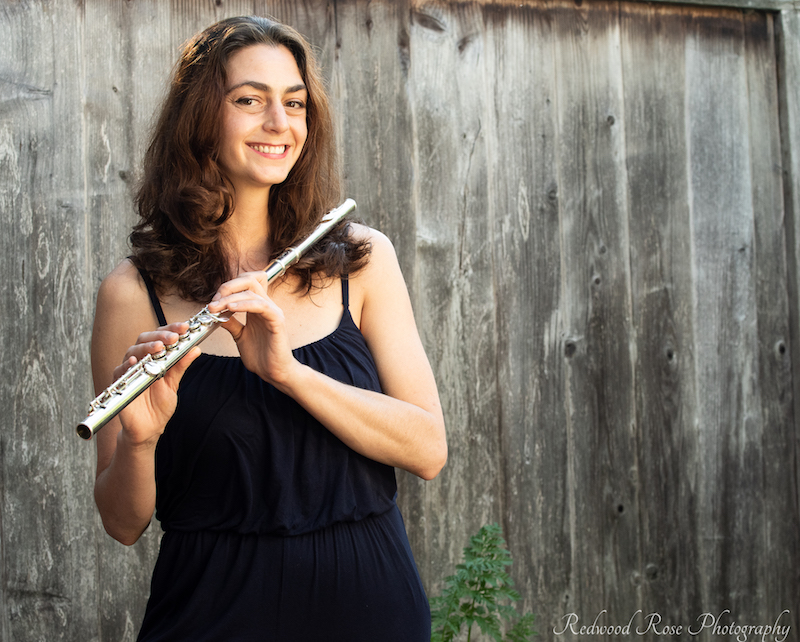 Sat May 29, 2021
REBECCA KLEINMANN W/ RICARDO PEIXOTO DUET (free during dinner)
Doors: 5:30PM Show: 6:00PM
While dining in the restaurant, enjoy the music of:
REBECCA KLEINMANN W/ RICARDO PEIXOTO DUET
Rebecca Kleinmann is an acclaimed flutist, singer, and composer with a professional career marked by diversity and improvisation. In the words of Latin Grammy Nominated pianist and composer, Jovino Santos Neto, "Rebecca plays flute with the passion of a flamenco dancer." An explorer at heart, she rockets and flows between genres, one day leading The Rebecca Kleinmann Jazz Quartet with pianist Alex Conde, bassist Gary Brown, and drummer Marlon Aldana, the next day performing with a Brazilian Choro ensemble, and then later at night jamming in flamenco juergas.
Rebecca's international career has taken her to perform on stages in Argentina, Brazil, Africa, Europe and Australia including Melbourne's International Women in Jazz Festival, SESC in São Paulo, Birdland in New York City, the Blue Whale in Los Angeles as well as being featured at the SF Jazz Center, the San Jose Jazz Festival, Yoshi's San Francisco and Oakland, Piedmont Piano, the Sound Room, the Oracle Arena and the Paramount Theatre closer to her Oakland home. She has performed and recorded with great musicians including Hermeto Pascoal, Toninho Horta, Carlos Oliveira, Lionel Loueke, SK Kakraba, Airto Moriera, Fabiano Nascimento, Ian Faquini, and Kina Mendez and worked with world-class dancers including Clara Rodriquez, Melissa Cruz, and Rosangela Silvestre. She freelances, records on albums and plays and sings with Dona Francisca Forró Band, NY based ensemble Heard Music, and the Taylor Anointed Praise Choir. In the words of master Jazz Pianist Benny Green, Kleinmann is masterful and selfless in her ability and inclination of melding her sound with her environment." With this in mind, she surely has immersed herself in rich musical environments!
Rebecca Kleinmann www.rebeccakleinmann.com
Ricardo Peixoto
Born in Rio de Janeiro, guitarist, composer and arranger Ricardo Peixoto came to the U.S. by way of a scholarship to Boston's Berklee College of Music, and later settled in the San Francisco Bay Area. His fluid melodic sense and original harmonic approach place him among the top representatives of Brazilian guitar in the U.S. today.
An inspired improviser with a keen compositional sense, Ricardo's unique and eloquent style evokes images far beyond his Brazilian territory. As a composer grounded both in the jazz and Brazilian music traditions Ricardo has continued to explore Brazil's rich melodies, sophisticated harmonies and rhythms, while integrating them with the freedom and improvisational approach of jazz.
Ricardo has recorded, performed, and collaborated with, among others, Claudia Villela, Flora Purim and Airto, saxophonist Bud Shank, percussionist Dom Um Romão, Sivuca, Claudio Roditi, Raul de Souza, Toots Thielemans, Dori Caymmi, Guinga, Arturo Sandoval, Spok, Jovino Santos Neto, Marcos Silv, Terra Sul, and the Berkeley Choro Ensemble. His compositions have been featured on "Inverse Universe" with vocalist Claudia Villela, "Kindness of Strangers" with Terra Sul, on Bud Shank's "Tomorrow's Rainbow," and on the Berkeley Choro Ensemble's 'The View From Here' among others. He has performed throughout the US, Europe, Canada, Japan and Brazil.
Ricardo teaches at the California Jazz Conservatory and has also been on faculty at Jazz Camp West and California Brazil Camp.
Ricardo Peixoto : https://ricardopeixoto.com