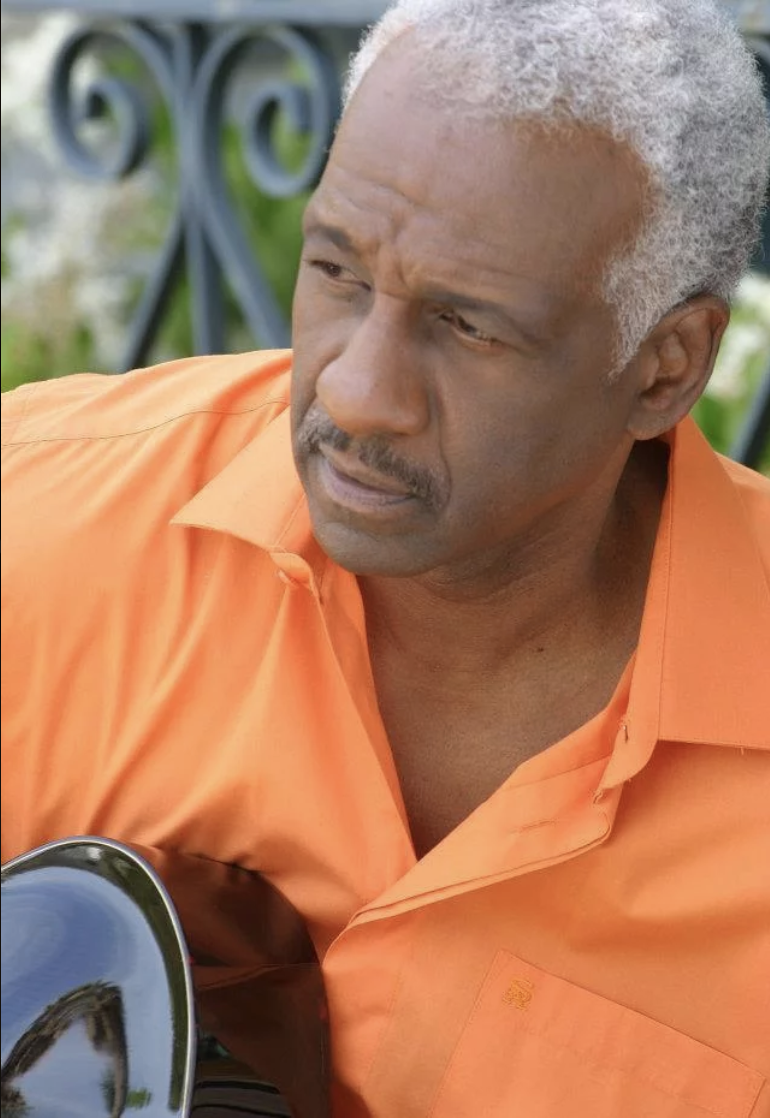 Mon May 30, 2022
Award-winning guitarist and composer
LLOYD GREGORY (free during dinner)
Doors: 5:30 PM Show: 6:00 PM
While dining in the restaurant, enjoy the music of:
LLOYD GREGORY
An award-winning guitarist and composer, San Francisco based Lloyd Gregory is a well-established musician whose style is smooth, soulful, melodic, flowing and immediately charismatic. His extensive R&B roots add a distinct texture to his styling. Gregory is a master of both acoustic and electric guitar. Minor 7th: Acoustic Music Review has commented, "Lloyd expertly fuses soul, pop and jazz, forging a hybrid that is both enjoyable and intellectually stimulating."
"Music is comprised of traditions, even when mixed with innovations," Gregory says, "so, of course, every musician is building upon sounds that came before. I admire and respect those jazz guitarists and I learned a lot from them. But my influences also include early soul innovators like Curtis Mayfield, many of the guitarists in the various Motown artists' bands, and Ike Turner. Going even further, I have been inspired by rock'n'rollers from Chuck Berry and Bo Diddley through Hendrix to Eddie Van Halen. And on the other end of the spectrum I have been influenced by acoustic players who bridged between jazz, Latin and classical like Django Reinhardt, Bola Sete, Andres Segovia and Al De Meola. I never sat down and learned other guitarists' solos from their albums. Instead, I studied the tools and language they were using."
Gregory has released five critically acclaimed albums of his own: Wonderful, Only For You, Solo Guitar, and Free Fallin. His most recent CD is Gentle Warrior for Roxboro Entertainment Group. The album spent most of the first few months of 2012 in the top 5 of The SmoothJazz.com Current Top 50 Indi and Radar Charts. Gregory effortlessly incorporates genres of African, reggae, Brazilian, R&B and smooth jazz in Gentle Warrior's making. AllMusic.com reviewer William Ruhlmann states, "Lloyd Gregory takes listeners on a musical travelogue… The album boasts more variety than the usual smooth jazz guitar collection, reflecting the musician's lengthy experience and mastery of different styles."
As a studio musician in Los Angeles, Gregory worked with legendary producer Richard Perry and played sessions with top musicians such as Klaus Voorman (The Beatles), Arthur Adams (B.B. King, Quincy Jones), Harvey Mason (Herbie Hancock, George Benson) and Joe Sample (The Crusaders). He has performed with Rodney Franklin, Stanley Clarke, George Duke, Gerald Albright, Lenny Williams (Tower of Power), Freda Payne, The Dells, and Lowell Fulsom. Also as a session player Lloyd played on a Latin-jazz album by The Funky Aztecs.
Gregory has recorded with Martha Reeves, MC Smooth and Freddie Stewart (Sly & The Family Stone) . He has also played on several albums by upcoming blues artists including Zakiya Hooker (John Lee's daughter), Sugarpie Desanto and Maxine Howard. In addition, Gregory studied under Warren Nunes and took a Masters Class Seminar from Barney Kessel.
As a solo artist, he has opened for Phoebe Snow, Norman Brown, Bobby Caldwell, Chaka Khan, Kenny "G", Brian Culbertson , The Whispers, and Rachael Ferrell to name a few.
Gregory grew up in Cleveland with music a major part of his life -- at home (his mother played piano and Lloyd started at age five), at church (his grandfather was a minister) and at school (Lloyd played trombone, drums and cello -- the latter from elementary school through high school). Gregory began learning guitar at age 11, and through high school played guitar and piano in a R&B band covering James Brown, Curtis Mayfield and The Temptations etc..
Lloyd's senior year he moved to Berkeley, California, and put together a band called The Aztecs (Sly Stone joined them onstage one time). The band won a talent contest where Gregory was spotted by the manager of The Ballads, who got Lloyd in the musician's union and made him the vocal group's musical director for several national tours playing on the same bills with Smokey Robinson & The Miracles, The Four Tops, Stevie Wonder, James Brown, Aretha Franklin, Gladys Knight & The Pips and many others. He also served as musical director for Natural Four and Jesse James, and performed on their albums.
This early experience taught Gregory how to be a bandleader and it led to tours with other R&B acts. At one point he paid the rent by playing in San Francisco strip clubs with former members of Santana. He also did a USO tour of Japan, toured Europe with Blues vocalist Maxine Howard , and also touring with Shirley Jones, and jazz-poet Oscar Brown, Jr.
On a personal level, Gregory spent years in the study of martial arts (Tae Kwon Do) before launching his solo career. Studying under master Byong Yu, attaining a Seventh Degree Black Belt, and becoming a teacher, Gregory returned to his fulltime music career.
"Through martial arts I learned to first start with the physical training, then the mental training and finally the spiritual training. This led me to an on-going period of spiritual exploration and meditation. At the same time I have studied music theory , arranging etc., and especially the vibrations of sound, and how all of this is linked to the body and healing. What I strive for is to allow the healing vibrations to come through my music to the listeners to soothe them, and to take the stress of daily life away for a few minutes."
The legendary Stanley Clarke sums up Gregory, "I love Lloyd's style as a musician. He is a sweet, warm guy, which comes out in his music. His music reminds me of a modern-day Wes Montgomery."