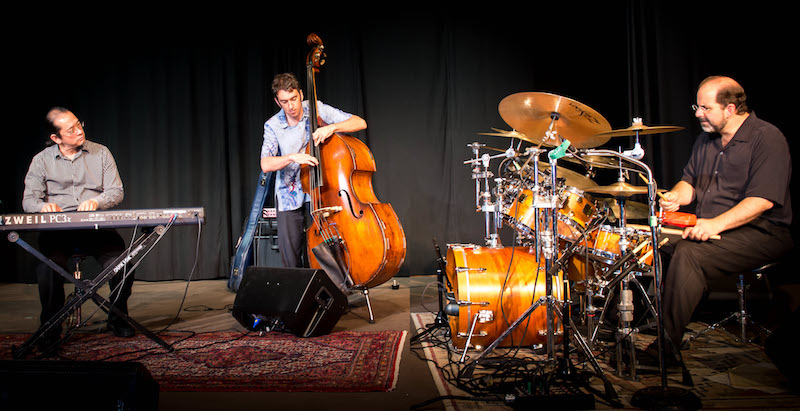 Sun June 20, 2021
CHARGED PARTICLES (free during dinner)
Doors: 5:30PM Show: 6:00PM
While dining in the restaurant, enjoy the music of:
CHARGED PARTICLES
Murray Low, piano
Aaron German, acoustic and electric basses
Jon Krosnick, drums
Soon celebrating their 30th Anniversary, Bay-Area based Charged Particles brings consummate musicianship and intricate compositional approaches together as they blend multiple musical traditions and create fresh, funky Latin jazz. Of the band, reviewers have said: "Charged Particles is definitely dazzling" (Jazz and Blues Report), "An electrifying performance style... A tight and enormously talented trio" (Jazz Times Magazine), "Fresh, energized jazz that showcases the trio's individual technical mastery as well as a cooperative, refined approach to the art form" (Jazz News Magazine), and "Tight interplay is the watchword as the threesome take difficult themes and apply its own twists with spark and personal flair" (Los Angeles Times).
In October, the group, with special guest saxophonist Tod Dickow, will release a new CD, "Live at the Baked Potato!" on Summit Records, documenting their performance of the music of the late jazz superstar Michael Brecker in Los Angeles. Of the record, trumpeter Randy Brecker (Michael's brother and performing partner) said: "Smoking and intense from beginning to end, Charged Particles has internalized Mike and his music to an impressive degree of accuracy and moreover: feeling! I found myself pinching my arm to remind myself that Mike is sadly no longer with us. Everyone is at the top of their Mike game!"
Recent Charged Particles appearances include Birdland (New York City), Blues Alley (Washington, DC), the Dakota Jazz Club (Minneapolis), the renowned Deer Head Inn (Pennsylvania), the Rochester International Jazz Festival (New York), the Eureka Springs Jazz Festival (Arkansas), the Erie Blues and Jazz Festival (Pennsylvania), Jazz at the Lake (Lake George, NY), the Musical Instrument Museum (Phoenix), the Jazz Gunung Bromo Festival (Indonesia), the Ambleside Days Jazz Festival (United Kingdom), and the St. Ives Jazz Festival (United Kingdom), Motion Blue (Indonesia), Jazz Centrum (Indonesia), Yardbird Suite (Edmonton, Canada), ), the Northern Arts and Cultural Centre (Yellowknife, Canada), Spin Jazz (Oxford, United Kingdom), Birmingham Jazz Club (Birmingham, United Kingdom), Parrjazz (Liverpool, United Kingdom), Chorus (Lausanne, Switzerland), Mampf (Frankfurt, Germany), Next Stop Olten (Olten, Switzerland), Lebewohlfabrik (Zurich, Switzerland), and Jazz Club Ferrara (Ferrara, Italy).