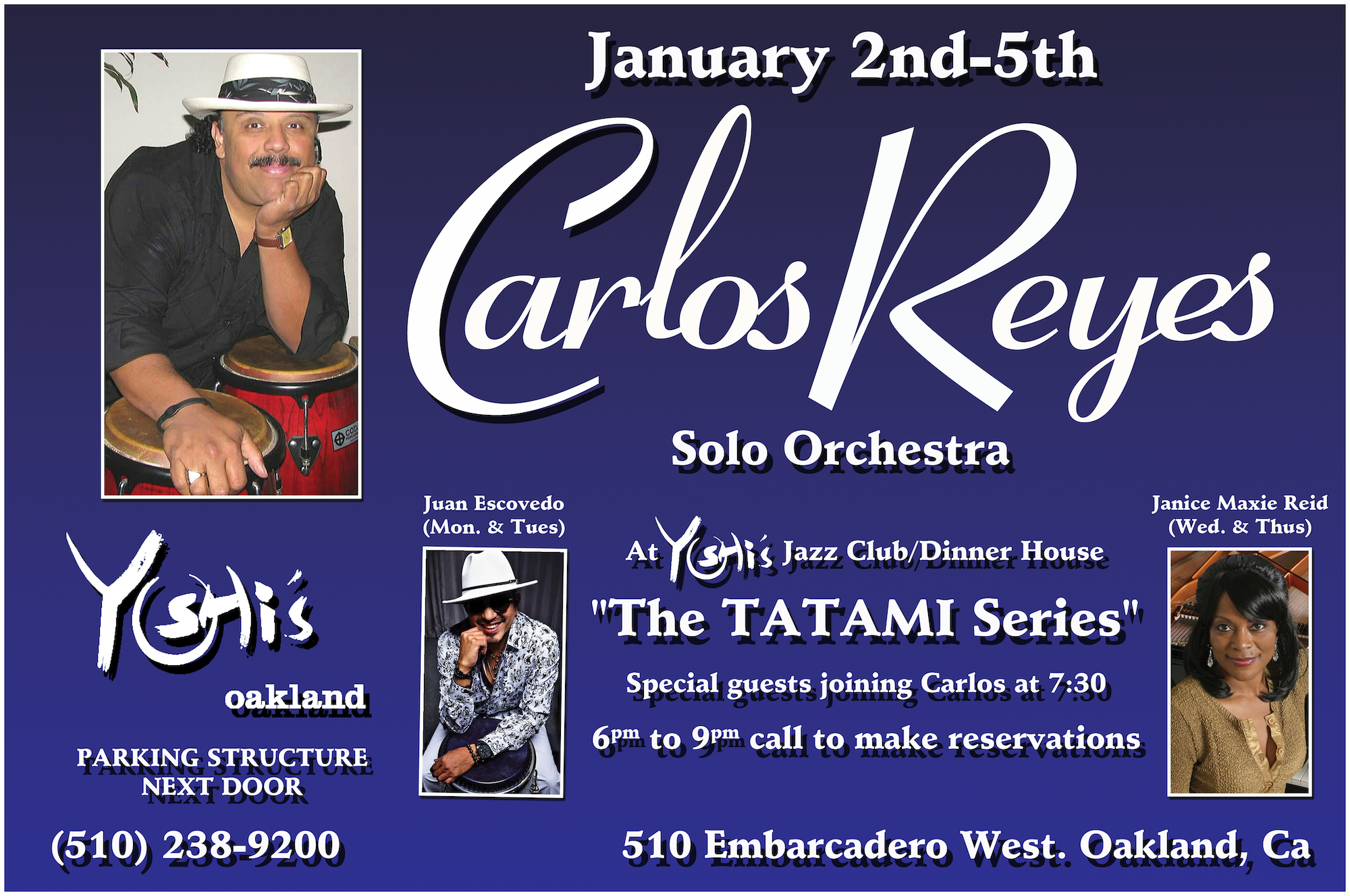 World renowned harpist & violinist
CARLOS REYES & SPECIAL GUESTS (free during dinner)
January 2, 2023

Doors: 5:30PM / Show: 6:00PM

January 3, 2023

Doors: 5:30PM / Show: 6:00PM

January 4, 2023

Doors: 5:30PM / Show: 6:00PM

January 5, 2023

Doors: 5:30PM / Show: 6:00PM
While dining in the restaurant, enjoy the music of:
CARLOS REYES & SPECIAL GUESTS
On stage from the age of five, Carlos Reyes never ceases to amaze. World renowned for his mastery of the Paraguayan harp and violin, Carlos' musical talents have touched the hearts and spirits of people around the world. From performances on the stages in Havana Cuba to the Vatican, his music transcends all boundaries. Carlos bridges traditional musical genres and mesmerizes audiences with unique fusions of Blues, Rock, Jazz, Latin and Classical styles.
Born in Paraguay to a world-famous musician and national hero, Carlos began to play the violin at age three and a half under his father's strict tutelage. He moved with his family to the United States as a child and continued to develop his already extraordinary musical talent. At age ten, he debuted on harp with the Oakland Symphony and made his debut on violin with the Oakland Youth Symphony at age fourteen.
He continued to develop his talent on both harp and violin, establishing himself as a successful solo artist, touring the world and also sharing the stage with a long list of musical superstars such as Steve Miller, Zac Brown, The Doobie Brothers, Clint Black, Charlie Daniels, Willie Nelson and many others. Bay Area audiences have been fortunate to see Carlos in concert with legendary slide guitarist Roy Rogers. Carlos has performed for 6 presidents and recently invited to perform at The White House along side Gloria Estefan, trumpet master Arturo Sandoval, Mexican artists -Lila Downs and Marco Antonio Solis.
In addition to his profound mastery of harp and violin, Carlos also plays guitar, bass, mandolin, and keyboards; and is a well-respected producer, composer, and engineer and has been at the forefront of introducing the Electric Harp to the world. He has consistently broken technical and musical boundaries and pioneered techniques that have expanded musical possibilities for musicians and audiences alike. Standing ovations are the norm, not the exception -- when Carlos and his aptly named band "The Electrick Symphony" performs.
The magnitude of Carlos' musical talent is matched only by his spirit and generosity. His passion for helping others is evident through his frequent appearances at benefits such as Hope for Haiti, the Voices of Latin Rock, the Animal Rescue Foundation, work with local school systems and numerous community events.
Carlos is also a known speaker and lecturer giving talks, workshops and master classes in the field of music, Harp, violin and stage performance, and the psychology of the artist's performance on stage. …This at a college level. His vast experience and training has given him so much knowledge to share to his academic audience from a learned and real world personal experience, He has recently shared the stage and lectured with renowned author and speaker Dr. Daniel Levitin. Some of his classroom stages have been Miami University, Diablo Valley Collage, Special invitation to Cuba to speak, teach and record with the world famous La Camerata Romeu producing a CD of Latin American/Jazz music for The Camerata and Carlos on Harp and Violin.
Carlos Reyes has been a featured Soloist with Arturo Sandoval, Bonnie Raitt, The Doobie Bros., Zac Brown Band, Steve Miller Band, Bill Champlin, Gloria Esteban, Victor Wooten, Tony, Toni,Tonè....and the list goes on.
"Oakland boy comes home" Bringing his own sound to Yoshi's!