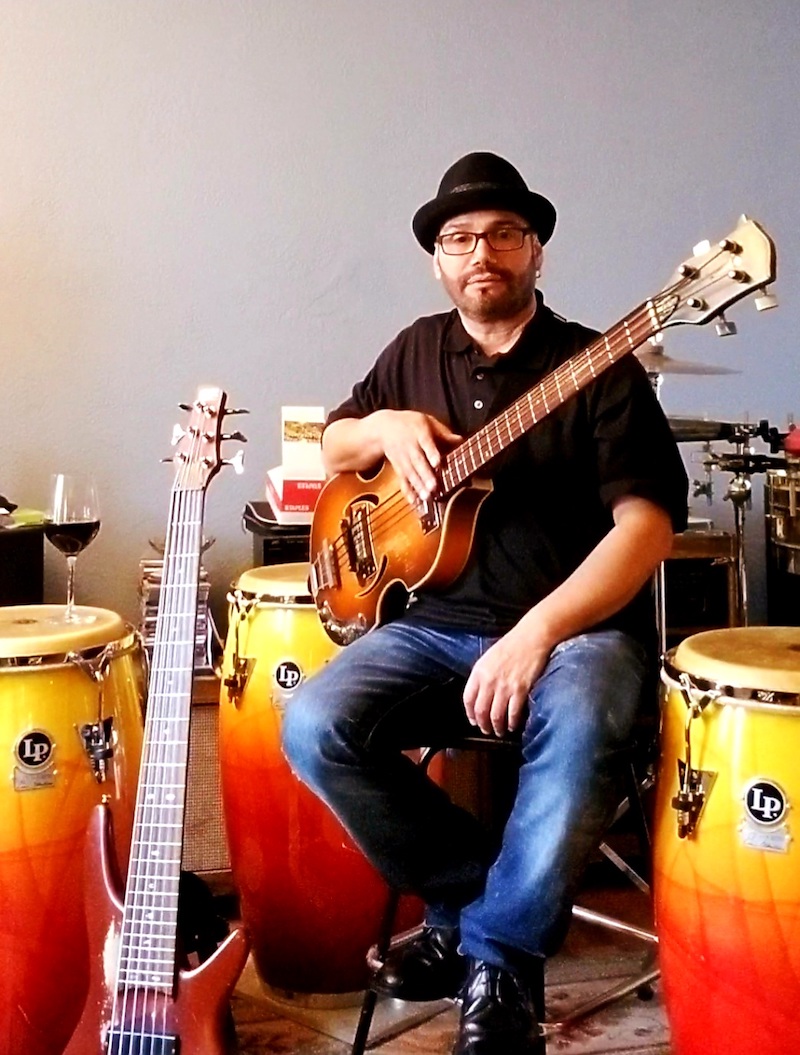 CALITO FRANCO LATIN JAZZ TRIO FEAT. GARY FLORES & KARL PERRAZO (free during dinner)
June 9, 2021

Doors: 5:30PM / Show: 6:00PM

June 10, 2021

Doors: 5:30PM / Show: 6:00PM
While dining in the restaurant, enjoy the music of:
CALITO FRANCO LATIN JAZZ TRIO FEAT. KARL PERRAZO
Carlos Emilio (aka) "Calito" Franco Born in Central America Managua Nicaragua raised in San Francisco Mission District, originally a Latin Percussionist Drummer Bass Player Lead Vocalist Composer Writer Arranger & musical director, started playing drums at the age of six years old influence by his big brother Bismarck that played drums. Calito Comes from a Musical family with his Grandfather who was a Saxophonist and Musical director for a big Band Latin American Orchestra like Glen Miller, Tommy Dorsey, Harry James, Benny Goodman, Artie Shaw, Duke Ellington, Jimmy Dorsey, & Les Brown, on the Latin said was Jose Curbelo, North Morales, Frank "Machito" Grillo, Tito Puente, Tito Rodriguez, Desi Arnaz. From the early age of Eight, Calito was interpreting music from The Santana Band, El Chicano, Mandril, Osibisa, a Variety music of fusion African, Caribbean, jazz, funk, rock, Latin, R&B, Afro Cuban, & Latin New York Salsa. Like Johnny Pacheco, Willie Colon, Hector Lavoè, Eddy Parmary, Joe Cuba, Ralfi Pagan. in 1967' Calito was the drummer for his Uncle Walter Castillo Band Called "Los Beamers" in which his Uncle Walter got the name from the Star Trek series "Beam" me up Scotty! However, Calito played Mexican Regional Music including Latin American, & Caribbean Islands.

He sang R&B Motown, Latin Pop, Salsa Funk, and played drums at the same time for five years with his Uncle Walter Band and was one of the youngest members of the San Francisco Local 6. Musicians Union they played The Hilton Hotel, Westbury Hotel, The San Franciscan Hotel, The Sheraton Palace, Jack Tar Hotel, and The Regency Hotel, for Casual Weddings, New Year's Eve Events, and Dance Concerts.

In 1972 at 12 years old Calito form a Salsa Band together with his Brother Bismarck on Traps and Timbales Called Orquesta Actualidad that's when Calito started playing the Bass guitar and Singing at the same time he Idolize Oscar de Leòn Venezuelan electric up right Ampeg Baby Bass Player and Lead Vocals of the Band Dimensiòn Latina.

In 1974' the Franco Brothers got a big break Performing Live at their Parents Bismarck Sr. and Mirna Franco Night Club called the Transfer "Dance Club" 3225 22nd. St. Between Bartlett & Mission St. right in the heart of the Mission District it was the first Night Club in the Mission to have After Hours Salsa Music up to 5:00 am in the Morning.

In 1980' Calito took a break from the Salsa Scene and stepped into playing with Eddie and The Boppers Oldies but goodies band he sang songs like, Duke of Erl, Pretty Little Angel Eyes, La Bamba, Grovin, Daddys Home, Diana, Venus, The Grate Pretender, and many countless other Hits, everyone in the band was talented & Played different Instrument and Sang Lead vocals from the era of the 1950's 60's & 70's,
In 1984' Calito join his best friend Gary Flores "Salsa Caliente" band first as a substitute Bass Player then as a Lead Vocalist they did Club Gigs all over the bay area every weekend as well as private parties and Casual's.

In 1987' Calito Put the Franco Brothers & Orquesta Actualidad back together and started playing at The Boogaloo Night Club handed over and recommended by his good friend Benny Valarde y Su Supper Combo in San Jose Ca, they played Steady four nights a week playing Slasa Dura and Salsa Romántica that was in the Latin Radio Airwaves at that time. Calito and his Brother Bismarck started to get notice and Caught the attention of the bay area Latin Salsa Promoters who was seeking an Opening Act for Big Recording Artist from Latin America Caribian Island and New York bands, Calito Franco has Opened up and Shared the Stage with Artist like Luis Enrique, El Grand Combo de Puerto Rico, Hansen Y Raul, Celia Cruz, Willie Colon, Ruben Blades, Orquesta de La Luz from Japan, Tito Nieves, Johnny Ray, Willie Rosario, Oscar de Leon, Max Torres, Victor Manuel, La India, Ray Ruiz, Franky Ruiz, Eddie Santiago, Marc Anthony, Lefty Perrez, Fulanito, Elvis Crespo, Jerry Rivera, Tommy Olivencia, Puerto Rican Power, David Pavon, La Sonora Poncenña, Sonora Dinamita, Grupo Niche, and many more!

Calito and his Brother Bismarck Recorded a Maxie CD. with four Original Composition Materials written by them and Efrain Saldaña from Puerto Rico & Arranged by Mr. Carlos "Cuto" Soto a well-known Trombonist from Sony Records Latina from Puerto Rico under the name Franco Brothers y Su Orquesta Actualidad the Album Entitled "Una Aventura No Mas". They had Local and International success on their private Lable BMF Production sold on CDBaby.com

Calito Franco is Currently the Bass Player for The Legendary Bay area Latin Rock Group "MALO" Lead by Original Singer and Song Writer of "Suavesito" Richard Bean and has been Touring with them since 2019' up to the present date. Mr. Karl Perazzo lead Singer Composer Writer Aranger Musical director and founder & Leader of Orquesta Avànce! "Percussionist" for The Carlos Santana Band along with Mr. Gary Flores Pianist Composer Writer Aranger Musical director founder & Leader of Orquesta "Salsa Caliente" are two of the Original nucleus Members of Franco Brothers and Orchestra Actualidad from the 1970's 80's & 90's, this "Trio" up to the present Millennium Continues to enjoy each other's Performance and puts On an Outstanding Electrifying exclusive Latin Jazz Salsa Chemistry together for their Fans Local & Internacional that will light up your Mind Heart & Soul physically mentally and spiritually! you Don't want miss this "show"