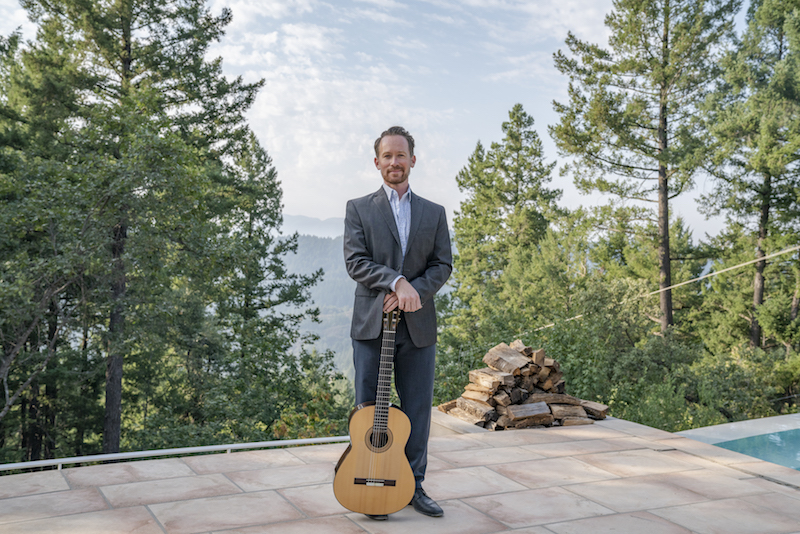 Sun April 18, 2021
BRIAN MORAN (free during dinner)
Doors: 5:30PM Show: 6:00PM
While dining in the restaurant, enjoy the music of:
BRIAN MORAN
Equally at home in both jazz and latin guitar styles, Brian Moran is one of the Bay Area's more versatile and accomplished musicians. Since graduating from Berklee College of Music in 1998, Brian has made the San Francisco Bay Area his home, where he maintains an active performance and teaching schedule.
Brian began his study of the guitar in 1987, beginning with rock guitar, and later focused exclusively on jazz for 10 years, in which time he led the Blowout Sextet, composing and performing original music and releasing the CD "The Supporting Theory" to rave reviews. Since 2001, Brian has dedicated much of his time to the study of 7 string jazz guitar, Spanish and Brazilian guitar, Brazilian cavaquinho and bandolim; and includes classical, Brazilian music, and flamenco in his diverse repertoire. He was nominated as a "Latin Jazz Guitarist of the Year" in 2011 by Latin Jazz Corner. He is a founding member of the Bay Area's "Grupo Falso Baiano", a project dedicated to Brazilian choro and samba music.
He has traveled to Spain and Brazil three times studying with Choro Rasgado guitarist Alessandro Penezzi and Marco Bertaglia, author of O Violao de 7 Cordas. In Feb of 2007 and Feb of 2008, Brian attended the 3rd and 4th annual Festival Nacional do Choro in Sao Paulo state, where he studied with some of the top choro musicians from Rio and Sao Paulo, including Mauricio Carrilho, Luciana Rabello, Pedro Amorim and more.
Brian was a 2014 and 2017 faculty member of The California Brazil Camp, a 2012 faculty member at JazzCamp West, and has been a faculty member of Oakland Feather River Camp since 2016. He has given workshops at the South Bay Guitar Society's annual Guitar Festivals on the subject of Brazilian choro guitar styles, and has taught choro ensemble classes and workshops at the JazzSchool in Berkeley CA. Grupo Falso Baiano — the choro ensemble he co-founded — was twice awarded a grants by the San Francisco Friends of Chamber Music to help produce their second CD Simplicidade: Live at Yoshi's and 3rd CD Depois
Brian is the lead instructor for the new instructional website StrumSchool, which focuses on teaching guitar to absolute beginners. It features videos, articles, blogs, and more. He also has content on the subject of choro guitar at RiffTime.
Brian's instructional articles have been published in Acoustic Guitar Magazine (Dec 08, July 09, Nov 10).
Notable work includes performances with Brazilian guitarists Romero Lubambo, Alessando Penezzi, Rogerio Souza and Ricardo Peixoto, jazz guitarists Howard Alden, Bruce Forman and Mundell Lowe, and many others such as Jovino Santos Neto, Harvey Wainapel, Jorge Alabe, Ted Falcon, and actor/improviser Timothy "Speed" Levitch (Waking Life, The Cruise).
He has lent his talents as a recording artist to many projects, produced music for the openings of photographers Annie Liebowitz, Ruth Bernhard, painter Robert Bechtle, performed at the San Francisco, San Jose, and Healdburg Jazz Festivals, SFJAZZ, SFMOMA, LACMA, appeared on television and in theatre, and has composed and conducted for numerous other projects including The Alamo, and The Dallas Museum of Art. Bruce Forman calls him a "thorough musician who has spent a great deal of time assimilating the wealth of Jazz history and has found a wonderfully personal way of expressing himself".
He currently plays with Grupo Falso Baiano, Oakland Samba Revue, Jorge Alabe and Grupo Samba Rio, and as a leader and sideman in various other jazz, blues, and world music groups.