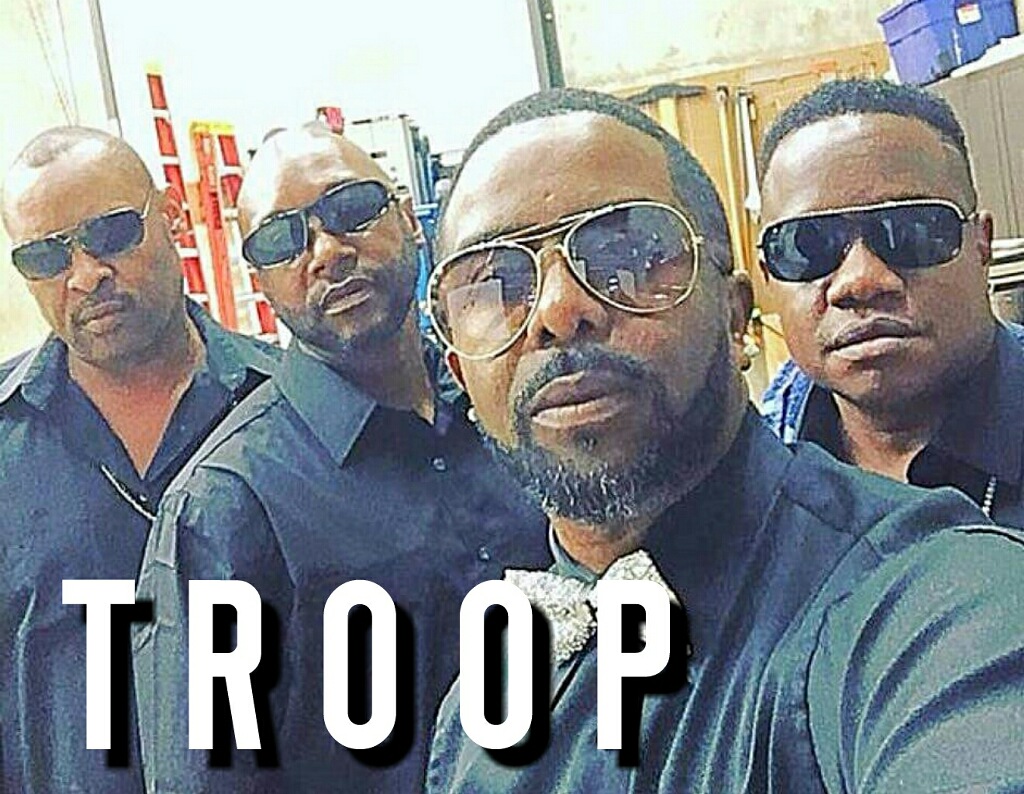 Wed July 27, 2022
w/ Special Guest EDDIE G & DJ KStyle
TROOP
Doors: 7:30pm Show: 8:00pm
Join for another soulful rendition of A-List Classic Soul Series featuring 90's R&B sensation, TROOP, with special guest EDDIE G. (Front Man of Original Lakeside Band) performing songs from his new solo project & CD release with DJ KStyle - Bay Area's #1 throwback music video mixer and special guest host comedian, Mo Jones.
Presented by Mark T. Elliott & The A-List Musiq Circle. Your Bay Area's Who's Who Entertainment Network.
TROOP is an American R&B group from Pasadena, California, United States. The group has had three number-one singles and ten top-ten singles on the Billboard R&B Singles chart.[1] They have also completed five albums, which include three certified gold and one certified platinum album. TROOP is an acronym for "Total Respect Of Other People".[2] The group is most notable for a series of number-one R&B hits, including popular cover versions of the songs "All I Do Is Think of You" and "Sweet November", originally performed by musical acts The Jackson 5 and The Deele, respectively. They also had a number-one hit with the original song "Spread My Wings".
The group got its start in the late 1980s after they won a televised Puttin' on the Hits talent contest that later drew interest from record labels. Troop, consisting of childhood friends Steve Russell, Allen McNeil, John Harreld, Rodney Benford, and Reggie Warren, soon signed to Atlantic Records and released their debut single "Mamacita" from their self-titled debut album in 1988. "Mamacita" reached Number 2 on the Billboard's R&B Chart.
Troop's second album Attitude included the hit singles "Spread My Wings" and "All I Do Is Think of You" (a Jackson 5 cover), which were both number one on the Billboard R&B singles chart, and remained in the top 10 for several weeks.[1] Attitude was certified platinum[3] in 1990. Their third album Deepa was released in 1992, from which the single "Sweet November" made number one on the Billboard R&B singles chart. The group followed up Deepa with two more albums, A Lil' Sumpin' Sumpin' (1994) and Mayday (1998), both of which were re-released in 2005. After the release of Mayday in 1998, Troop took a hiatus as individual members worked behind the scenes on various writing and producing projects, collaborations, and other business endeavors.
In 2004 Troop regrouped and began touring the United States and finishing up their sixth album. Since returning, Troop has headlined a number of shows and also shared the stage with artists they had toured with in the past, such as Boyz II Men, Brian McKnight, Keith Sweat, Silk, Mario, and Jon B. Troop have also been showcased on The Late Show with David Letterman, Soul Train, The Arsenio Hall Show, It's Showtime at the Apollo, and appeared in the feature film New Jack City singing a cappella. Additionally, the group appeared on the New Jack City soundtrack with Queen Latifah and Levert, in a medley featuring cover versions of The O'Jays' "For the Love of Money" and Stevie Wonder's "Living for the City". In October 2006, Troop contacted the Internet Radio Station The Mixx and have worked together to make The Mixx the radio home of Troop. Steve Russell dubs the singing voices of several minor characters (among them doo-wop singer Little Albert and the five brothers who make up the Jackson 5 pastiche "The Campbell Connection") in the 2006 film version of the Broadway musical Dreamgirls. Steve Russell also wrote "Take You Down"[4] for Chris Brown, "No Air"[5] for Jordin Sparks, and the Grammy Award-winning "Invisible"[6] for Jennifer Hudson. In February, 2010 he released his debut solo CD titled So Random, which is the first release from his own label Motel Music Media. Allen McNeil released his debut solo album Hybernation in January, 2010. Allen McNeil released his sophomore solo album Send For Me in November, 2011. In addition to releasing music, Allen McNeil is said to have been auditioning for acting roles and accepting scripts. In 2014, John "Jon Jon" Harreld announced that he would be working on a solo project, and released a single covering Luther Vandross' "Never Too Much".
Eddie G has been performing in the music business since the 1970's. Over the last 10 years Eddie G has performed as the lead front man for the old school funk group "The Original Lakeside" singing their classic hits "Fantastic Voyage" and "It's All The Way Live". Eddie G has most recently connected with California Bay Area DJ/Producer "DJ K-Style" and created his first solo album "Rock N Roll" Being an independent artist has been a dream come true as he has been able to create his own music and perform what he feels with no one controlling his moves. Both in childhood and throughout his career, Gospel music and Funk have each played influential roles in shaping Eddie G's musical sensibilities. Growing up in Grand Rapids, Michigan, at 9 years old he was inspired by his uncle who had his own music group, where he watched them rehearse and would sing along. He knew he wanted to entertain. He sang in the Gospel church for years and admits that he didn't begin to sing outside the worship environment until he was 18 years old. Over a period of more than 40 years, Eddie G has performed with old school music greats such as El Debarge, The Temptations, Natalie Cole, Lisa Lisa & Cult Jam, Bobby Blue Bland, Ohio Players, Dramatics, Dazz Band, Earth, Wind & Fire, The Bark Kays, Brothers Johnson, The Manhattans, Troop, Stephanie Mills, Jeffrey Osborne and Lenny Williams. "I've been having the time of my life," says the R&B/funk pioneer of his first single "Rock N Roll". His first single inspired by the great "Little Richard" has been the perfect introduction to show his vision of funk, combined with the modern feel of today's bass driven R&B tracks. Eddie G's upcoming album will have a wide range, ready for radio tracks, such as his second release, a smooth soulful track titled "Oh No". A steppers track titled "Can't Stop Thinking About You", a scintillating duet featuring British singer Sonna Rele. A bass driven R&B/Hip Hop track, ready for the clubs titled "Been A Long Time" featuring Hip Hop star "Kurupt". And a Wedding ballad titled "The Love We had" featuring the great "Don Diego" on Sax, just to name a few. "The most fulfilling part of this musical journey has been experiencing, in real time, my evolution as an artist," Eddie G says. "My mindset has shifted dramatically and is light years away from when I was a young vocalist, focusing on being flashy. But as I have grown as an artist and especially as a person, I like to think I have developed as a composer and songwriter of maturity and depth as well as a vocalist.