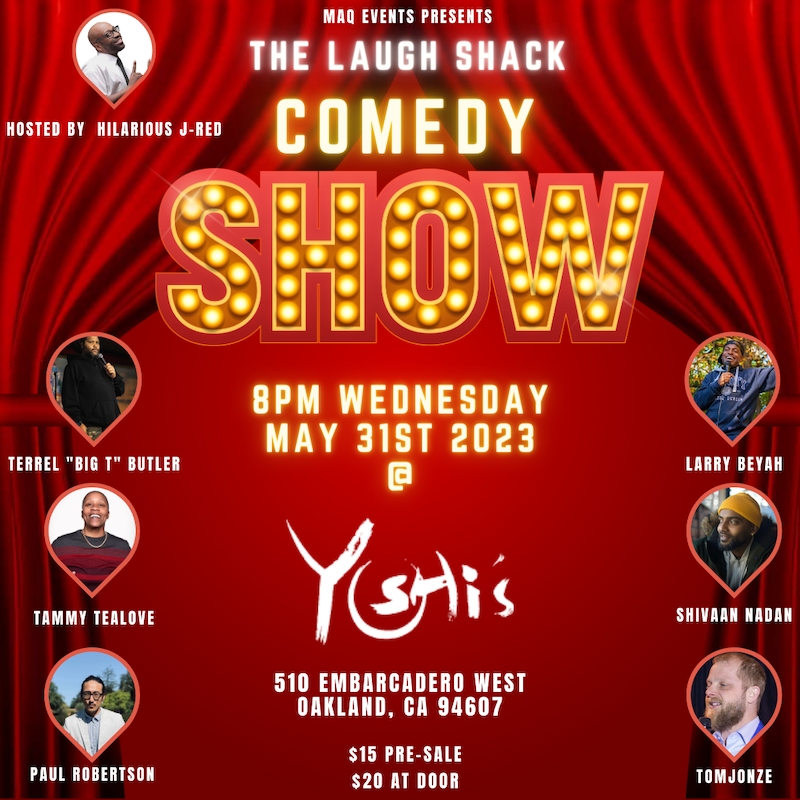 Wed May 31, 2023
An evening filled with lots of laughs
THE LAUGH SHACK: HOSTED BY J-RED
Doors: 7:30PM Show: 8:00PM
Welcome to The Laugh Shack!
Step into a night of belly laughs and happy tears with our amazing list of comics, featuring:

Hilarious Host J-Red
Larry Beyah
TammyTeaLove
Shivaan Nadan
Terrell "Big T" Butler
Paul Robertson
Tomjonze
J-Red Bio
J-Red is currently one of the top radio personalities in LA on KJLH 102.3 FM award winning radio station owned by the legendary music icon Stevie Wonder! He uses his platform to support his youth arts foundation called "ADAPT" by spreading love, peace & inspiration to his people throughout the community!!
Larry Beyah Bio
Coming soon
TammyTeaLove Bio
TammyTeaLove has been Awarded the "NW Black comedy fest funniest comedian award" has performed at clubs such as Cobbs Comedy Club, Punchline, Comedy Château , Sketchfest Sf 2019,2023 BLack Women In Comedy festival 2021-22 and many others, also Tammy is A two time Comedy Oakland Champion, and on most nights and weekends Tammy is found on stage, Telling real life stories that everyone can relate to, she hopes to one day take on bigger stages and travel around the world making people laugh. Laughter, is healing of the soul.
Shivaan Nadan Bio
Shivaan Nadan is a comedian and an actor out of The Bay Area. After taking a hiatus, Shivaan Nadan got back into stand up comedy in July of 2021 in San Francisco. After a month of doing open mics Shivaan quickly got the attention of bookers in The Bay. For the past year and a half Shivaan has been doing produced shows. He has been a regular at the famous Cobb's Comedy club in San Francisco. His laid-back style and dynamic stage presence captivate young and old audiences alike.
Terrell "Big T" Butler
Stand-Up Comedy has influenced my entire life. Growing up, as the "fat kid" in Oakland California, you learn quickly how roast other kids on the playground. Comedy began as a defense mechanism, and transformed into a means to gain friends. Once I knew I could make the kids laugh, they stopped laughing at me, and started laughing with me. Telling jokes will forever be my icebreaker.
Paul Robertson Bio
One of San Francisco's fastest up-and-coming comedians, Paul lives and performs throughout the Bay Area. He started his Standup Comedy career in Manhattan and lives and performs live nightly in San Francisco.

Follow him on Instagram @timetotalktopaul or check out his monthly show at the historic San Francisco Hungry I every second Wednesday of the month.
Tomjonze Bio
Originally from PA Tomjonze is now a Daly City resident and former bartender turned comedian. Dozens of Yelp reviews said he was funny and TinaFromOH44102 knows how to have fun!

He gave up the sauce and picked up a pen and went from drunktimes to punchlines. He's opened for former Daily Show writer Jenna Kim Jones and AGT contestant Alex Hooper.
---
You may also enjoy these amazing upcoming shows!
Sun Jul 2: Joe Torry W/ Host Melanie Comarcho
Wed-Fri Jul 5-7: Tommy Davidson