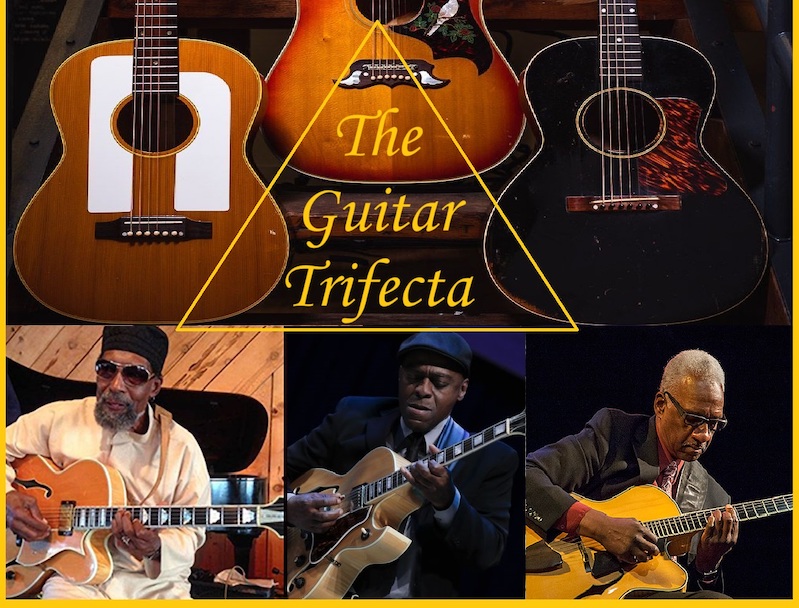 Tue October 3, 2023
Bay Area's Most Skilled Guitarists & 7th St. Blues Walk of Fame Honorees
THE GUITAR TRIFECTA feat.Calvin Keys, Carl Lockett & Lloyd Gregory
Doors: 7:30PM Show: 8:00PM
Calvin Keys, Lloyd Gregory, and Carl Lockett are three of the most skilled musicians in the San Francisco Bay Area. They have each played on stage and in the studio with a variety of music industry giants across the musical spectrum. Individually, they have proven themselves worthy of the center stage with the attention they each command. Now, they have united as a trio to showcase their exceptional guitar skills. Their friendship spans decades, and together they have over 150 years of professional experience in music. Each of them started playing music in their youth and now holds their place on Oakland's 7th Street Blues Walk of Fame."
Presented by Mark Elliott & The A-List Musiq Circle- Your Bay Area's Who's Who Entertainment Network.
Calvin Keys has been a leader, producer, and recording artist for nearly fifty years — recognized by other jazz legends for his exceptional style and professionalism. His career includes 20-year stints as a featured guitarist with the Ray Charles Orchestra and Ahmad Jamal (Carnegie Hall and European tour). He served as Earl "Fatha" Hines musical director, worked with such internationally recognized music legends as Stanley Turrentine, Carmen McRae, Freddie Hubbard Bobby Hutcherson, and John Handy, and was a childhood influence on Pat Metheny. He has toured the U.S. and Europe extensively and continues to appear at local venues. At the Oakland Public Conservatory, he mentors up-and-coming young musicians. He frequently teaches at Jazz Camp West and offers private lessons. Since Black Jazz Records released his first album in 1971, Keys has released 15 widely acclaimed albums and CDs including Detours Into Unconscious Rhythms, Calvinesque, Vertical Clearance, Hand-Made Portrait, and Simply Calvin.
Lloyd Gregory grew up in Cleveland where he had an aunt who played piano at their church; her influence prompted Gregory to begin playing the piano at age 5. He ultimately became a multi-instrumentalist, playing trombone, drums, and cello in addition to piano and guitar, which he picked up at age 1 1. In his senior year of high school, he moved to Berkeley, where he put together his first band. After graduating from high school, he served as music director for the vocal groups The Ballads and The Natural Four as they toured with The Impressions, Stevie Wonder, James Brown, and Ike and Tina Turner. As a solo artist, Gregory recorded with various labels and opened for Stanley Clarke, Phoebe Snow, Norman Brown, Bobby Caldwell, Chaka Khan, Oscar Brown Jr., and The Whispers, among others. A well-respected guitar teacher, Gregory is a member of the faculty at The East Bay Center for the Performing Arts and offers private lessons. He has several CD releases: Wonderful, Only for You, Solo Guitar, Free Fallin', and Gentle Warrior.
Carl Lockett grew up as a musical child prodigy. His interest in music began with him behind the drums. He later learned to play the guitar and began his career as a professional guitarist at age 14, playing around the Bay Area. He has continued to work professionally for the past forty years with highly distinguished acts including The Edwin Hawkins Singers, Chuck Mangione, Randy Crawford, Jimmy Smith, Joey DeFrancesco, Tammy Terrell, Esther Phillips, The Platters, The Ink Spots, Big Mama Thornton, Jackie Wilson, Papa John Creach, Brook Benton, Dakota Staten, Bill Summers, David Ruffin, and many others. He has performed in diverse settings ranging from an organ trio that included Jimmy McGriff and Jimmy Smith to sitting in for Jerry Garcia. He has played the 1980 Winter Olympics, the North Sea, Montreux, and Monterey jazz festivals, and all three Blue Note clubs in Japan. So impressive is his playing that he was offered a sponsorship by guitar techs at Heritage Guitar Factory in Kalamazoo, Michigan, who'd witnessed one of his performances. They created for him a custom-made Heritage Golden Eagle. Lockett has independently released his own CD, Carl Lockett: All About Music. Because of their many influences, styles, and professional experiences, these three amazing musicians have learned to adeptly fuse classical, jazz, and R&B — resulting in smooth, soulful performances that leave audiences with a clear understanding of why, when playing together, they are indeed The Guitar Trifecta.