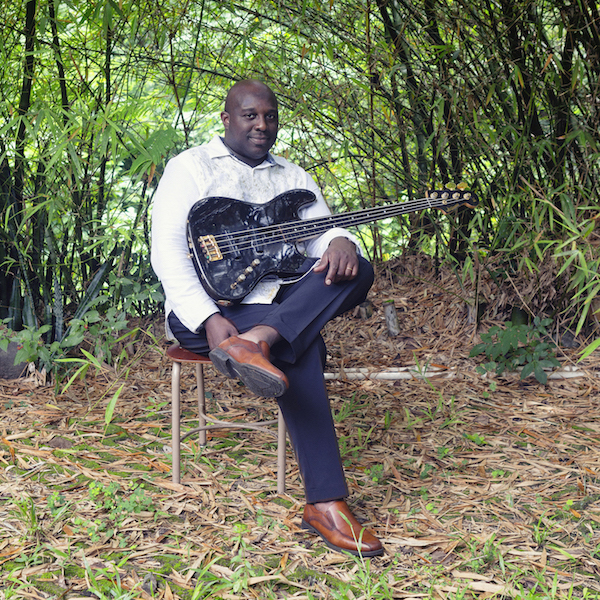 Sun July 25, 2021
THE CHARNETT MOFFETT TRIO: NEW LOVE FEAT. JANA HERZEN WITH COREY GARCIA
Doors: 6:30pm Show: 7:00pm
"Charnett Moffett's latest reminds us once again, that his quicksilver imagination matches the speed of his fingers." – DOWNBEAT
"Joyous and mystically resonant in equal parts." – JAZZWISE (4 Stars)
"The playing's fresh and effervescent in the extreme. " – TEXTURA
"One of the era's defining bassists…a virtuoso who elevates just about any musical setting" – THE OAKLANDSIDE
"It's music at the intersection of swing, spiritual and free jazz." – AFROPOP
"Charnett Moffett is a bass wonder man." – Downbeat
Join legendary jazz bassist Charnett Moffett and his trio to celebrate the release of his trio/quartet album NEW LOVE out June 11 on the Motéma label. On his 17th all-original album, Moffett further refines his virtuosic and innovative sound and expresses his deeply personal permutations of love and an embracing of change as part of life's progression: "Music is a universal language that speaks to all people. In life, human beings are in the constant process of change — whether an individual is conscious of this process or not," he comments. Approaching a range of sounds and traditions with vitality and signature authenticity, the prolific artist welcomes the dimension of space across the twelve effervescent tracks of NEW LOVE and breaks new ground as a moving lyricist and vocalist with an uplifting spiritual message. A melodious conversationalist and reflexive listener, throughout the album Moffett's fretless electric bass takes the lead, often in its upper register, in dynamic interplay with his fearless collaborators Jana Herzen (guitar/vocals), Corey Garcia, Malick Koly (drums), and Irwin Hall (tenor & soprano saxophones/alto flute). In the trio concert at Yoshi's, Moffett's long-time collaborator, Jana Herzen is featured with drummer Corey Garcia. The concert also celebrates Moffett and Herzen's recent marriage and return to the Bay Area.
For those unable to attend the show at Yoshi's in the Bay Area, the concert will also be available via live-stream, tickets for the live-stream show are available at this link:
https://www.eventbrite.com/e/charnett-moffett-trio-new-love-release-concert-live-streaming-from-yoshis-tickets-159353020173?aff=ebdssbeac
'New Love' sits at the intersection of swing, spiritual and free jazz, a testament to how playing with everyone allows one to sound truly like no one else. It is music where the rhythm instruments take the melody and vocals hold the beat." – AFROPOP.ORG
'Bass icon Charnett Moffett showcases virtuosity and versatility on NEW LOVE" – Bass Magazine
ABOUT CHARNETT MOFFETT
An artist with an unusual abundance of spirit, chops, and charisma, Charnett Moffett has toured the world as one of the most innovative and versatile acoustic and electric bassists in jazz. Debuting on Blue Note Records in 1987 and signing with several other labels throughout the years, he found a home at the acclaimed Motéma label in 2008 where he has now released 7 of his 17 all original albums. Moffett, who began his career in the 1970s in the Bay Area, in his father Charles Moffett's family band, moved to New York City in the '80s and quickly gained legendary status for his own releases and as a hard-swinging "bassist to the stars" for such pivotal artists as Art Blakey, Ornette Coleman, McCoy Tyner, Tony Williams, Dizzy Gillespie, Herbie Hancock, Wynton Marsalis, Dianne Reeves, Arturo Sandoval, Anita Baker, Stanley Jordan, Harry Connick, Jr., David Sanborn, Branford Marsalis, Bette Midler, and Melody Gardot, and more. He has appeared on more than 200 albums, many of them considered classics. Learn more at charnettmoffett.com
"Jaw-dropping virtuosity." – Jazziz
"A master of post-bop jazz whose dizzying versatility more than earns him his place among the world's best jazz bassists." – U Discover Music (50 Best Bassists in Jazz)
ABOUT JANA HERZEN
Internationally acclaimed singer, songwriter, and guitarist Jana Herzen originally hales from the San Francisco Bay Area and has spent much of her career in New York City. She is a Motéma recording artist and also the Founder and President of the multi-GRAMMY®-winning tastemaker label. Motema has released three band albums of Herzen's distinctive original music (SOUP'S ON FIRE, NOTHING BUT LOVE, JANA HERZEN: LIVE) as well as three duo albums (PASSION OF A LONELY HEART, 'ROUND THE WORLD, NETT DUO: OVERTONES) with her musical and life partner, Charnett Moffett. Herzen's commitment to high artistry in multiple disciplines can be heard on her own recordings and also in the work of the many fine artists she has signed to Motéma. Learn more about Jana Herzen at janaherzen.net.
"Astonishing instrumentalist... Jana Herzen embraces all the variations of jazz, pop or reggae.." – Sondumonde
Purchase the new album New Love here: https://CharnettMoffett.lnk.to/NewLoveWE!YW