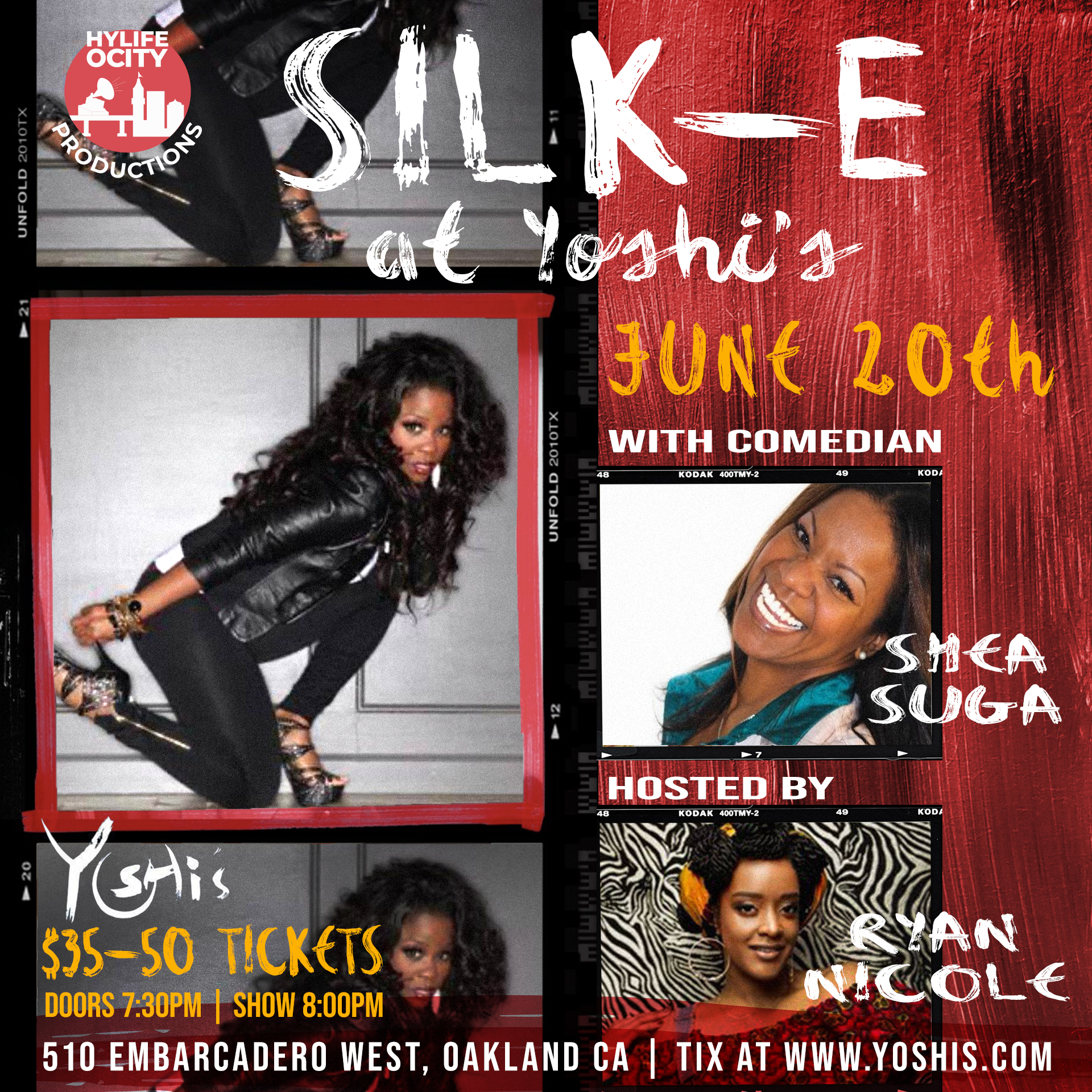 Mon June 20, 2022
Hosted by GRAMMY©-nominated Emcee/Poet Ms RyanNicole
SILK-E WITH SPECIAL GUEST SHEA SUGA, HOSTED BY RYAN NICOLE
Doors: 7:30 PM Show: 8:00 PM
Crowned by Rolling Stone as having 'One of the top 100 songs of the decade, internationally loved and endearingly coined, 'The People's Champ', singer/songwriter/emcee Silk-E, is Bay Area royalty.

If you've heard a honey drizzled, raspiness oozing through on songs by Too Short, Snoop Dog E-40 or even on the soundtrack of the award-winning film, 'Sorry To Bother You' (where she also made a cameo appearance), your ears have been blessed by Silk-E.
Whether entertaining an intimate crowd at Yoshi's, or igniting the spirits of over 250,000 screaming fans at Coachella, Silk-E's energy never falters. She leaves nothing on the table in any performance.

To say that she is the complete package is an understatement. After taking the winning spot on the legendary Lisa 'Left Eye' Lopes' music series, 'The Cut' (MTV), she deemed Silk-E as having "more styles than Ralph Lauren!".
Known for her emcee prowess, Silk-E received her stamp of approval from none other than the Blast Master, KRS-One, who said, "I would sign her on the spot!".
Silk-E has developed a cult following, as the 'Soulstress' of the internationally acclaimed, revolutionary, Hip-Hop group The Coup, and has toured multiple European countries including Spain, Switzerland, Brussels, Milan, Rome and England, just to name a few..
This well rounded entertainer's music makes her listeners feel like 'Summer Kisses' and 'Chocolate Sunshine', which by the way, are titles of upcoming singles on her highly anticipated album.
Known for her live performances, where she shared stages with artist like Rage Against the Machine, Erykah Badu, Mos-Def, The Roots and Common, Silk-E is a multi-faceted performer, who fits any bill.

She leaves you feeling like you know her already, and you can't wait to see her again.
Silk-E 'The People's Champ' is THEE go to, It-Girl of Soul music.

SHEA SUGA BIOGRAPHY
Shea Suga hails from Phoenix, Arizona, where she was influenced by a family of entertainers and show promoters, each of whom deserve their own reality show. Shea made her way to Richmond, California, with her huge family at age 10, and is now acclaimed as one of the Bay Area's most loved and closely followed comediennes. As a promoter, Shea packs the house whether she promotes her own show or one she hosts. Her fans find her to be hilarious and they love her highly contagious smile. Shea's comedy and singing career began in her lively and colorful childhood. As a child, Shea was given to dressing up in her own made-up characters who entertained at family functions. Shea's favorite character, Motha Gertha, is alive and well as a 64-year -old church granny who battles demons and is addicted to glitter and bling. Motha Gertha is loved throughout churches, comedy clubs, schools and corporate businesses all over the California Bay Area. After launching her stand-up career on May 5, 2005, Shea opened for comedian Luenell just two weeks later.