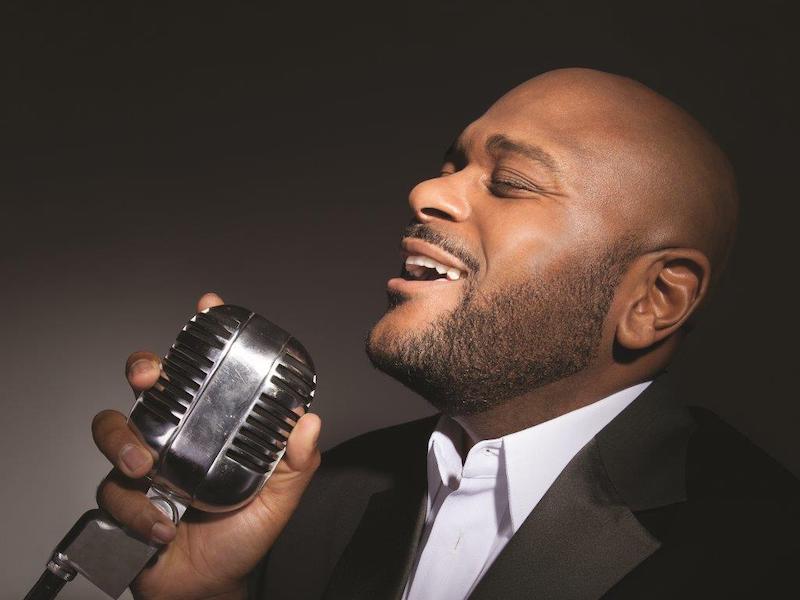 GRAMMY©-nominated vocalist
RUBEN STUDDARD
September 24, 2023

Doors: 6:30 PM / Show: 7:00 PM
Born in Germany, Christopher Ruben Studdard would later grow up in his beloved Birmingham, Alabama and begin an amazing journey. The journey would lead him from a young boy who expressed his love for music through singing at Rising Sun Baptist Church to later having to choose between his love for music and his love for football. His love for music would eventually prevail and would lead him to what was perhaps his hardest challenge, which was convincing his mother that he should forego his music major at Alabama A&M to pursue his dream of singing. They reached a compromise; if he did not make strides in music within five years, he would go back to college.

On his quest for success and inspired by his idol, Fred Hammond, Ruben sang with local gospel groups and later ventured into the R&B/Jazz arenas and became the lead singer for local Birmingham R&B/Jazz group, Just A Few Cats. The story has been told that he walked up to them and said that he wanted to sing with them. As the saying goes, the rest is history. From that point until today, they are still making beautiful music and they are one of the highlights of Birmingham with their annual reunion.

Ruben's involvement with Just A Few Cats would become a significant factor in his life. It was a background singer for the group that urged him to escort her to what he considered a cheesy talent show. While there, he also auditioned and he was the one who ended up in front of the judges. This was the beginning of a phenomenal phase of his life. The year was 2002 and the show was American Idol.

From the beginning of his stint on American Idol, Ruben made his presence known. The cuddly guy with a winning smile, that even came equipped with dimples, stole the hearts of many. His humble spirit and a voice so smooth that R&B legend Gladys Knight dubbed him "The Velvet Teddy Bear," won the hearts of many. Each week Ruben was a star that shone brightly. His infectious personality and soulful voice led him to become the winner by over 100,000 votes. His debut single, "Flying Without Wings/Superstar," quickly achieved gold status. He earned a 2003 Grammy nomination for "Best R&B Male Vocal Performance for "Superstar." He also received a Billboard Award, BET Image Award, Teen Choice Award and nominations for numerous other music awards.

His first full CD, "Soulful" was released December 2003 and still holds the record as the highest debut of any American Idol Winner with over 400,000 copies sold during its first week. "Soulful" would go on to sell approximately 1.8 million copies. The single "Sorry 2004" from this album reached #9 in the Billboard Hot 100 and #1 on the Billboard R&B singles chart.

In November of 2004, Ruben reached back to his gospel roots and recorded a gospel CD, "I Need An Angel." The album sold over 96,000 copies in its first week. It also entered the Gospel charts at #1, opened at #20 on the Billboard 200 chart, and has since sold over 500,000 copies. It was #1 on the 2005 Billboard Year-End Gospel Albums Chart. Billboard listed the album at #11 on it's "End of Decade' Gospel Albums Chart (12/31/09).

In October of 2006, Ruben released "The Return" which debuted at #8 on the Billboard 200 Chart and #2 on the R&B charts. The album sold over 300,000 copies and produced the hits "Change Me" and "Make Ya Feel Beautiful" which ended 2007 as the #8 and #11 songs respectively on Urban A/C. "Change Me" also made Billboard's 'End of Decade' Song Chart (12/31/09) at #31.

In addition to his full albums, Ruben has had continuous success with other musical ventures. In 2007 he had the pleasure of recording a hit gospel song with gospel greats Deitrick Haddon and Mary Mary with the high-charting and gospel awards nominated "Love Him Like I Do." He also was the first artist to have a recording specifically used as the farewell song for American Idol. His remake of Kenny Loggins' "Celebrate Me Home" which was produced by Jimmy Jam and Terry Lewis was used during the 7th season of American Idol. In keeping with his love for music and his passion to help young people, he also founded The Ruben Studdard Foundation for the Advancement of Children in the Music Arts in an effort to give back to the community while focusing on the need for music education in the school.

Perhaps the greatest leap for Ruben outside his R&B/Gospel ventures was his starring role in the 30th Anniversary Tour of Broadway's Ain't Misbehavin' from December 2008 through May 2009. In addition to Ruben, the show starred two other American Idol alums Frenchie Davis and Trenyce. They, along with other stars of the show, David Jennings and Patrice Covington, were featured on a Cast Recording of the show that received a 2009 Grammy nomination for "Best Musical Show Album."

Ruben's current album, "Love IS" was released in May 2009. His current single "Don't Make Em Like U No More" reached #32 on Billboard's Hip-Hop R&B chart and along with the first single, "Together," was a top 20 hit on the Urban A/C charts. "Together" was also listed at #37 on Billboard's 'End of Decade' Hot Adult R&B Songs Chart (12/31/09).

Through hard work and an unshakable faith, Ruben fulfilled his promise to his mother and continues to express his growth as a musician and as an individual. For this, she is no doubt proud.