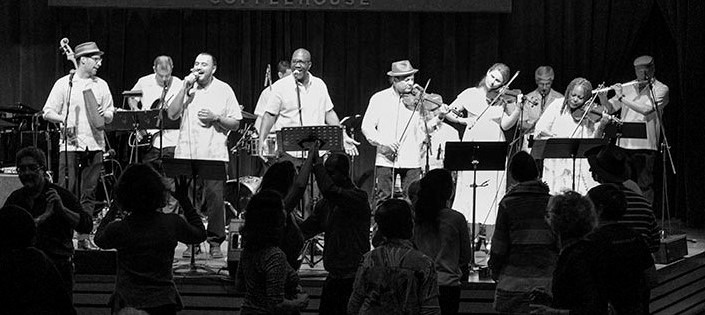 September 29, 2021
ORQUESTA LA MODERNA TRADICION
Doors: 7:30pm Show: 8:00pm
From the first note, you'll want to jump out of your seat! Orquesta La Moderna Tradición bursts with the sweet yet powerful sound of the Afro-Cuban charanga orchestra, which features violins and woodwinds interlocking with driving Afro-Cuban rhythms.
Since 1996, the 12-piece group has thrilled audiences across the country playing everything from danzón and cha-cha-chá, transporting you back to the Havana social clubs of the 1950s, to contemporary timba-infused arrangements guaranteed to get you on your feet!
La Moderna Tradición has performed internationally and across the U.S. at venues including the Lincoln Center in New York, the Smithsonian Institution, Stern Grove Festival, the Telluride Jazz Festival, and many, many others — their tours have taken them from Alaska to El Paso and abroad.
Featuring the best of the Bay Area cuban music scene, we'll be performing with Felix Samuel, Mike Spiro, Marco Diaz, Remi Spiro, Tregar Otton, Anthony Blea, Yadier Noa Chamble, Miguelito Martinez, Sage Baggott, and Maru Pérez-Viana!