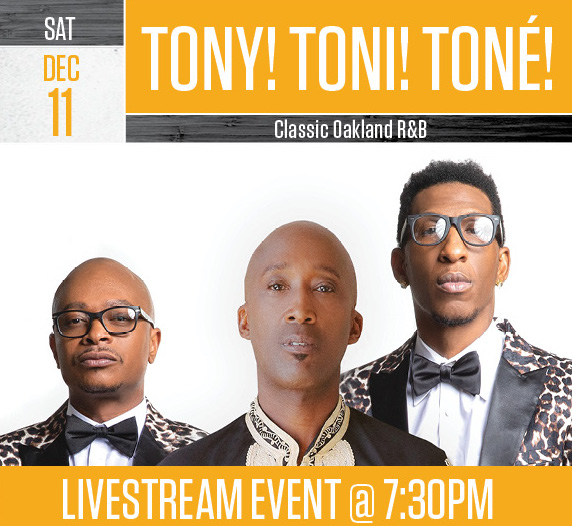 Sat December 11, 2021
ONLINE LIVESTREAM: TONY! TONI! TONÉ!
Doors: 7:00 pm Show: 7:30 pm

Livestream the Tony! Toni! Toné! SOLD OUT Sat, Dec 11 (7:30pm) Yoshi's performance. Enjoy professional sound and multiple viewing angles from the comfort of anywhere that you have a wireless connection.
This ticket is NOT valid for in person admittance to the show. This ticket is for livestream access only.
---
What makes a music legend? Perhaps it's the ability to leave aninimitable, lasting imprint on the world. By that definition, Tony Toni Toné's contribution to music is most certainly legendary: a group regarded the world over as a talented, authentic group of musicians who made some of the best R&B music of the 80's and 90's. From fun, upbeat, smash hits like "Feels Good," to blues-leaning classics like "The Blues" to their signature love ballads like "Anniversary," the sound of Tony Toni Toné is soulful, organic, classic, and instantly recognizable.Their ability to create songs that perfectly married the stylings of the soul and funk gods of the 70's with the technology and hip-hop infused R&B of the 90s made them icons of their generation.
The group released five albums in all, including Who? (1988), The Revival (1990), Sons of Soul (1993), House of Music (1996), and Hits (1997). After their debut album, the trio quickly expanded their roles as singers and musicians to songwriters and producers of their music, leading to their distinctive sound and timeless songs that remain in rotation on radio stations today.
The Tony's stats are impressive by any music industry standards, past or present: 14 Billboard-charting R&B singles; including five number one hits, and three top ten pop singles, one gold album, two platinum albums and one double platinum album, and over six million albums sold.
Tony Toni Toné also enjoyed success from song placements on several movie soundtracks during the 80s and 90s, including, Boyz in the Hood, House Party II, Jason's Lyric, The Mask, Panther, and Poetic Justice. They've also amassed an impressive amount of awards, including a 1991 NAACP Image Award for "Vocal Group Of The Year," a 1991 American Music Award for "Favorite R&B/Soul Group," and an ASCAP Award for their single, "Feels Good."