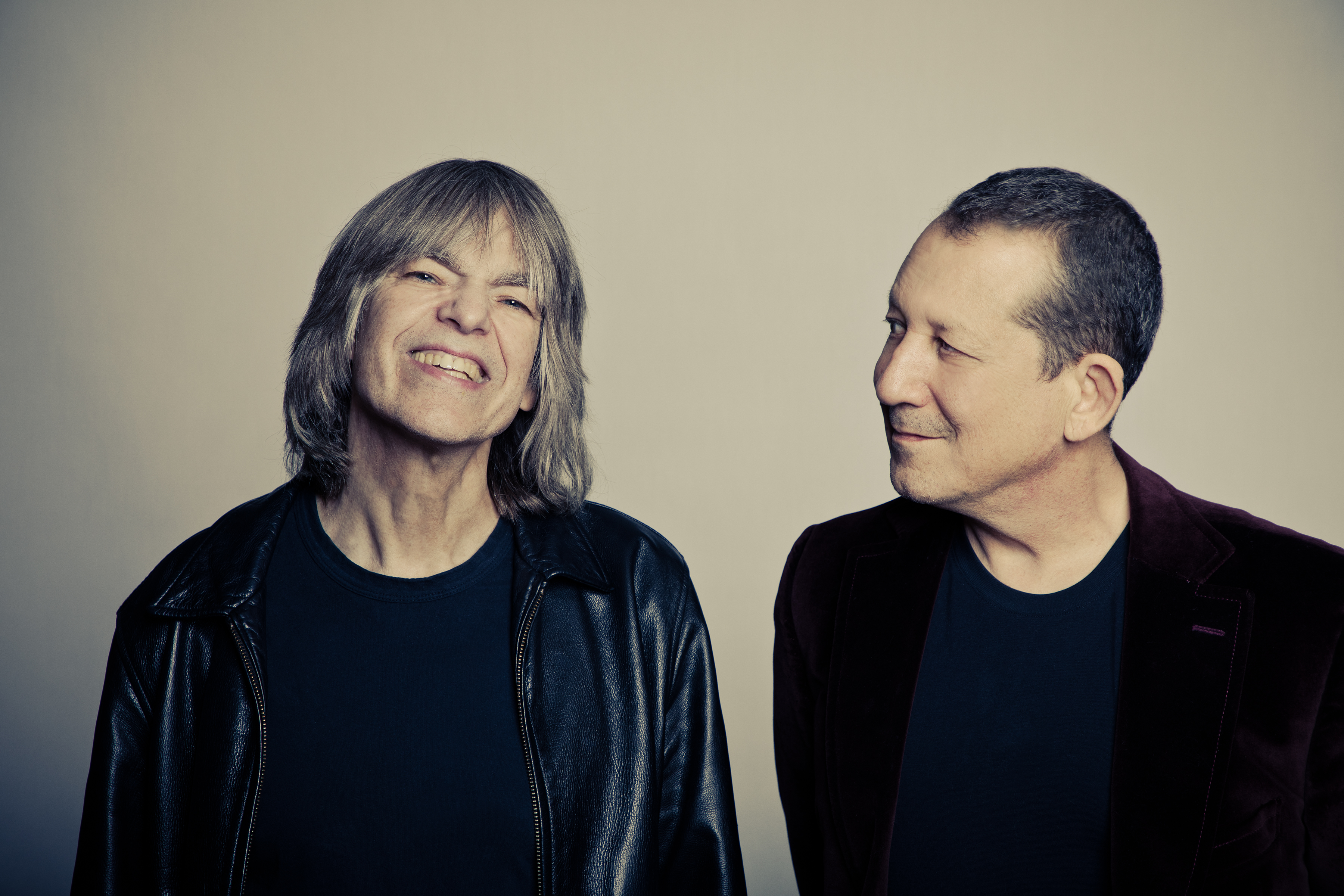 MIKE STERN, JEFF LORBER, JIMMY HASLIP, GARY NOVAK
December 13, 2021

Doors: 7:30 PM / Show: 8:00 PM

December 14, 2021

Doors: 7:30 PM / Show: 8:00 PM

December 14, 2021

Doors: 9:45 PM / Show: 10:00 PM
One of the great jazz guitarists of his generation, Mike Stern has the unique ability to play with the finesse and lyricism of Jim Hall, the driving swing of Wes Montgomery and the turbulent, overdriven attack of Jimi Hendrix. Growing up in the Washington, D.C. area, Stern revered all three of those guitar immortals, along with such potent blues guitarists as Albert and B.B. King. Aspects of those seminal influences can be heard in his playing on the 18 recordings he has released as a leader or in his acclaimed sideman work for Miles Davis, Billy Cobham, the Brecker Brothers, Jaco Pastorius, Steps Ahead, David Sanborn, Blood, Sweat & Tears, Joe Henderson and the all-star Four Generations of Miles band.
A player of remarkable facility whose searing lines are informed mainly by bebop and the blues while also carrying a rock-tinged intensity, Stern made his mark with Miles Davis in the early '80s before launching his solo career in 1985. Since then he has released 18 recordings as a leader, six of which were nominated for GRAMMY® Awards. Stern's latest Concord Jazz release, Eleven, is an encounter with Grammy-winning keyboardist-composer-producer Jeff Lorber. Co-produced by bassist Jimmy Haslip, who had previously worked with the guitarist on the Yellowjacket's 2008 album, Lifecycle, this lively collaboration finds Stern at the peak of his powers, following on the heels of 2017's acclaimed Trip, his triumphant return to recording after a freak accident that threatened to end his career. Produced by pianist-keyboardist Jim Beard, Stern's frequent producer going back to 1991's Odds or Evens, Trip is a brilliant showcase of what the acclaimed guitarist does best — riffing on post-Miles funk-fusion ("Trip," "Screws," "Watchacallit"), urgent swingers ("Half Crazy," "Scotch Tape and Glue," "B Train") and lyrical ballads ("Amelia," "I Believe You").
The multiple Grammy-nominated guitarist was hailing a cab outside his apartment in Manhattan July 3, 2016 when he tripped over some hidden construction debris left in the street, fracturing both of his humerus bones (the long bones that run from the shoulder to the elbow) in the fall. Left with significant nerve damage in his right hand which prevented him from doing the simplest tasks, including holding a pick, Stern faced a series of surgeries and subsequent physical therapy before he could regain control of his nerve-damaged picking hand. Says Stern of the whole arduous journey that led to this triumphant comeback album: "Sometimes you have some bad stuff that'll happen to you, but you kind of get through it and you realize that everybody has this stuff — good trips and bad trips. But you just gotta keep trying, you gotta get up and keep going as soon as you can, which I was able to do. I had to figure out a way to play. I don't know what I'd do if I couldn't play music. If you really want something bad enough, sometimes you have to fight for it; you find a way to make it happen. And now I have friends who I trust who tell me that they wouldn't have noticed any difference in my playing if I hadn't told them what happened to me."
Born in Boston on January 10, 1953, Stern grew up in Washington, DC, then returned to Boston to study at the Berklee College of Music where he met and befriended fellow Berklee students like guitarists John Scofield and Bill Frisell, bassist Jeff Berlin, drummers Steve Smith and Vinnie Colaiuta. He got his first big break in 1976 going out on tour with Blood, Sweat & Tears, appearing on the group's studio More Than Ever and live album In Concert that year and also on 1977's Brand New Day. After touring and recording for two years with the popular rock band he was recruited by former Mahavishnu Orchestra drummer Billy Cobham for a stint in his powerhouse fusion band Glass Menagerie from 1979 to early 1981. Stern was subsequently recruited by Miles Davis and was part of the jazz legend's celebrated comeback band (with bassist Marcus Miller, drummer Al Foster, percussionist Mino Cinelu and saxophonist Bill Evans), making his public debut with Miles on June 27, 1981 at the KIX nightclub in Boston (a performance documented on the 1982 live album We Want Miles). During his three-year period with Miles, Stern appeared on two other recordings with the jazz maestro – 1981's Man with the Horn and 1983's Star People. He later toured with Jaco Pastorius' Word of Mouth Band from 1983 through 1985 then returned to Miles' lineup for a second tour of duty that lasted close to a year.
In 1985, Stern made his recording debut as a leader with Neesh on the Japanese Trio label. A year later, he made his Stateside debut as a leader on Atlantic Records with Upside Downside, which featured such celebrated colleagues as alto saxophonist David Sanborn, tenor saxophonist Bob Berg, bassists Mark Egan, Jeff Andrews and Jaco Pastorius, keyboardist Mitch Forman and drummers Dave Weckl and Steve Jordan. In the summer of 1986, Stern took to the road with David Sanborn and later joined an electrified edition of Steps Ahead, which featured Mike Mainieri on midi vibes, Michael Brecker on the Electronic Wind Instrument (EWI), Darryl Jones on electric bass and Steve Smith on drums. That powerhouse fusion outfit was documented on Live in Tokyo 1986. Over the next two years, Stern was a member of Michael Brecker's potent quintet, appearing on the tenor titan's 1988 album, Don't Try This At Home.
Stern's second album as a leader, 1988's Time In Place, featured drummer Peter Erskine, keyboardists Jim Beard and Don Grolnick, bassist Jeff Andrews and percussionist Don Alias. He followed in 1989 with Jigsaw, which included Mike's menacing ode to Miles, "Chief," and in 1991 with Odds Or Evens, the latter featuring the working group that Stern co-led with saxophonist Bob Berg and featured drummer Dennis Chambers and bassist Lincoln Goines. In 1992, Stern joined Michael and Randy Brecker in a reunited Brecker Brothers Band, appearing on that year's acclaimed release, Return of the Brecker Brothers. Stern's own 1993 release, Standards (And Other Songs), earned him Best Jazz Guitarist of the Year by the readers and critics of Guitar Player magazine. He followed that up with two hard hitting releases, 1994's Is What It Is and 1996's Between The Lines, both of which scored GRAMMY® nominations.
In 1997, Stern recorded Give And Take with bassist John Patitucci, drummer Jack DeJohnette, percussionist Don Alias and special guests Michael Brecker and David Sanborn. Their freewheeling covers of Sonny Rollins' "Oleo," John Coltrane's "Giant Steps," Cole Porter's "I Love You" and Jimi Hendrix's "Who Knows" helped Stern earn the Orville W. Gibson Award for Best Jazz Guitarist that year. His ninth release for Atlantic, 1999's Play, was a six-string summit featuring his friends and colleagues Bill Frisell and John Scofield. Then in 2001, Stern made his first foray into vocal music on the GRAMMY®-nominated Voices, which featured key contributions from singers Richard Bona, Arto Tuncboyaciyan and Elisabeth Kontomanou. After 15 years with Atlantic Records, Stern shifted to ESC for the 2004 release, These Times, an eclectic set that included guest appearances by some high-profile session players, including bassist Richard Bona, saxophonist Kenny Garrett and banjoist Bela Fleck.
Stern joined Heads Up International, a division of Concord Music Group, with the August 2006 release of Who Let the Cats Out? Included on the guest roster of this GRAMMY®-nominated recording are bassist-singer Richard Bona, bassists Anthony Jackson, Meshell Ndegeocello, Chris Minh Doky and Victor Wooten, trumpeter Roy Hargrove, saxophonists Bob Franceschini and Bob Malach, drummers Dave Weckl and Kim Thompson, harmonica virtuoso Gregoire Maret and keyboardist/producer Jim Beard. At the Festival International de Jazz de Montréal in June 2007, Stern was honored with the Miles Davis Award, which was created to recognize internationally acclaimed jazz artists whose body of work has contributed significantly to the renewal of the genre. Previous recipients include Keith Jarrett, Wayne Shorter, Michael Brecker and Charlie Haden. Stern was also the artist in residence at the festival that summer of 2007, joining the renowned Yellowjackets for some electrifying live performances. Their kinetic chemistry was later documented on the 2008 studio collaboration Lifecycle, which was nominated for a GRAMMY® for Best Contemporary Jazz Album.
A frequent world traveler, Stern took his group to Europe, Asia and elsewhere throughout much of 2008 – an ambitious itinerary that included a memorable one-nighter at the New Morning club in Paris with saxophonist Bob Franceschini, bassist Tom Kennedy and drummer Dave Weckl. This electrifying show in front of a capacity-plus crowd in May 2008 was captured on film for the DVD New Morning: The Paris Concert, released in March 2009. In February 2009, in the first in a series of articles to celebrate DownBeat's 75th anniversary, Stern was named to the venerable jazz magazine's list of 75 Great Guitarists. The list spotlights many all-time great jazz, blues and beyond guitarists and shows the wide-ranging influence that the guitar has had on music since it made its way into jazz in the 1920s.
In August 2009, Stern released his ambitious, GRAMMY®-nominated Big Neighborhood, which featured a long list of talented guests, including guitarists Steve Vai and Eric Johnson, bassist-vocalists Esperanza Spalding and Richard Bona, jamband godfathers Medeski Martin & Wood, drummers Dave Weckl, Terri Lyne Carrington, Cindy Blackman Santana and Lionel Cordew, bassists Chris Minh Doky and Lincoln Goines, saxophonists Bob Franceschini and Bob Malach, trumpeter Randy Brecker and keyboardist/producer Jim Beard.
Stern was presented with Guitar Player magazine's Certified Legend Award on January 21, 2012. In June of that year, Stern released All Over the Place, which featured trumpeter Randy Brecker, saxophonists Kenny Garrett, Chris Potter, Bob Franceschini and Bob Malach, drummers Dave Weckl, Keith Carlock, Lionel Cordew, Al Foster, Kim Thompson, keyboardist/producer Jim Beard and Mike's wife, guitarist-vocalist Leni Stern. A delegation of high-caliber electric and acoustic bass players, including Esperanza Spalding, Richard Bona, Victor Wooten, Anthony Jackson, Dave Holland, Tom Kennedy, Will Lee and Victor Bailey rounded out the all-star cast.