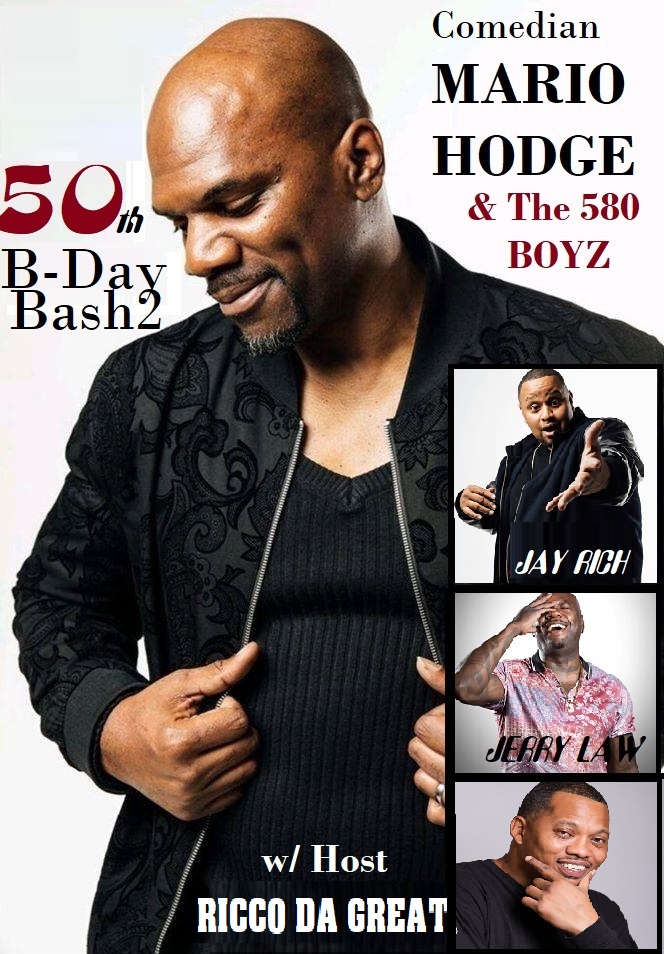 Sat April 9, 2022
Bay Area's Rising Star Comedians w/ Host: Ricco Da Great
MARIO HODGE & 580 BOYZ
Doors: 9:15 PM Show: 9:30 PM
Join us as welcome home Bay Area's rising star comedian & social media multi-character sensation, Mario Hodge, now touring the United States taking his unique style of raw urban stand up abroad. Mario Hodge, born April 9, 1972, will be celebrating his 50th Birthday Party with a special performance by the 580 BOYZ featuring, JAY RICH, JERRY LAW and host, MO JONES. With music by DJ KSTYLE, Bay Area's favorite music video mixer and Surprise Guest TBA.
Presented by Mark T. Elliott & the A-List Musiq Circle, Your Bay Area Who's Who Entertainment Network.
Mario Hodge
Mario Hodge was born & raised in Oakland, CA. He is the youngest of 4 siblings and he was inspired to be a comedian as a child by watching sitcoms like Sanford & Son, The Richard Pryor show, The Carol Burnett Show, and the Three Stooges, with his older siblings. It wasn't until he watched In Living Color that he knew he wanted to be on TV and perform on stages in front of live audiences to make people laugh. Mario Hodge stepped on the stage in 2012 and has never looked back. He quickly rose fast in the comedy industry over a short period of time due to his creative writing and very animated style of comedy. In 2016, he had the #1 selling, 1-hour comedy special in California called "I Can't with You" which he wrote and co-produced. He is multitalented and often his comedic style is compared to the likes of Jamie Foxx, which is his favorite comedian of all time. However, Mario has his own brand of comedy that makes him a crowd favorite wherever he performs at. He has worked with the late great Charlie Murphy, Tony Roberts, Mark Curry, Luenell, Sinbad, Mo'nique, Adele Givens, Tommy Davidson, and he tours all over with Faizon Love. Hie has also become a fan favorite on social media platforms for going viral several times with his character "Fleek'isha" and with his hilarious creative parodies of R&B singers. One of his most recent accomplishments he worked hand and hand with Kevin Hart in 2018, being chosen to feature on Kevin Hart's new show called "Hart of the City, that appears on Comedy Central in 2019. Comedian Mario Hodge is a sure must see when he comes to your town. His creative mind and his hilarious animated style will have you crying with laughter and wanting more.
JAY RICH
From Oakland CA, Jay Rich started entertainment as a spoken word artist participating in the slam contest in the Bay Area later to host open mic for 3 years at Dorsey Locker. As a graduate from barber school, Jay Rich managed to still perform and bless the mic with such artist as Joe Torrey, Luenell, Rodney Perry, just to name a few. Jay Rich performed a live taping with Nephew Tommy HBO Uncontrolled Comedy at E One Entertainment and was a finalist and current Shaq's All-Star artist. Jay Rich is also the winner of the Black Music Award 2014 for Best Spoken Word and has performed in a live taping of the show "Crackin Up" and is now performing and touring with Paul Mooney, Dick Gregory, Luenell. Jay Rich is currently writing and working on his own TV show called "The Jay Rich Variety Show. This is a young man who is hilarious and has many gifts, he is on the move bringing you the best of him, and specializing in making your concert, event, or special occasion that much better and entertaining. Look for Jay Rich on a stage in your city.
Jerry Law
Jerry "Lucky" Law is one the fastest rising comedians hailing from Oakland, Ca.
Since getting his start in 2014 at Tommy T's in Pleasanton, Ca hosting for Paul Mooney and the late Dick Gregory. He has gone on to work with Deon Cole, Mike Epps, and Dave Chappelle at Hollywood Improv. Jerry Law has also gone on tour with Jess Hilarious and Ryan Davis in 2018.
Jerry's is a high energy comedian, and his comedy is real and raw. He takes you on a humorous ride talking about his fatherhood, getting older and advice for men and women in life and relationships, as well as his lengthy incarceration and survivor awards. Keep on the look Jerry Law, he is destined to do great things in the world of comedy.
Host Ricco Da Great
Ricco Da Great was born in Sacramento, CA and raised in Berkeley, CA. Although raised in Berkeley, Rico would dwell in Sacramento as well to visit family. Rico spent most of his time playing basketball and had a promising career until a nearly fatal car accident in 1995. Ricco went through several years of trying to redefine himself. It wasn't until a friend encouraged him to compete in an open mic session in 2010 that Rico found his calling as a comedian. Since then, Rico Da Great has gone on to be known as one of Northern California's most highly sought-after comedians. He has performed with comedians DC Curry, Mike Whitfield, CoCo Brown, Tony Roberts and many more. Rico's comedy career nearly ended after suffering a brain aneurysm in 2014. Rico Da Great not only successfully recovered but went on to be named the 2015, 2016 and 2017 Northern California Comedian of the Year. Rico Da Great has featured in his own biographical special "Rico Da Great: B-Town's Finest" (2017). Rico has also made cameo appearances in the movie Easy Money (2018) and E-40's music video "19 Dollar Lap Dance" (2021). Recently, Rico was the opening act for singer Musiq Soulchild. Rico Da Great regularly hosts and performs at the Touch of Class in Sacramento, JB's Lounge in Rancho Cordova and The Compound in Oakland. Rico continues to perform at various occasions throughout the West Coast spreading his gift of comedy.