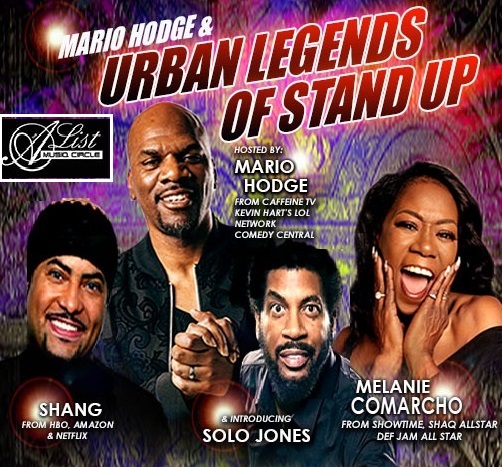 Thu April 13, 2023
Bay Area's Rising Star Comedians & Def Comedy Jam All-Stars
MARIO HODGE & URBAN LEGENDS OF STAND UP
Doors: 7:30PM Show: 8:00PM
Bay Area's Rising Star Comedian, Mario Hodge returns to Yoshi's Oakland with the Urban Legends of Stand-Up featuring BET, Showtime & HBO Def Comedy Jam All-Stars, SHANG & MELANIE CAMARCHO, also Introducing the in-sane SOLO JONES, [ all ready to deliver an evening of raw humor, political satire & urban therapy. The perfect remedy for comic relief in times like this!
Presented by Mark Elliott & The A-List Musiq Circle -Your Bay Area's Who's Who Entertainment Network.
Mario Hodge was born & raised in Oakland, CA. He is the youngest of 4 siblings and he was inspired to be a comedian as a child by watching sitcoms like Sanford & Son, The Richard Pryor show, The Carol Burnett Show, and the Three Stooges, with his older siblings. It wasn't until he watched In Living Color that he knew he wanted to be on TV and perform on stages in front of live audiences to make people laugh. Mario Hodge stepped on the stage in 2012 and has never looked back. He quickly rose fast in the comedy industry over a short period of time due to his creative writing and very animated style of comedy.
In 2016, he had the #1 selling, 1-hour comedy special in California called "I Can't with You" which he wrote and co-produced. He is multitalented and often his comedic style is compared to the likes of Jamie Foxx, which is his favorite comedian of all time. However, Mario has his own brand of comedy that makes him a crowd favorite wherever he performs at.
He has worked with the late great Charlie Murphy, Tony Roberts, Mark Curry, Luenell, Sinbad, Mo'nique, Adele Givens, Tommy Davidson, and he tours all over with Faizon Love. Hie has also become a fan favorite on social media platforms for going viral several times with his character "Fleek'isha" and with his hilarious creative parodies of R&B singers. One of his most recent accomplishments he worked hand and hand with Kevin Hart in 2018, being chosen to feature on Kevin Hart's new show called "Hart of the City, that appears on Comedy Central in 2019.
Comedian Mario Hodge is a sure must see when he comes to your town. His creative mind and his hilarious animated style will have you crying with laughter and leave you wanting more.
Melanie Comarcho was an actress who had a successful Hollywood career. Comarcho worked on a variety of projects during her early entertainment career, including "The Jamie Foxx Show" (Warner Bros. Television Network, 1995-2001) and "The 33rd Annual NAACP Image Awards" (Fox, 2001-02). Later, Comarcho acted in the dramatic comedy "Hair Show" (2004) with Mo'Nique, "Martin Lawrence Presents: 1st Amendment Standup" (2005-2011) and "First Sunday" (2008). More recently, Comarcho appeared in "Melanie Comarcho: Hello!" (Showtime, 2012-13) and Phat Tuesdays (2022).
SHANG has come a long way from the boroughs of New York. Originally from Brooklyn, this Carnegie Mellon University graduate and aspiring illustrator began his comedy career on a dare. A friend bet him $50 to take the stage during open-mic night at a local comedy club.
SOLO JONES
It is almost impossible to define or describe this comedian but this act works...it is unexpected, unique for certain, well drawn and above all exceptionally funny. Solo Jones is probably getting the best reviews lately of any 'new' comic out there and is getting himself a 'cult' following among st comedy lovers. We can imagine the 'fly on the wall' spoof documentary of this man's life. Has a period on HBO ,BET, Fox Law and order Florida's funnies comedian 2001,2002 Florida funny not famous TV show LA The Comedy cube Tickle me Tuesday Baltimore's comedian of the year