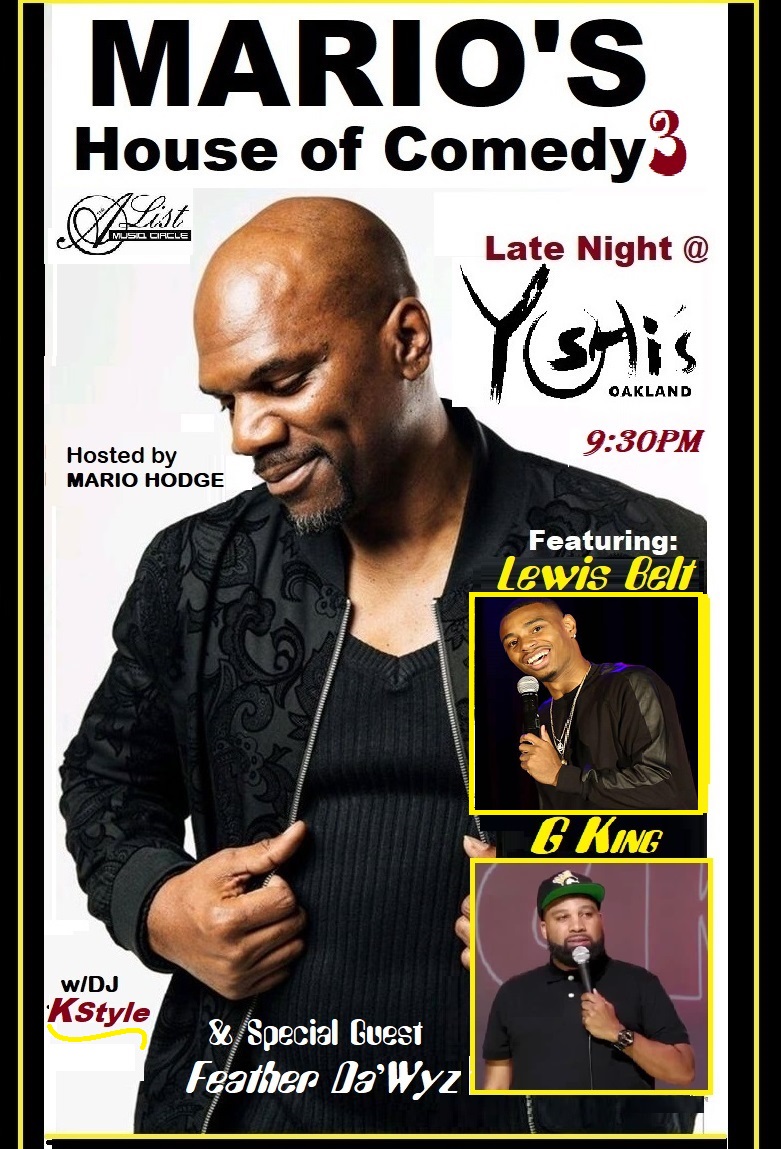 Sat May 14, 2022
w/ LEWIS BELT, G KING, FEATHER DA'WYZ & DJ KSTYLE
MARIO HODGE
Doors: 9:15 PM Show: 9:30 PM
MARIO'S HOUSE OF COMEDY3
DOORS: 9:15PM SHOW: 9:30PM
Late Night Comedy Series Hosted by Mario Hodge.
Come enjoy a night of comedy with Bay Area's rising star comedian, Mario Hodge, and an all-star cast of top comics from around the country. Featuring the hilarious, LEWIS BELT, introducing GIOVABNNI KING with special guest, Feather Da' Wyz and Bay Area's top music video mixers, DJ KSTYLE.
Produced by Mark Elliott & The A-List Musiq Circle –Your Bay Area's Who's Who Entertainment Network.
Mario Hodge was born & raised in Oakland, CA. He is the youngest of 4 siblings and he was inspired to be a comedian as a child by watching sitcoms like Sanford & Son, The Richard Pryor show, The Carol Burnett Show, and the Three Stooges, with his older siblings. It wasn't until he watched In Living Color that he knew he wanted to be on TV and perform on stages in front of live audiences to make people laugh.
Mario Hodge stepped on the stage in 2012 and has never looked back. He quickly rose fast in the comedy industry over a short period of time due to his creative writing and very animated style of comedy. In 2016, he had the #1 selling, 1-hour comedy special in California called "I Can't with You" which he wrote and co-produced. He is multi-talented and often his comedic style is compared to the likes of Jamie Foxx, which is his favorite comedian of all time. However, Mario has his own brand of comedy that makes him a crowd favorite wherever he performs at.
He has worked with the late great Charlie Murphy, Tony Roberts, Mark Curry, Luenell, Sinbad, Mo'nique, Adele Givens, Tommy Davidson, and he tours all over with Faizon Love. Hie has also become a fan favorite on social media platforms for going viral several times with his character "Fleek'isha" and with his hilarious creative parodies of R&B singers. One of his most recent accomplishments he worked hand and hand with Kevin Hart in 2018, being chosen to feature on Kevin Hart's new show called "Hart of the City, that appears on Comedy Central in 2019.
Comedian Mario Hodge is a sure must see when he comes to your town. His creative mind and his hilarious animated style will have you crying with laughter and wanting more.
Visit: https://www.facebook.com/comedianmariohodge