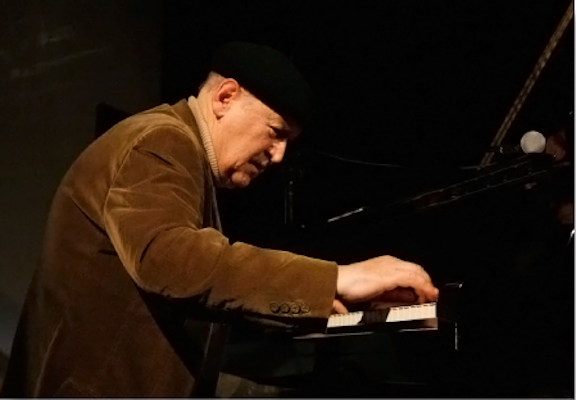 Thu July 28, 2022
Afro-Cuban salsa, swinging/contemporary bebop, romantic bolero's, world music + soulful blues
LARRY VUCKOVICH ALL-STAR QUINTET FEAT. ALVON JOHNSON
Doors: 7:30 PM Show: 8:00 PM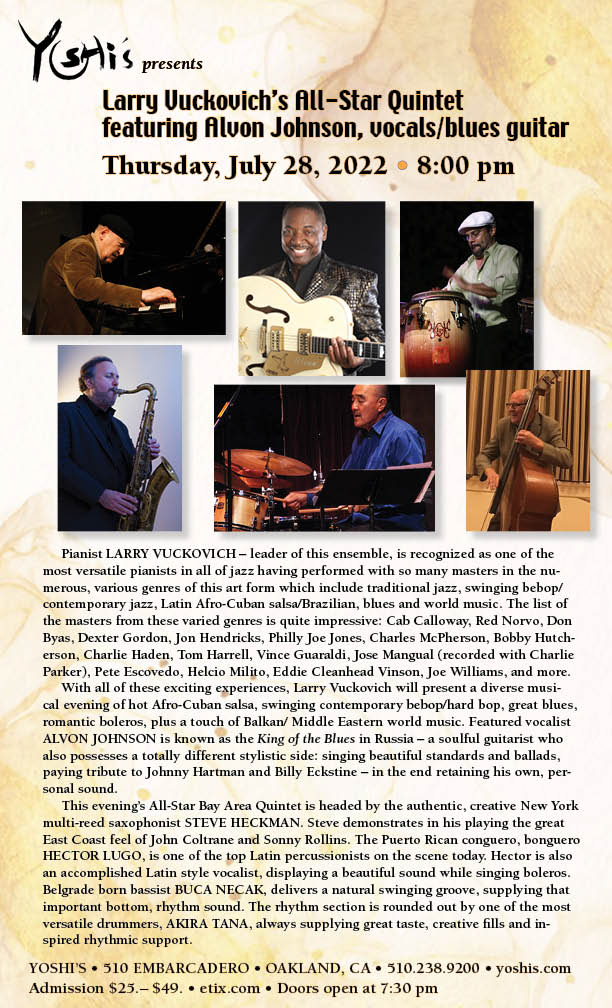 Pianist Larry Vuckovich – leader of this ensemble, is recognized as one of the most versatile pianists in all of jazz having performed with so many masters in the numerous, various genres of this art form which include traditional jazz, swinging bebop/contemporary jazz, Latin Afro-Cuban salsa/Brazilian, blues and world music. The list of the masters from these varied genres is quite impressive: Cab Calloway, Buddy Tate, Red Norvo, Don Byas, Dexter Gordon, Jon Hendricks, Philly Joe Jones, Charles McPherson, Bobby Hutcherson, Charlie Haden, Tom Harrell, Vince Guaraldi, Jose Mangual (recorded the Charlie Parker), Frankie Malabe, Pete Escovedo, Helcio Milito, Eddie Cleanhead Vinson, Joe Williams, Jimmy Witherspoon, Vince Delgado, Eric Golub + more.
With all of these exciting experiences, Larry Vuckovich will present an evening of hot Afro-Cuban Salsa, swinging contemporary bebop/Hard Bop, great blues, romantic boleros, plus a touch of Balkan/ Middle Eastern world music.…… Featured vocalist Alvon Johnson is known as the King of the Blues in Russia. He is a soulful guitarist who also possesses a totally different stylistic side: his creative ability enables him singing beautiful standards and ballads, paying tribute to Johnny Hartman and Billy Eckstine. However, in the end Alvon retains his own, personal sound.
As it happens, Larry Vuckovich at this particular time has a very successful, Re-mastered CD, Street Scene on the market, which is doing great on the national Jazz Week radio charts. Street Scene reached #5 spot, and what is not typical in this business, it has been on the charts and still is for four months. One reason for the success of Street Scene is due to its diverse material which includes not regularly heard compositions such as Larry's interpretation of the Casablancafilm theme done in a Afro-Cuban mambo style. Additionally, there is a Sonny Clark Hard Bop original, which once again is not regularly found in today's trio releases. Also, this CD includes a tribute to the great Dexter Gordon – an original by Larry, Dexters Mode, showing in part Dexter's later development – playing in modal style. Also, there is a seldom heard bebop ballot classic, first recorded in the Billy Eckstine bebop big band, I'll Wait and Pray. Here is a link to the music https://larryvuckovich.com/audio-street_scene.htm . Larry Vuckovich has done a nationally/internationally PBS TV program, Club Date, which is now archived in the Library of Congress. I feel the listeners will enjoy checking out this video:https://larryvuckovich.com/video.htm it features an all-star combination with Tom Harrell, Pete Escovedo, Al Obidinski and Harold Mason
This evening's All-Star Bay Area Quintet is headed by the authentic, creative New York multi-reed saxophonist Steve Heckman. Steve demonstrates in his playing the great East Coast feel of John Coltrane and Sonny Rollins. The Puerto Rican conguero, bonguero Hector Lugo, is one of the top Latin percussionists on the scene today. Hector is also an accomplished Latin style vocalist, displaying a beautiful sound while singing boleros. Belgrade born bassist Buca Necak, brings to the band a great natural swinging groove, supplying that important bottom, rhythm sound. The rhythm section is rounded out by one of the most versatile drummers, Akira Tana. Akira is comfortable in any jazz genre, always supplying great taste, creative fills and inspired rhythmic support.