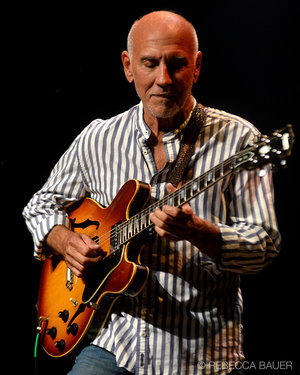 Fri October 22, 2021
LARRY CARLTON: THE CRUSADERS REMEMBERED
Doors: 9:45pm Show: 10:00pm
Nineteen-time Grammy nominee, Four-time Grammy winner and all-time guitar great, Larry Carlton established himself from his first recording, A Little Help From My Friends. His studio credits include musicians and groups like Steely Dan, Joni Mitchell, Michael Jackson, Sammy Davis Jr., Herb Alpert, Quincy Jones, Bobby Bland, Dolly Parton, Linda Ronstadt and literally dozens of others. He went on to perform with the Crusaders and then with the multi platinum jazz super group Fourplay.
With 38 albums to his credit and having performed on over 100 albums that have gone Gold or Platinum, Larry Carlton has set a standard for artistry that spans three decades. Additionally Larry received a Lifetime Achievement Award from Guitar Player magazine at the historical Ryman Auditorium; was presented the "Titan of Tone" award from Premier Guitar Magazine at the Rock and Roll Hall of Fame and received a star on the Rock Walk of Fame on June 3, 1999. Larry's recent Grammy Nominations include Best Pop Instrumental Album for his "Greatest Hits Rerecorded - Volume One" released by 335 Records in 2009; and Best Pop Instrumental Performance for "Fortune Teller" from Fourplay's Energy also in 2009.
In February 2010, Larry Carlton announced that after having had the distinct privilege of performing 12 years with Fourplay he has decided to take his leave to delve further into his solo career. As Larry looks to the future he is excited about all of the new projects that he is working on and looks forward to sharing them with his loyal fans. One can be sure that Larry will continue to deliver great music that will inspire generations to come and live up to the quality that they have come to expect from him.
In 2011 Larry went on to received his 4th Grammy for Best Pop Instrumental Album award for 'Take Your Pick'. He also received the George Benson Lifetime Achievement Award at the 2011 Canadian Wave Awards; was named One of the 10 Greatest-Ever Session Guitarists by Gibson; and Guitar Player magazine lists "Kid Charlemagne" as one of the Most Influential Rock Solos Ever!
Larry's album "LARRY CARLTON PLAYS THE SOUND OF PHILADELPHIA" (A TRIBUTE TO THE MUSIC OF GAMBLE & HUFF AND THE SOUND OF PHILADELPHIA) was on the Jazz Charts in the United States for over 35 weeks in 2012!
Larry Carlton's "Four Hands & A Heart Volume One" was nominated at the 2013 55th Annual Grammy Awards for "Best Pop Instrumental Album".