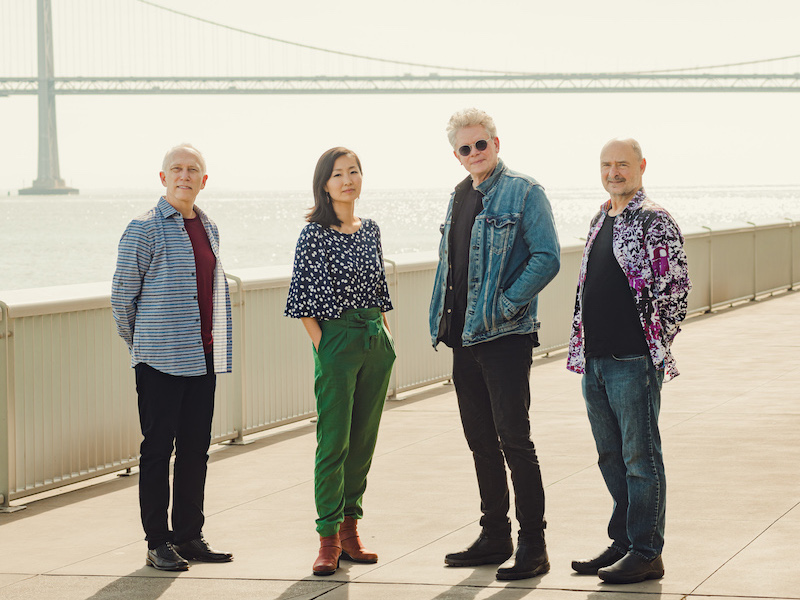 Fri October 14, 2022
One of the most celebrated and influential groups of our time
KRONOS QUARTET
Doors: 7:30 PM Show: 8:00 PM
For more than 45 years, San Francisco's Kronos Quartet – David Harrington (violin), John Sherba (violin), Hank Dutt (viola), and Sunny Yang (cello) – has combined a spirit of fearless exploration with a commitment to continually reimagine the string quartet experience. In the process, Kronos has become one of the world's most celebrated and influential ensembles, performing thousands of concerts, releasing more than 60 recordings, collaborating with many of the world's most accomplished composers and performers, and commissioning over 1,000 works and arrangements for string quartet. Kronos has received over 40 awards, including the prestigious Polar Music, Avery Fisher, and Edison Klassiek Oeuvre Prizes.
Integral to Kronos' work is a series of long-running associations with many of the world's foremost composers and musicians, including Franghiz Ali-Zadeh, Philip Glass, Nicole Lizée, Vladimir Martynov, Steve Reich, Aleksandra Vrebalov, and Wu Man. Kronos has shared the stage with numerous artists, including David Bowie, Asha Bhosle, Rhiannon Giddens, Sam Green, Zakir Hussain, Trevor Paglen, Van Dyke Parks, Alim Qasimov, San Francisco Girls Chorus, Tanya Tagaq, Mahsa Vahdat, Tom Waits, and Howard Zinn.
Touring for five months each year, Kronos appears in the world's most prestigious concert halls, clubs, and festivals. Kronos has a prolific and wide-ranging discography on Nonesuch Records, including three Grammy-winning albums – Terry Riley's Sun Rings (2019), Landfall with Laurie Anderson (2018), and Alban Berg's Lyric Suite featuring Dawn Upshaw (2003). Among Kronos' recent releases are Ladilikan (World Circuit Records) with Malian musicians Trio Da Kali; Michael Gordon: Clouded Yellow (Cantaloupe), Placeless (Kirkelig Kulturverksted) with Iranian vocalists Mahsa and Marjan Vahdat, and Long Time Passing: Kronos & Friends Celebrate Pete Seeger (Smithsonian Folkways).
The nonprofit Kronos Performing Arts Association manages all aspects of Kronos' work, including the commissioning of new works, concert tours and home season performances, education programs, and the annual Kronos Festival. In 2015, Kronos launched Fifty for the Future: The Kronos Learning Repertoire, an education and legacy project that is commissioning—and distributing online for free—50 new works for string quartet written by composers from around the world.
---
You may also enjoy these amazing upcoming shows!
Mon Oct 17: The Dave Weckl Tom Kennedy Project
Tue Oct 18: Tommy Igoe
Thu Oct 20: Jeanette Harris