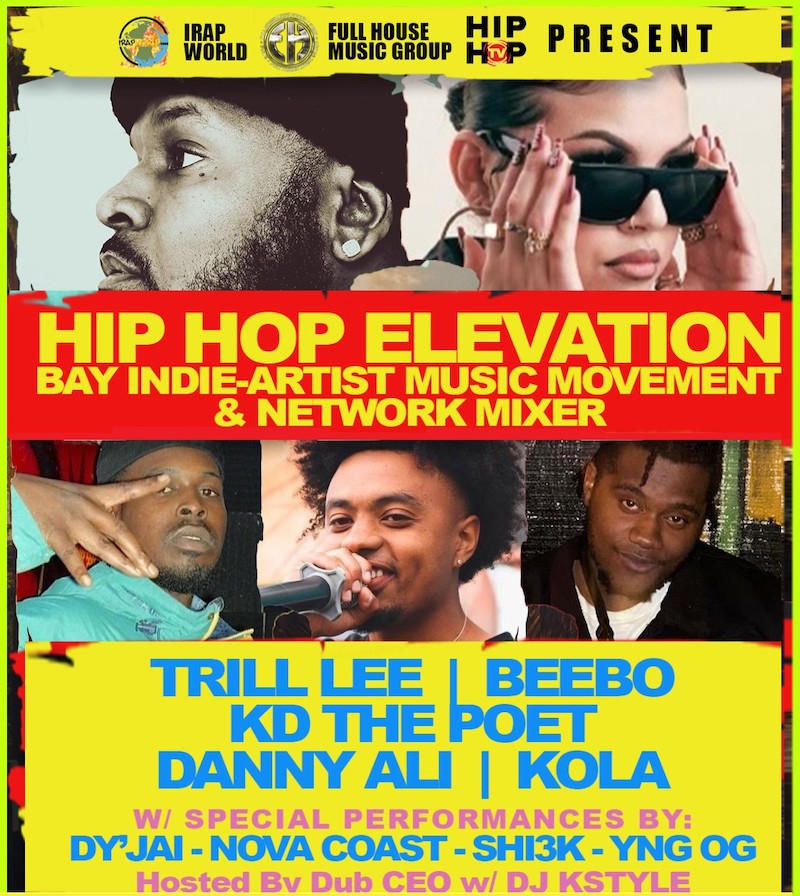 Mon July 24, 2023
BAY INDIE-ARTIST MUSIC MOVEMENT & HIP HOP TV MIXER
HIP HOP ELEVATION
Doors: 7:30 PM Show: 8:00 PM
Hip Hop TV, Full House Music Group & IRapWorld Entertainment join forces to reignite HIP HOP ELEVATION, introducing some of Bay Area most prominent Hip Hop, Rap and R&B artists performing original songs, creative lyrics & the phattest beats & grooves produced by the industries next level producers. These local organizations are known for their years of support & contribution to the Bay's industry of independent music & positive Hip Hop related events. Providing a safe place for artist & at-risk youth to enjoy.
Featuring TRILL LEE, BEEBO, KD THE POET, DANNY ALI, KOLA, and introducing: DY'JAI, NOVA COAST, SHI3K & YNG OG & More
Hosted by DUB CEO of Full House Music Group with DJ KSTYLE. Also join us for HIP HOP TV pre-show Artist Meet & Greet and Industry network mixer. HIP HOP TV NETWORK hiphoptv.com/882393/
Produced by Mark Elliott & The A-List Musiq Circle -Your Bay Area's Who's Who Entertainment Network.
HIP HOP ELEVATIONS is an indie-artist performance platform that allows new artist to share their music for review & critique by their fans & peers while expressing themselves freely in front of a live audience, network with other artists & industry professionals & hone their skillz to become the industries next new hip hop sensation.
We continue to encourage artist by challenging them to reflect & address issues in our community through positive hip hop music while changing the narrative of today's less desired fads in today's music industry inspiring them to ELEVATE the game with a New Hip Hop Perspective.
Trill Lee:
Is a Hip Hop/R&B Artist from The Bay Area Ca, Formally Known As "Apollo Trill" Who has been Been Making Music Since His Early Teen years. His unique style and sound is like no other, A mix of Rap/Hiphop/and R&B mixed with a lot of Dedication and passion for music,You can Associate his uniqueness,and Song writing abilities with the likes of artists like Drake,Chris Brown And Bay Area native "Sudan" Iamsu, his cadence and stanzas are undoubtedly second to none.You Can Hear The Love For his Art In His Music! Hard Bass fast snares and melodic melodies, Trill Lee is what the World been waiting for Get Ready Real Music is Back!
BEEBO
is a Bay Area born and raised Soul Singer/Songwriter who has been singing since she was three years old. She has performed/competed locally since High School, and appeared on the X Factor USA's 2013 season. With her music style versatility, BEEBO does not limit herself to any one genre. BEEBO recorded her first single "Swept" in 2020 with releasing her first Music Video for the song shortly after. Her most recent Music Video for her EP titled "Dirt Don't Hurt" (directed by Orlando Torres) has been selected for several film festivals across the nation. This is a huge deal as the video incorporates local favorites in Fairfield CA like Dave's Giant Hamburger, as well as the beloved Solano Lowrider Community.
Dy'jai's
Born June 10th 2000 and was always with his grandparents so he had to grow up quicker than most , naturally his music style and personality has more of a old school soul , he's influenced by artists like Michael Jackson, Jamie Foxx, & Rick Ross , Dy'jai's dream originally was to make a living playing basketball when he was younger , still is something that he has a lot of a love for and something that he is good at , he got MVP in his junior year of high school but when he started getting hurt the dream started fading away and found himself back falling in love with music , before his grandfather passed away he told dyjai that he could see him doing something with music and that always stuck with him , that drives & motivates dyjai to never quit. Dy'jai does this for his family to provide them for a better life experience his mother was a single black mom for most of his life so he seen all the struggles, difficulties & challenges that she had to go through just to pay the bills And keep him in fresh new clothes Dy'jai was a good kid growing up , never really got into trouble most people that really know Dy'jai knows that he went by the childhood nickname DJ and still does to certain ppl and that brings me to another point in his music career when he first started making music he went by the name Dj2x which he and his friend came up with. At the time him and his friend were into a particular artist and that artist had dropped an album called 2x but unfortunately his friend passed away due to gun violence and he got 2x tattooed on him to remember who he is. Coming from Oakland California and living in the Bay Area his whole life Dy'jai knows that he has to grind harder than before but most importantly he knows he 1 of 1 so he's believing in himself to get to where he wants to be his style is different and unique because the young 23 year old doesn't just rap or sing he puts the two together and makes it his own.
Nova Coast
Hometown - Greenbelt Maryland
Meaning of the name Nova Coast = stars on the beach at night.
Started recording music in high school, been working towards finding purpose
And sound. Found bigger inspiration when becoming a dad and having an Autistic son. Used music to connect / communicate with him. Joined the Air Force in 2020, stationed in California for the past 3 years. Doing open mics and dropping tons of content on social media. Building a solid core fan base by promoting a positive mindset reflected in the music. Also by having an unorthodox care free style at times, not afraid to experiment with different styles, flows, and beats. Heavy influence by hip hop and rock n roll (punk rock). Goals are to be become a global phenomenon with music by bringing high energy and dope lyrics. Follow on TikTok @novacoastmusic IG @novacoast_ YouTube Nova Coast Music
VISIT: HIP HOP TV Network