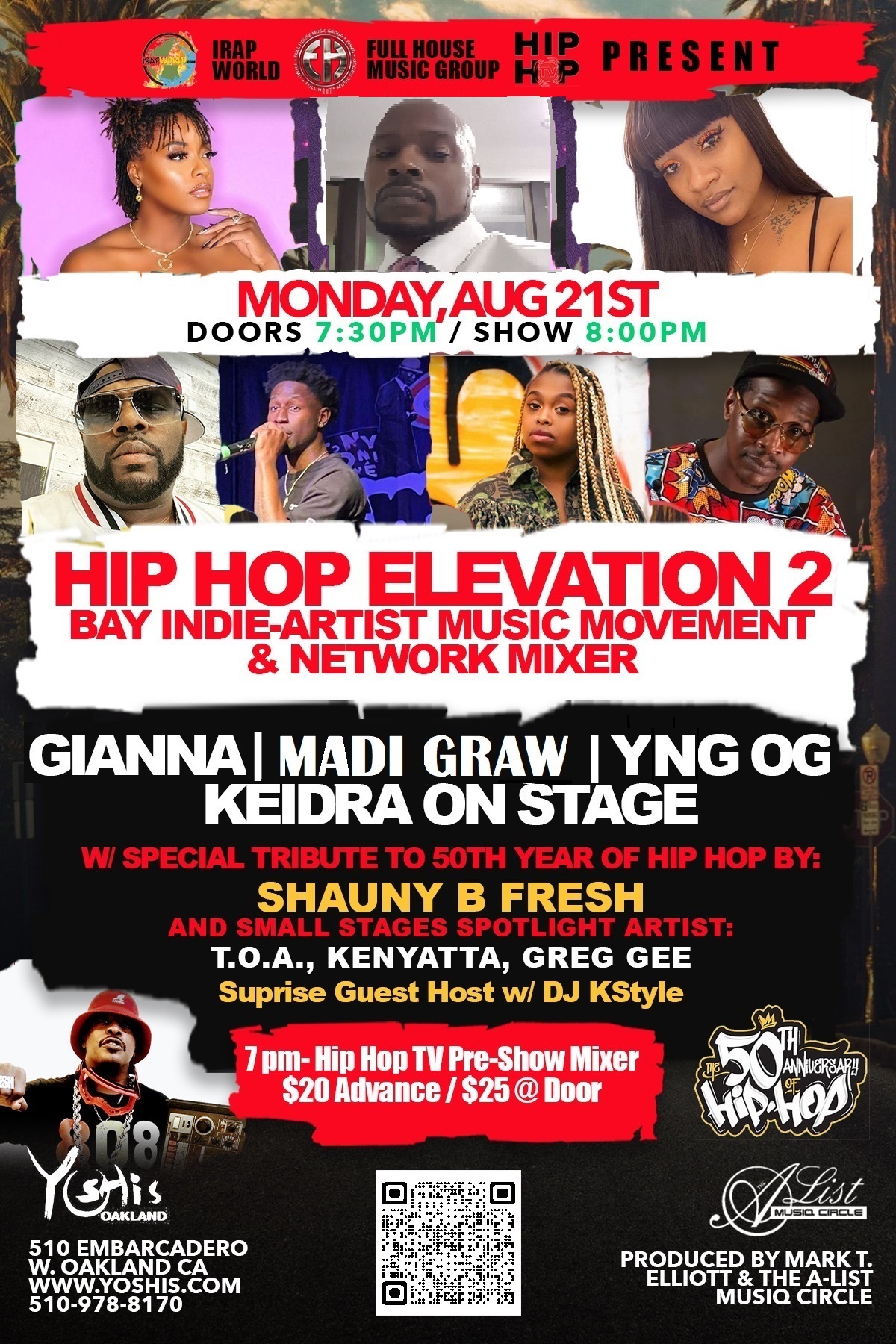 Mon August 21, 2023
BAY INDIE-ARTIST MUSIC MOVEMENT & HIP HOP TV NETWORK MIXER
HIP HOP ELEVATION 2 FT. GIANNA, YNG OG, MADI GRAW, KEIDRA, SHAUNY B FRESH & SMALL STAGES
Doors: 7:30PM Show: 8:00PM
Hip Hop TV, Full House Music Group & IRapWorld Entertainment join forces to introduce some of the Bay Area's most prominent new Hip Hop & Rap artists performing original songs & creative lyrics to the phattest beats & grooves produced by the Bay's hottest producers & track writers. These Hip Hop organizations are known for their years of support & contribution to the industry of independent music & positive Hip Hop related events.
HIP HOP ELEVATION 2 provides another powerful indie-artist platform for new artists to perform their original beatz & flows in front of a live audience, share their talents with their family, fans & peers, and network with other artists & industry professionals.
It's also an opportunity for artists to reflect, express & address issues in our community through positive hip hop music, while changing the narrative of today's less desired fads in the music industry today, encouraging them to ELEVATE the game with a new Hip Hop Perspective.
Featuring: GIANNA FARREN, YNG OG, MADI GRAW, KEIDRA ON STAGE with SHAUNY B FRESH performing a special retro tribute to 50th Year Anniversary of Hip Hop, with spotlighting performances by T.O.A., KENYATTA, GREG GEE from Small Stages Network with Live Band.
Produced by Mark Elliott & The A-List Musiq Circle -Your Bay Area's Who's Who Entertainment Network.
Hosted by HIP HOP TV with a pre-show Artist Meet & Greet and Industry network mixer. Visit HIP HOP TV NETWORK here: hiphoptv.com/882393/
Shauny B Fresh is bringing it Back to the 80's with his B-Boy style, electric beats and dynamic lyrics. Shauny B Fresh is a true electro funk/hip-hop artist from Oakland CA, with roots in groups like DGSB, THE WILD BOYZ & STUDIO 69. Shauny B Fresh started producing music in the 80's using all the classic analog gear, which he still owns and uses to this day. Shauny B Fresh recreates the classic sounds of the 80's for all the True B-Boy's and B-Girl's.
Gianna Farren, is an esteemed rap and R&B artist based in Oakland, California. Hailing from Chicago, Gianna brings passion and energy to her refined blend of dynamic rap and melodic vocals. Her debut single is set to drop on July 28th, giving listeners a taste of her addictive sound before her anticipated debut album, 'Cold Piece', releases on October 4th. Gianna's no stranger to the spotlight: she's already opened for renowned artists like Kanye West, Common, Tek9, and many more. Having shared the stage and worked alongside these modern-day icons, she has honed her craft and earned well-deserved recognition for the sophisticated yet playful artist she is today. Tongue-in-cheek and thought-provoking, Gianna's music isn't just authentic – it's refreshing. Her crackling lyricism is the culmination of ratchet meeting intellect, where ballsy bars collide with melodic vocals. Her wordplay and outlook resonate with men and women from all walks of life, offering relatable narratives of life, love, and loss. Inspired by and comparable to rap-R&B contemporaries like Nicki Minaj, Teyana Taylor, SZA, Kendrick Lamar, and Jay-Z, Gianna Farren stands out as a seasoned artist to watch. Follow Gianna Farren's music journey and stay updated at @gianna_farren.
YNG OG As a music artist, YNG OG's passion for creating and performing has been a driving force in his life. His Love for writing started with poetry, having his first work published at the age of 9. Soon he found poetry in music. YNG OG was exposed to a wide range of music genres - Blues, Classical, Pop and gospel, which inspired him to experiment with different styles and sounds. R&B, found YNG OG digging in his Aunt's record crates for music samples. Drawn to the way soul music made people feel. By 11, YNG OG became an accomplished saxophonist, rising to first chair and solo in his first concert. A performer known for a high-energy stage presence, he soon took to hip hop mixing it up on stage with Too Short, The Dog Pound, B-Legit, Juvenile, Lil Flip, Mr. F.A.B, Keek Tha Sneek, 2nd to None, KRS-1, Devin the Dude, Tha Alkaholiks. Drawing inspiration from personal experiences and the world around him, crafting lyrics that are honest and relatable. With roots in Houston and the Bay Area, his music has been praised for its authentic and unique sound, connecting with listeners from east to west coast. YNG OG believes music has the power to change mankind, and is committing his talents to making a positive impact. Excited to continue creating, performing, and connecting with people through his music."Pull Up" "Big Booty" "Like This" "Get Home" "Ol' School Caddy" (music video packed with lively scenes with southern flava). You will either agree or disagree with the power of the hip hop/rap movement and the impact it holds on pop culture but some artists can not be duplicated, engineered and compromised. YNG OG delivers on various projects keeping his audience informed and highlights the strength of set love, discarding excessive baggage and truth in reality from beginning to end. For bookings and media contact Daryon Robinson https://www.tpng.biz/contact-us
KEIDRA ON STAGE International singer, rapper, songwriter and performing artist Keidra aka KeidraOnstage has been singing since the age of six. Keidra is known for her soulful, strong but pleasant, straight to the point vocals & songwriting. Keidra had the opportunity of traveling to Ghana, Africa where she performed. & interviewed alongside Legendary Group Tony Toni Toné at The Pan African Music Festival.
Not long after Keidra has demanded her hometowns attention when she was set to open up for the Womack sisters at Yoshi's Jazz Club in Oakland, ca. which turned out to be a sold-out show!!! She later celebrated Hiero Day's hip hop festival last summer hosted by hip hop crew Hieroglyphics where she performed her mental health awareness song BLAME ME. Available Everywhere! Check out the new sound of the bay.
Madi Graw is a very talented Bay Area Artist Introducing himself to the world from Richmond born and raised. HE'S rocked stages throughout California, Boise Idaho, Seattle, and Tacoma Washington with a host of local and big named artists. Madi Graw has a dynamic sound and smooth delivery and a voice that completely captivates the audience unlike no other. A Real Bay-destrian & Hip Hop Original
Small Stages: The Artist Performance Platform developed by Dwayne Wiggins (Of Tony Toni, Tone') MikeD and RonDoe given feedback to the unsigned artis to sharpen their performance skills, stage presentation, vocals arrangements, music content, Interviewing skills & media content. Each artist has an opportunity to advance to their own showcase or open for a Dwayne Wiggins TTT local shows & other showcase opportunities.