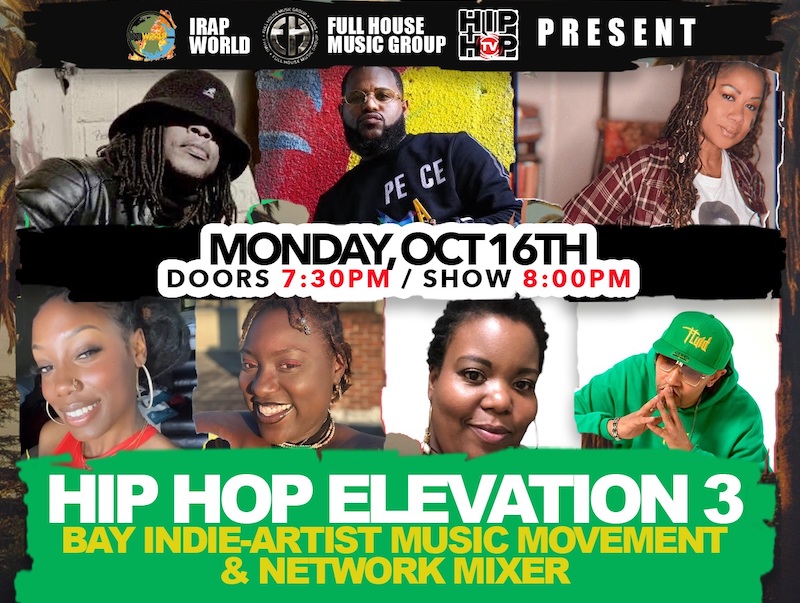 Mon October 16, 2023
BAY INDIE-ARTIST MUSIC MOVEMENT & HIP HOP TV MIXER
HIP HOP ELEVATION 3
Doors: 7:30PM Show: 8:00PM
Hip Hop TV, Full House Music Group, Tribe Media, IRapWorld Ent. & The A-List Musiq Circle have united to present HIP HOP ELEVATION 3. This event showcases some of the Bay Area's most prominent new Hip Hop and Rap artists, who will perform original songs and creative lyrics to the phattest beats and grooves produced by the Bay's hottest producers and track writers. These organizations have a long-standing reputation for their unwavering support and significant contributions to the independent music industry and positive Hip Hop-related events.
HIP HOP ELEVATION 3 offers an influential platform for aspiring artists to showcase their original beats and flows in front of a live audience. It serves as an opportunity for them to share their talents with their family, fans, and peers while connecting with other artists and industry professionals. Moreover, this event empowers artists to reflect, express, and address community issues through positive hip hop music. By doing so, it aims to reshape the current narrative surrounding less desirable trends in the music industry, inspiring artists to elevate the game with a fresh Hip Hop Perspective.
This episode of HIP HOP ELEVATION 3 SPOTLIGHTS: SMALL STAGES LIVE w/ Music Director RONNIE THOMAS & The Small Stages Band Feat: Dap Daniel, Godface, Angela Drew a.k.a. She Spits Fire, Queen Nubian, Kenyalynn Fluid and special guest. Lil D Monroe, Shady Gurl, Reality Hosted by Dub CEO w/ DJ KSTYLE. Produced by Mark Elliott & The A-List Musiq Circle.
Also join us @ 7pm- Hip Hop TV Pre-Show Mixer inside the lobby Hosted by Shawn Granberry. hiphoptv.com
Small Stages is a platform designed to provide exposure for undiscovered talent. It was created by the collaboration of brilliant musical artists with combined experience of almost a century. Dwayne Wiggins of Tony Toni Tone has contributed beyond measure to the world of music. Besides the world-renowned success of his own band, he has been instrumental in countless others becoming superstars.
Through his House of Music Artists Development project, Dwayne taught upcoming artists the electrifying skills to perform on grand stages while being humble enough to also perform on small ones alike. He connected artists like Kehlani, Zendaya and H.E.R with his son Dylan who coached them how to play and perform at the highest level.
Following the Covid standstill, Ron Doe, an exceptional music producer and guitarist, Mike D, a master of instruments and music director, along with Dwayne launched Small Stages, the multifunctional competition platform that offers the showcasing artists the opportunity for growth, coaching and major exposure. Small Stages quickly became a local sensation with a sultry house band and amazing artists that have graced the stage thus far. The production team hopes to expand it's reach in the immediate future, bringing a small stage near you.