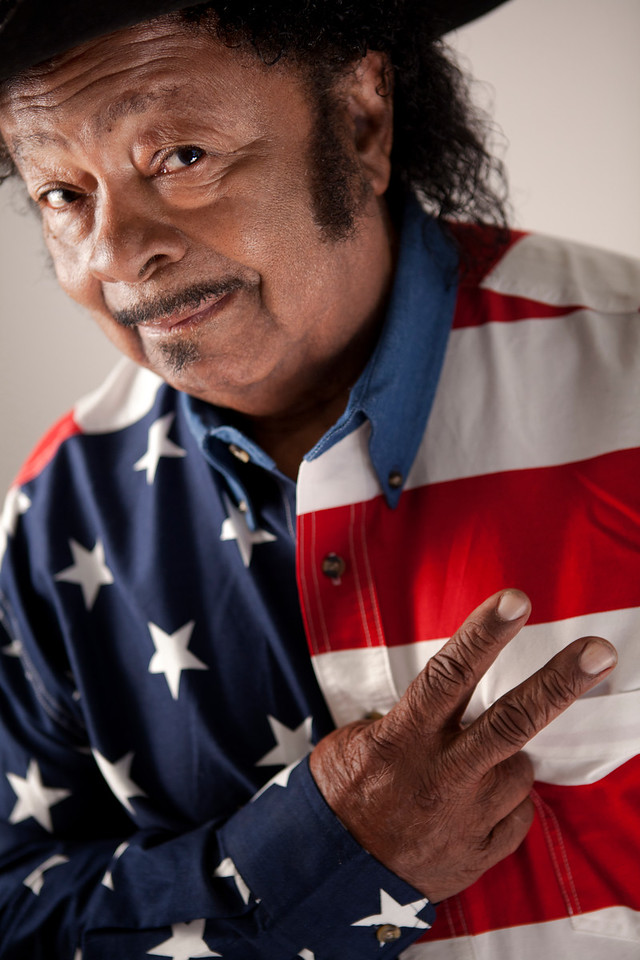 Tue January 4, 2022
PERFORMANCE CANCELED
GUITAR SHORTY
Doors: 7:30 PM Show: 8:00 PM
Due to a non-Covid related illness of the artist, the January 4, 2022 performance will be cancelled. We apologize if this causes any trouble or confusion. We look forward to rescheduling this event at a later date.
Legendary guitarist/vocalist Guitar Shorty is a giant in the blues world. Credited with influencing both Jimi Hendrix and Buddy Guy, Guitar Shorty has been electrifying audiences for five decades with his supercharged live shows and his incendiary recordings. Like a bare knuckled boxer, Shorty strikes with his blistering, physical guitar playing and his fierce vocals, connecting directly with body and soul. What really sets Shorty apart is his absolutely unpredictable, off-the-wall guitar playing. He reaches for sounds, riffs and licks that other blues players wouldn't even think of. Amazon.com says his guitar work "sounds like a caged tiger before feeding time. His molten guitar pours his psychedelicized solos like lava over anything in his path." The Chicago Reader declares, "Guitar Shorty is a battle-scarred hard-ass. He slices off his phrases and notes with homicidal fury. He is among the highest-energy blues entertainers on the scene."
Through the years, Shorty has performed with blues and R&B luminaries like Ray Charles, Sam Cooke, B.B. King, Guitar Slim and T-Bone Walker. He started playing with these legends while still in his teens and recorded a handful of singles for a variety of labels and an obscure LP during the first 30 years of his career. After decades of paying his dues (like so many unheralded American bluesmen), it took a tour of England to establish Shorty's fame in his home country. His recordings since then all received massive critical acclaim, and his renowned live performances have kept him constantly in demand all over the world. His 2004 Alligator Records debut, Watch Your Back, became his best-received, best-selling album to date. His 2006 follow-up, We The People, won the coveted Blues Music Award for Best Contemporary Blues Album Of The Year. Now, with his new CD, Bare Knuckle, Guitar Shorty unleashes a barrage of hard-hitting combinations of guitar, vocals and lyrics, hitting his listeners with some of the most awe-inspiring guitar and vocal work of his long career.
Guitar Shorty was born David William Kearney on September 8, 1939 in Houston, Texas and raised in Kissimmee, Florida by his grandmother. He began playing guitar as a young boy, excited by the sounds of B.B. King, Guitar Slim, T-Bone Walker and John Lee Hooker. His first lessons came from his uncle, but when it became clear that the youngster was serious about his music, his grandmother hired a teacher for him. "I learned so fast I was always two or three pages ahead of my teacher," Shorty recalls. After a move to Tampa when he was 17, the young Kearney won a slot as a featured guitarist and vocalist in the locally popular 18-piece orchestra led by Walter Johnson. Being younger-and shorter-than the rest of the band, a club owner bestowed the name Guitar Shorty on him, and it stuck. After a particularly strong performance by Shorty in Florida, the great Willie Dixon, who was in the audience, approached Shorty and said, "I like what you're doing. You've got something different. I gotta get you in the studio." A few weeks later Shorty was in Chicago and, backed by Otis Rush on second guitar, he cut his first single, "Irma Lee" b/w "You Don't Treat Me Right," for Chicago's famed Cobra Records (the first label home for Rush, Magic Sam and Buddy Guy) in 1957. "Willie Dixon was a huge influence on me and my singing," Shorty remembers. "Willie helped me find my own singing voice and showed me how to tell a story with my words."
Shorty's fortunes continued to rise when the great Ray Charles hired the young guitar slinger as a featured member of his road band. While touring Florida with Ray, Shorty connected with one of his idols-guitarist/vocalist Guitar Slim, famous for his hit "Things That I Used To Do" as well as for his wildman stage antics. Slim's manager offered Shorty the opening slot on the guitarist's upcoming tour, and Shorty jumped at the chance, following his hero to New Orleans. Inspired by Slim, Shorty began incorporating some of the older artist's athletic showmanship into his own performances. Before long, he was doing somersaults and flips on stage. With his blistering talent and his wild stage shows, Guitar Shorty found his audience growing even larger. In New Orleans, he joined Sam Cooke's touring band and eventually ended up in Los Angeles. He gigged locally before recording three 45s for the Los Angeles-based Pull Records label in 1959. Those six sides-all Guitar Shorty originals-showed Shorty beginning to find his own trademark sound and style.
Shorty moved to Seattle in 1960 and through his friend, Marsha Hendrix, met her stepbrother Jimi. Jimi Hendrix loved Shorty's playing, and confessed that in 1961 and 1962 he would go AWOL from his Army base in order to catch Shorty's area performances, picking up licks and ideas. "I'd see Jimi at the clubs," Shorty recalls. "He'd stay in the shadows, watching me. I hear my licks in "Purple Haze" and "Hey Joe." He told me the reason he started setting his guitar on fire was because he couldn't do the back flips like I did."
Guitar Shorty moved back to Los Angeles in 1971, gigging around Southern California for many years, sometimes playing bigger shows farther away. He opened for all the great blues stars who passed through town, including Little Milton, B.B. King, Lowell Fulson, Johnny Copeland and T-Bone Walker. In 1978 he even performed on (and won) The Gong Show, playing guitar while standing on his head. After overcoming a serious auto accident in 1984, he recorded an EP for Los Angeles-based Big J Records. After that, he cut a few more singles and his debut LP for tiny Olive Branch Records in 1985, showcasing his fiery guitar licks and deep blues vocals. The strength of these recordings kept him busy on the club scene. He even appeared, playing himself, in the 1990 Tommy Chong film "Far Out Man." A major story in Living Blues magazine brought him even more attention and led to his first British tour. While in England, he cut an album for the JSP label. Released in 1991, My Way Or The Highway created a sensation among U.S. blues fans and received the Blues Music Award for Contemporary Foreign Blues Album Of The Year. It completely revitalized Shorty's career in the U.S.
With all the attention Shorty received, the New Orleans-based Black Top label signed him and released three albums (Topsy Turvy, Get Wise To Yourself and Roll Over, Baby) during the 1990s. In 2001 he recorded I Go Wild for Evidence Records, produced by Brian Brinkerhoff. All received an abundance of positive press as Shorty barnstormed his way across the U.S. and around the world, with stops in Europe and Japan. DownBeat raved, "Guitar Shorty's music is a funky, boisterous buffet of off-the-wall blues fun." Appearances at major festivals like The Monterey Bay Blues Festival, The San Francisco Blues Festival and The King Biscuit Blues Festival brought him to larger and larger audiences. At the 1998 Chicago Blues Festival, Shorty opened for his old boss Ray Charles and thrilled an audience of thousands with his jaw-dropping stage show.
In 2004 Brinkerhoff and Jesse Harms brought a newly-recorded Guitar Shorty album to Alligator Records. Alligator released Watch Your Back, and Shorty's long rise to blues stardom grew exponentially. The outpouring of soulful emotion, the power of his playing and the strength of the material added up to the toughest album of Shorty's renowned career. Living Blues called Shorty "a blues rock original [who plays] screaming, empowered guitar and sings with streetwise defiance."
2006's We The People found Shorty delivering some of the most fire-coated fretwork of his career and the most thought-provoking songs he's ever recorded. Critics and fans rallied, declaring their love for one of the blues' greatest practitioners. Billboard declared, "Bluesman Guitar Shorty has been cutting sides since 1957, yet it's difficult to imagine that he ever tracked a better album than We The People."
In a major feature in Texas Music Magazine, writer John Morthland summed things up perfectly, saying, "Axebuster extraordinaire Guitar Shorty is an old-school guitar showman. He plays with technique and flash, without ever sacrificing the passion. He's a blues-rock hero." GuitarOne declared, "Be prepared for a mighty surprise if you are tired of the same old blues and have never heard Guitar Shorty rip. With his harmonically saturated tone, soaring sustain, lethal licks and heavyweight blues-rock grooves, Shorty is not to be overlooked." Now, with Bare Knuckle and his one-two punch of blistering guitar work and passionate vocals, his combination of lyrically deep songs and one-of-a-kind live shows, Guitar Shorty proves again that he is one of today's true, undisputed heavyweight champions of the blues.
---
You may also enjoy these amazing upcoming shows!
Mon, Jan 10: Rick Estrin & The Nightcats
Thu, Jan 13: Johnny A: Just Me...and My Guitars
Tue, Jan18: Mike Zito