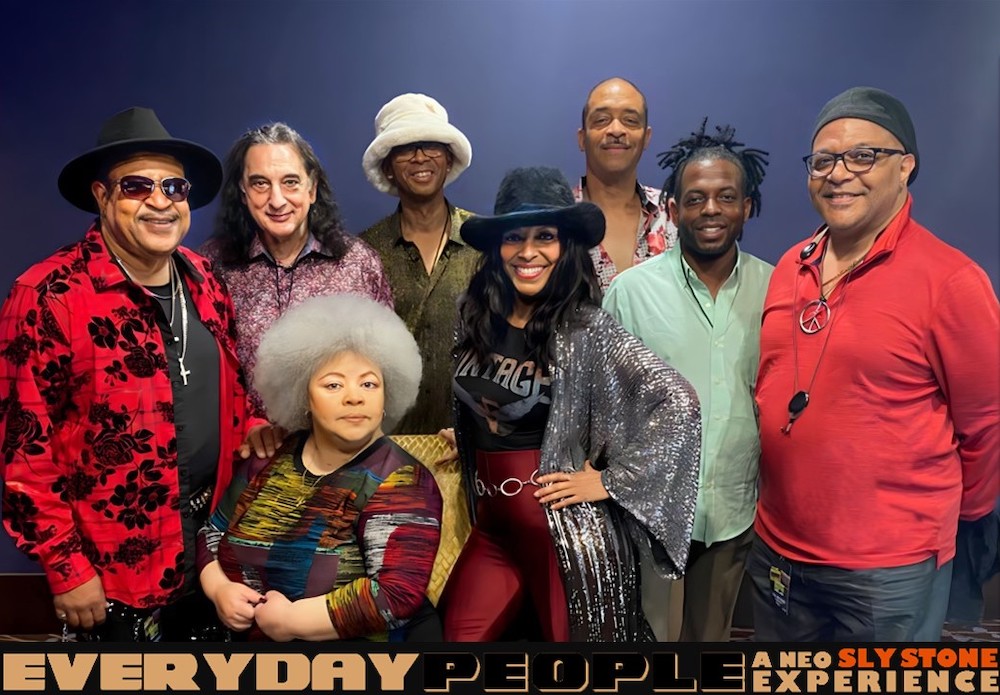 Wed March 1, 2023
Special Birthday Tribute to Sly Stone
EVERYDAY PEOPLE: A NEO-SLY STONE EXPERIENCE
Doors: 7:30PM Show: 8:00PM
Join us for the ultimate psychedelic soul birthday tribute to SLY STONE (Born March 15th) founder of Sly & the Family Stone, with a journey back intime when the sounds of 60's, 70's & 80's were full of cool vibes, soul & universal funk featuring EVERYDAY PEOPLE- A Neo Sly Stone Music Experience.
Presented by Mark Elliott & The A-List Musiq Circle - Your Bay Area's Who's Who Entertainment Network.
Everyday People - a Neo Sly Stone Experience is a crossover, multi-genre (funk, r&b, rock, jazz) blast from the past, that takes its audience on a 90-minute retrospective of the hits from legendary singer/songwriter/producer Sly Stone and all he has influenced! The musicianship is Stellar and the show itself is RED HOT! Audiences love our tribute to Sly Stone where we rock "Hot Fun in the Summertime," "Dance to the Music," "Family Affair," "Everyday People," "ThankU Falletinme B Mice Elf" and much more! Additionally, Everyday People cleverly illustrates just how Sly influenced Prince, Michael Jackson, Janet Jackson, The Rolling Stones and countless others... It's all in our show and the HITS just keep on coming!
Everyday People has built a solid reputation for professional, world class quality entertainment highlighted by club and corporate performances at Catalina Bar and Grill - Los Angeles, CA, The Federal NoHo - North Hollywood, CA, the Whiskey a Go Go - Hollywood, CA, The Viper Room - West Hollywood, CA, House of Blues - Sunset Strip, Aldabella Winery - Westlake Village, CA, San Manuel Casinon - Highland, CA, Soboba Casino, San Jacinto, CA, Harrah's Ak-Chen Casino - Phoenix, AZ, State Theatre Friendship Shell - Bay City, MI, OZCAT Radio Winter Fest - Vallejo, CA and MCCS [Marine Corps] performances in Tokyo and Okinawa, Japan.
Sly and the Family Stone was an American band from San Francisco. Active from 1966 to 1983, it was pivotal in the development of funk, soul, rock, and psychedelic music. Its core line-up was led by singer-songwriter, record producer, and multi-instrumentalist Sly Stone, and included Stone's brother and singer/guitarist Freddie Stone, sister and singer/keyboardist Rose Stone, trumpeter Cynthia Robinson, drummer Greg Errico, saxophonist Jerry Martini, and bassist Larry Graham. It was the first major American rock group to have a racially integrated, male and female lineup. The work of Sly and the Family Stone greatly influenced the sound of subsequent American funk, pop, soul, R&B, and hip hop music. Music critic Joel Selvin wrote, "there are two types of black music: black music before Sly Stone, and black music after Sly Stone". In 2010, they were ranked 43rd in Rolling Stone's 100 Greatest Artists of All Time,[9] and three of their albums are included on Rolling Stone's 500 Greatest Albums of All Time. The band was inducted into the Rock and Roll Hall of Fame in 1993