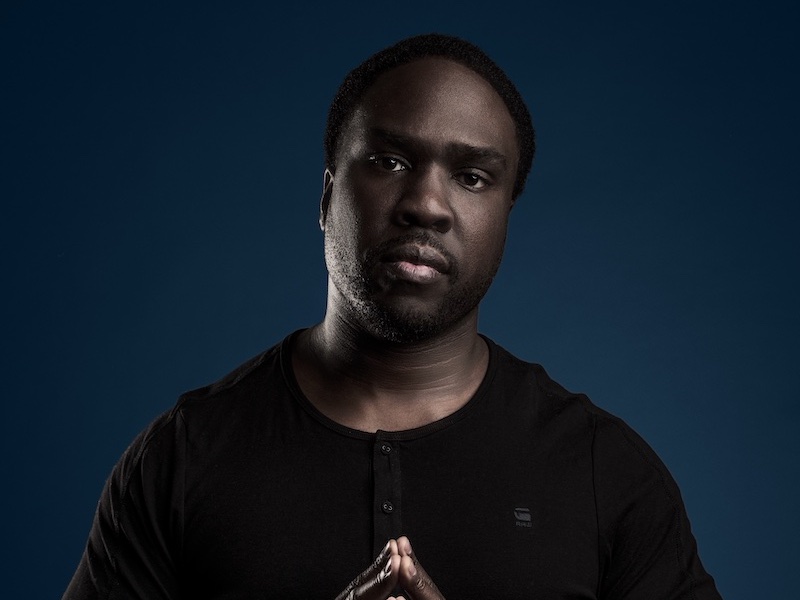 Mon February 27, 2023
One of our moment's most complete and complex musicians
DERRICK HODGE
Doors: 7:30PM Show: 8:00PM
Derrick Hodge is one of our moment's most complete and complex musicians. A prolific composer, conductor, musical director, bandleader, producer, bassist and advocate, Hodge has played on some of music's most iconic albums, written & performed breakthrough orchestral arrangements and compositions, scored an impressive catalog of film and television work and created evocative sonic installations for prestigious cultural institutions, all alongside his work as an activist in the field of emerging young musicians. To date he has been awarded two Grammys, named a Sundance Composer Fellow, received the Motif Award; one of Nation's highest honors for Child Advocacy, and his playing on Common's "BE" has been officially recognized as one of top 20 basslines in Hip Hop History.
Hodge describes his career as "speaking existence into possibility"; driven by a passion for music rather than genre, he is an artist defined only by his multiplicity. As lauded a composer as he is revered as one of THE great bassists and musicians of his generation, he is critically acclaimed across genres and mediums and boasts a diverse and devoted global audience. Growing up just outside Philadelphia, Hodge's talent was quickly recognised by the luminaries of the city's neo-soul movement, and whilst still in college he became the bass player and Musical Director of choice for pioneers including Jill Scott, Maxwell, Floetry, Nas, Common, James Posyer and Musiq Soulchild. Simultaneously he was forging a career in jazz circles with the likes of other legendary musicians including Terence Blanchard, Donald Byrd, Mulgrew Miller and Bootsie Barnes while also holding a star place in his university's orchestra.
The trust and admiration Hodge commands among musicians - and the expertise he commands in his craft - is unparalleled, and has seen him play a foundational role in a wealth of groundbreaking projects. In 2014 Hodge became the first Black composer to compose Hip Hop for the National Symphony when he acted as Orchestral Arranger and Music Director for the iconic event "20th anniversary celebration of Illmatic" which saw Nas perform the album with the National Symphony Orchestra, conducted by Steven Reineke'. The event - which was named by FENDER as one of the top moments in Hip Hop history - was also the first time Hip Hop was ever performed by the National Symphony and at the Kennedy Center. In 2021 Hodge continues to break new ground: this time as Arranger for the LA Philharmonic's shows with Christina Aguilera and H.E.R. at the Hollywood Bowl, part of the re-opening of the iconic venue in Los Angeles. In 2022 he followed with conducting and orchestrating a sold out show at Disney Hall for his long time friend Robert Glaper. Orchestrating for the YOLA orchestra for the SuperBowl and later in March he conducted and orchestrated for the 94th Academy Awards in Los Angeles. All while balancing his TV & Film career, with most recent work on Stella Meghi's "The Photograph" and Lionsgate's "Run The World" Series and the upcoming 2022 Netflix release of "The System" Starring Terence Howard and Jeremy Pevin.
Tellingly, Hodge has been the 'first' many times in his career: including being the first Black composer to write strings for Hip Hop at Carnegie Hall (as Arranger for Mos Def in the venue's first full Hip Hop show in 2008),and the first black composer to write symphonic music for Hip Hop with the Houston Symphony (as Creative Director & Arranger for Common with the Houston Symphony in 2019).
This habit of breaking new ground and forging new paths hints at how significant a cultural force Hodge is in ways beyond music. In 2017 he was commissioned by the Smithsonian's National Museum of African American History and Culture to write the installation music that accompanies their permanent exhibit about Oak's Bluff: "The Power of Place". The exhibition explores how place is something defined as much by people as by geography, and how Oak's Bluff became a place of collective imagining, struggle, achievement and freedom for a burgeoning African American community. Hodge went on to compose for "Social Dance" - part of the NMAAHC's seminal 'Cultural Expressions' floor, which explores African American and African diaspora culture - and for their "Making A Way" exhibit, which pays tribute to the creativity, agency and resilience with which individual African Americans crafted opportunity and possibility in the face of racial oppression.
Throughout his life, Hodge has devoted himself to projects that elevate and animate the African American legacy: the struggle but also - always - the poetry and the triumph too. It is this ability to honor and advance both culture and people that is the principle thread which weaves together Hodge's work.
As a performer, Hodge has founded and played in bands and groups as diverse and as influential as R+R=Now, the Robert Glasper Experiment and The Blue Note All Stars, as a producer he has collaborated with icons including Quincy Jones, Don Was and Common and as Musical Director he has worked with luminaries including Yasiin Bey, Nas, and notably held the position with Maxwell from 2009 to 2019. As a Blue Note Recording Artist Hodge has released three critically acclaimed solo projects: Live Today (2013), The Second (2016), and Color Of Noize (2020). His albums are rich, raw and revelatory - reflecting everything from his roots in the church to an undercurrent of hiphop and eternal reverence for melody and classical composition.
The Color Of Noize project is Hodge's signature concept-series, bringing together contrasting sounds, styles and set-ups to create an immersive and inherently transcendent audio-visual experience. It is also particularly close to Hodge's heart as it opens up not just his music, but also his mission: to create a new, free space for music whilst also championing his community of both established and emerging musicians. More than an album, The Color Of Noize is an ongoing commitment to artistic excellence and inclusion, in particular the creation of opportunities and broadening of horizons for inner city youth. He first premiered Color of Noize in 2019 as part of his Artist Residency at Monterey Jazz Festival, where Hodge brought together a collection of musicians, some as young as 4, on stage with him to explore his original compositions in a remarkably moving and beautiful concert. As he puts it "it was never just my potential that made things happen; it was my community advocating for me - now I want to advocate for others, to pass that on".
This is the natural progression for an Artist whose career has always been as rooted in meaning as it is in music: Hodge's body of work speaks to a sense of social responsibility that he carries as keenly as his creativity. Whether collaborating with giants, writing for the big screen, forging new paths for orchestral composition, or creating outreach projects like providing access to his symphonic scores and original arrangements to HBCUs & inner-city Music Programs, his work has the telltale trademark of always provoking social commentary, awareness or insight. Here we find the fundamental character of Hodge; an incurably hopeful and humble man, who, through his work and his art, has made the world a definitively more beautiful place.