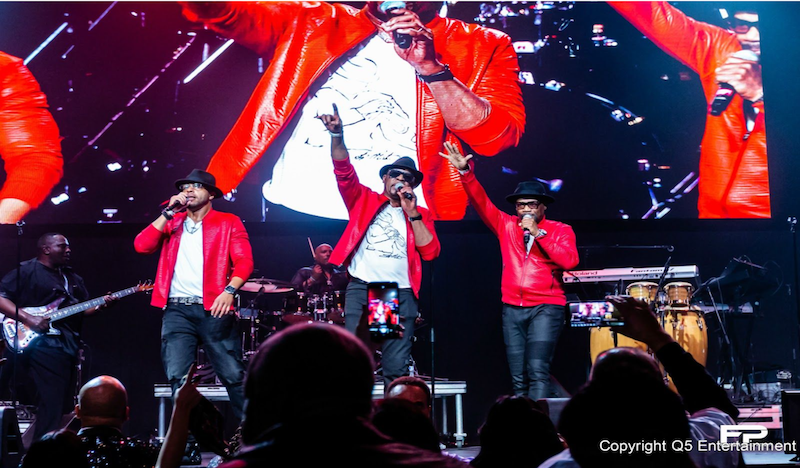 Dazz Band
July 17, 2021

Doors: 7:00 pm / Show: 7:30pm

July 17, 2021

Doors: 9:15pm / Show: 9:30pm
The Dazz Band was the first group out of Cleveland, Ohio to win a Grammy Award for Best Performance by a R&B Group or Duo for their smash hit "Let It Whip" in 1982. Known for their electrifying R&B/ Funk and soulful ballads, The Dazz Band scored over 20 hits on Billboard's R&B and Pop charts. Hits like "Let It Whip" "Swoop", "Joystick", "Heartbeat", "Party Right Here", "You Are My Starship", " Let It All Blow" (their biggest UK single) and more stood the test of time and remain in recurring rotation as millions of fans continue to seek out Dazz Band music online and across the globe.
The Dazz Band (formerly Kinsman Dazz) is led by original Grammy Winning Saxophonist, Producer, Writer & Arranger Bobby Harris who started the group in the late 1970's. In the early 80's the Dazz Band signed with the legendary Motown Records and opened up for groups like the Gap Band, Rick James, Kool & the Gang and more. A tough act to follow, the band quickly achieved gold and platinum record status. Bobby Harris credits Producer Reggie Andrews (Patrice Rushen, Rick James, Tyrese) who co-wrote "Let it Whip" for bringing musical stability to the group. From the 80's and beyond Dazz Band performed on popular television shows like Soul Train, Solid Gold and American Bandstand, and their music continues to be featured in major motion pictures, video games and on television. The Dazz Band released a total of 14 albums on the Motown, Geffen, RCA, Intersound and Major Hits Record labels. Skip Martin, lead vocalist and trumpet player, has been performing with The Dazz Band for a combined total of over 25 years, and was also a part of the Grammy Award winning Dazz Band in 1982. Skips voice, combined with masterful trumpet skills, and high level performance skills make him a musical force to be reckoned with. Skip Martin is a MOBO Award recipient who achieved an honorary Doctorate in Music for his talents both vocally and through instrumentation. Skip also spent 15 years as lead vocalist for Kool and the Gang and is a R&B Song of the Year and Lifetime Achievement Award recipient.
Guitarist Marlon "The Magician" McClain joined The Dazz Band in 1984 and has been with the group for a combined total of over 30 years. Marlon's writer, producer, arranger, and/or performance credits include: En Vogue, Toni Braxton, George Clinton, George Benson, Jeff Lorber, Kenny G, Dazz Band, Charlie Wilson, Christine and the Queens and more. Marlon is a self-taught musician who began his professional music journey as guitarist and co-founder of Portland, Oregon's Nationally known group Pleasure. A masterful guitarist and producer, Marlon also enjoys developing new artists including his niece Whitney McClain, and his son Marlon ll aka "Brando" who won a Juno award for his smash hit "Body" with Loud Luxury.
Vocalist Donny Sykes joined the group in 2014. Donny Sykes is a native of Los Angeles, California and has traveled the world performing in musical theatre and on television with legendary artists from Stevie Wonder to Tyler Perry. Donny performed with the renown Spirit Productions in "All Night Long" featuring the Motown hits, and "Man in the Mirror'' featuring music of the legendary "King of Pop" Michael Jackson. A lover of both old school and new school, Donny has performed on stage with Beyonce and his musical credits include Kanye West's Jesus is King and Jesus is Born. Donny is featured on the Dazz Band's recent release of the critically acclaimed and soulful ballad "Your Luv".
Award winning Drummer, Producer and Songwriter Raymond Calhoun returned to the Dazz Band in 2019. Raymond Calhoun was drummer on Dazz Band albums Here We Go Again (1993) and Time Traveler (2001) and was part of the historic United We Funk tour (UWF All Stars) organized by Harris and McClain. A native of Washington DC, Calhoun studied music at Howard University before getting his first break with the Manhattans. It was not long after he was discovered by The Gap Band, where he would spend his next 33 years. As a member of The Gap Band Calhoun wrote one of the band's signature songs "Outstanding" off their platinum selling album Gap Band IV. "Outstanding" is one of the most sampled songs in hip-hop history.
Grammy award winning Keyboardist and Vocalist Keith Harrison returned to the Dazz Band in 2020 and was a member of Dazz Band from 1983-1993. Keith's songwriter credits include several of the Dazz Band hits including "Let It All Blow" and others. A native of Dayton, Ohio, Keith was also a member of the band Heatwave, and was leader of the band Faze-O, prior to joining the Dazz Band. Faze-O's biggest hit "Riding High" was written by Harrison and is one of the top 10 most sampled songs in rap history, sampled by Snoop Dog, Iced Cube and others.
The Dazz Band was recognized by the United States military for traveling to Kuwait & Iraq on 3 separate occasions to perform for United States troops, and is proud to have raised hundreds of thousands of dollars for numerous charities including for the Red Cross during a performance in Guam, and over 30k for the Susan B. Komen Foundation for breast cancer research. The Dazz Band is excited to announce the release of two new singles entitled "Drop It" and "Your Luv" available on all digital platforms. The Dazz Band continues to reach over 1 million listeners per month on the music industries largest digital platforms- Spotify and Apple Music.