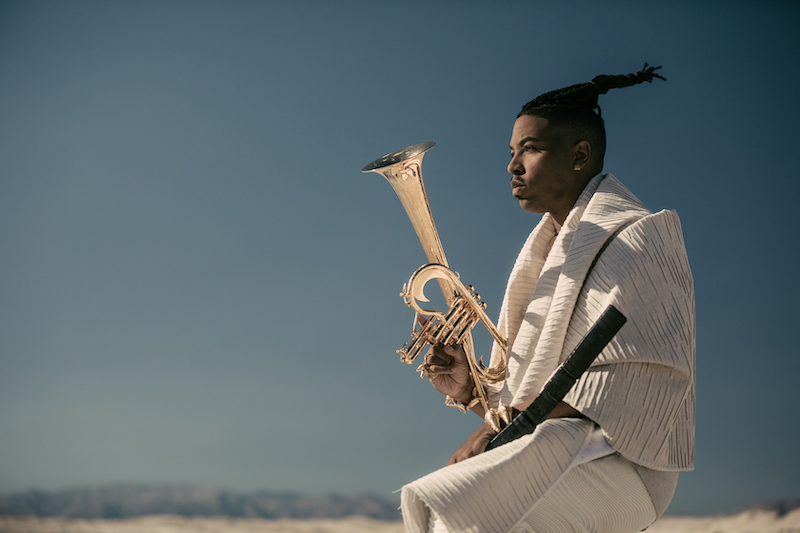 Contemporary jazz icon
CHRISTIAN SCOTT ATUNDE ADJUAH
October 7, 2021

Doors: 7:30pm / Show: 8:00pm

October 7, 2021

Doors: 9:45pm / Show: 10:00pm

October 8, 2021

Doors: 7:30pm / Show: 8:00pm

October 8, 2021

Doors: 9:45pm / Show: 10:00pm
Christian Scott aTunde Adjuah = Trumpet, Harp
Lawrence Fields = Piano, Keys
Amina Scott = Bass
Brian Richburg = Drums
Elena Pinderhughes = Flute
Weedie Braimah = Percussion
Mizan Willis = Percussion
Christian Scott aTunde Adjuah announces his forthcoming album's, Ancestral Recall, release on March 22, 2019 via the Ropeadope / Stretch Music labels. Released today, the album's title track features poet laureate Saul Williams. Of the song, Highsnobiety proclaims "QUOTE." Additional collaborators on the recording include Elena Pinderhughes, Weedie Braimah, Logan Richardson, Mike Larry Draw, Chris Turner, and others.
Heralded by NPR as ushering in "a new era in jazz," Adjuah continues to forge new ground. JazzTimes cites him as "The architect of a new commercially viable fusion" and "Jazz's young style God." In 2015, Adjuah released Stretch Music - the inaugural recording of Adjuah's vision of genre blindness in sound. The trailblazing document centered around acculturating as many musical forms, vernaculars, and cultures as possible into one fresh and resonate creative improvised concept. The recording garnered Adjuah a Downbeat Critics Poll "Rising Star Composer" win in addition to many "Rising Star Trumpet" wins from the publication. Stretch Music was accompanied by a groundbreaking app by the same name, for which Adjuah won JAZZFM's 2015 Innovation of the Year honor.
The Centennial Trilogy: Adjuah's three-album series commemorating the 100th anniversary of the first jazz recordings was released in 2017. The recordings are a sobering re-evaluation of the world's social and political realities and speaks to a litany of issues that continue to plague the collective human experience. The trilogy was praised by Pitchfork, NPR Music, Stereogum, The FADER, GQ, The New York Times, Interview Magazine, Paste, Noisey, Rolling Stone, Newsweek, as well as other print media. The final album of the trilogy, The Emancipation Procrastination, is nominated for Best Contemporary Instrumental Album at the 61stGrammy Awards. The recording marks Adjuah's second nomination.
Ancestral Recall continues Adjuah's mission to unify people via their musical and cultural voices by tearing down the sonic and social constructs that separate them. As a newly ascended Chieftain in the Black masking culture of New Orleans, he has been deeply committed to turning identity politics, as it is used in music, on its ear. Ancestral Recall seeks to excavate and update hidden histories in sound by displaying a sonic tapestry that illuminates the har-melodic movements found within rhythm. Adjuah explains: "In its inception, Ancestral Recall was built as a map to de-colonialize sound; to challenge previously held misconceptions about some cultures of music; to codify a new folkloric tradition and begin the work of creating a national set of rhythms; rhythms rooted in the synergy between West African, First Nation, African Diaspora/Caribbean rhythms and their marriage to rhythmic templates found in trap music, alt-rock, and other modern forms. It is time we created a sound that dispels singular narratives of entire peoples and looks to finally represent the wealth of narratives found throughout the American experience. An experience that shows all forms of expression in sound are valid, as all people are." The goal is to connect people in one understanding rather than dividing them by definition.
Christian was also just featured on Boogie's "Whose Fault" from the album Everything For Sale, which reached #1 on the iTunes hip hop charts upon release on January 24, 2019.