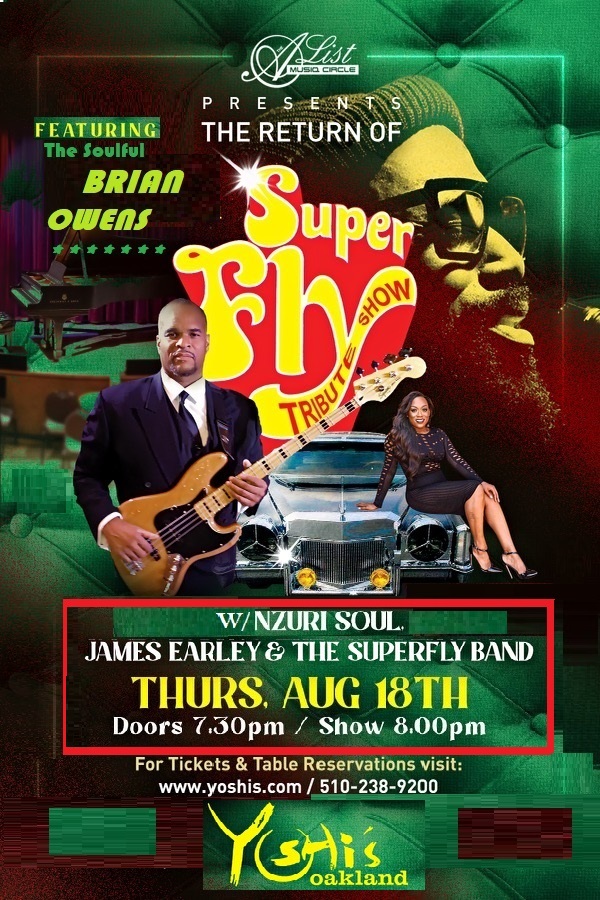 Thu August 18, 2022
70's Soul, Sound & Legacy of Curtis Mayfield
THE SUPERFLY TRIBUTE SHOW
Doors: 7:30 PM Show: 8:00 PM
BACK BY POPULAR DEMAND - The Superfly Tribute Show returns with Grammy-Nominated recording artist, Brian Owens, special guest, Nzuri Soul, percussionist, Juan Escovedo, and music director, James Earley & the Superfly Band. It's a hip trip back in time, where the street vibe was strong, black power was right-on, and love was the universal song. The Superfly Tribute Show delivers classic hits of the 70's, with songs from the movie soundtracks of SPARKLE, LETS DO IT AGAIN, SUPERFLY, TROUBLE MAN, and other classic hits written & produced by Curtis Mayfield, Marvin Gaye, Aretha Franklin, Donnie Hathaway & more.....
Presented by Mark Elliott & the A-List Musiq Circle- Your Bay Area's Who's Who Entertainment Network
Brian Owens Music and love define the artistry of Grammy-nominated singer, songwriter, and dedicated community activist, Brian Owens. These qualities radiate from all of his work, including his duet with five-time Grammy-winning and legendary vocalist Michael McDonald on SOUL OF FERGUSON. The St. Louis-born soul singer, has performed for everyone from Ellen DeGeneres to former First Lady, Michelle Obama.

Over the past few years, audiences across the country have gotten a generous taste of Brian Owens' talent; his tributes to various soul legends like, Marvin Gaye, Curtis Mayfield & Donny Hathaway — have had 'em dancing in the aisles with every soulful performance as he delivers the message in the music. As a forceful and graceful soul singer who can navigate his upper register with elegance, Owens' voice is an apt vessel to keep the soul tradition of the '60s and '70s alive.
At its heart, Owens' show is about "preservation; it's a matter of upholding the tradition of true soul music that is so desperately needed in our culture today," he says. Drawing inspiration from legends Sam Cooke, Curtis Mayfield and Marvin Gaye, this Ferguson, Missouri native knows how to spread his love of soul music. Owens and his father Thomas Owens' rendition of Sam Cooke's classic, "A Change is Gonna Come" went viral on YouTube and has been seen by over 13 million people. Now, you can see him live at Yoshi's Oakland on August 18th with the Curtis Mayfield Superfly Tribute Band directed by music producer, James "Jae-E" Earley, perfect for nostalgic black cinema sound track lovers and classic soul fans of the 70's.

Brian Owens is one of the most talented vocalists I know. He has the ability to connect with his audience, bringing everyone together in a deep and personal way. Brother Owens is great musician, a great entertainer and a great person!"

Nzuri Soul is a R&B soul-rock singer based in Oakland, California who has made a name for herself over the course of her eight year career in the music industry with her powerful vocals, songwriting and entertaining stage presence. She has released three full albums as well as a "Christmas in Egypt" holiday album. Nzuri is no stranger to performing at iconic California venues like Oakland's Fox Theatre, House of Blues Los Angeles & Las Vegas, The Fenix Club, The Empress Theater and now returning for her 5th headlining show at Yoshi's Oakland. Nzuri Soul and her band have been awarded NCEM "R&B Band of the year" 2018 & 2019, "Entertainer of the year" 2019, 2020 BMA " R&B Female singer of the year" and "Best Female live performer". Nzuri is also a well known Author with her release of her novel " Egyptian Chronicles" earlier this year and is also the proud co-owner of Blocko Vegan Tacos. Nzuri Soul and her Band is known for being a tight knit, all in dance party and this show is fully dedicated to the fans that have kept her career a thriving success.