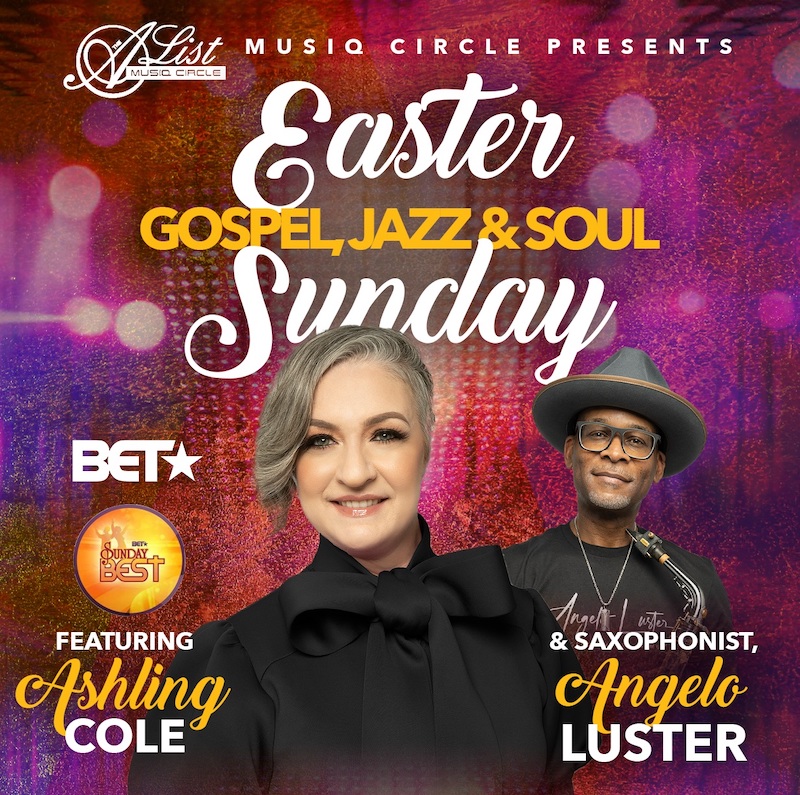 Sun April 9, 2023
Easter Gospel, Jazz & Soul Sunday
BET'S SUNDAY BEST ASHLING COLE W/ ANGELO LUSTER
Doors: 6:30PM Show: 7:00pm
Come feel the Joy of Easter Sunday with an evening of Gospel, Jazz & Soul featuring Ashling Cole, Bay Area's own 2020 BET's Sunday Best contestant, with special guest saxophonist, Angelo Luster performing songs from his new CD Release "You're Not Alone" and more. A Soulful evening of Inspiration, Praise & an Easter Celebration you do not want to miss!
Presented by Mark Elliott & The A-List Musiq Circle- Your Bay Area's Who's Who Entertainment Network
ASHLING COLE has been singing all of her life and was accepted into the San Francisco Girls Chorus at just 6 years old to study opera. Six years later she shifted her focus from arias to R&B after hearing Whitney Houston on the radio. After years of making demos as well as dancing professionally, she was signed to Interscope records at 17 years old, recording with producer Teddy Riley. Even though the album was never released, the experience set her up for an audition with legendary "One in a Million" singer and bass player Larry Graham and she's been touring with him ever since. She has also performed and recorded with icons such as Sheila E., Dave Koz, Prince, Jonathan Butler, Kirk Whalum, Bebe Winans, Donnie McClurkin and Kenny Lattimore just to name a few!
Touring came to a halt in 2018 when Ashling was diagnosed with triple negative breast cancer, but a positive attitude, strong faith in God and the support of her vast community gave her the strength she needed. She declared, "I am already healed, I just have to go through the process."
Gospel music has always been the foundation of everything she writes and produces, so it was no surprise when she auditioned for BET's Sunday Best in 2020, she would soar to the top. Week after week, her testimony of healing came through in every song. Her message of hope and encouragement was much needed as the virtual audience sheltered in place, facing uncertainty amidst a global pandemic.
After finishing 4th in the competition, Ashling immediately went into the studio with Berklee School of Music graduate Marcus McCauley to produce "Exceedingly", a song of triumph she wrote several years prior. A few weeks later she partnered with long-time friend and producer Dave Jackson to release a new take on an old favorite "Lord I Lift Your Name on High" and the classic "You are an Heir" by Donald Lawrence. In 2022, she signed with MMS Records and is currently in the studio recording her next single. Ashling is a worshiper and always has a song as well as a word of prayer, wisdom and encouragement ready for whoever needs it.
To book Ashling Cole for your event, please submit a request to Booking - Ashling Cole Che or email Qiana Taylor at booking@ashlingcole.com
ANGELO LUSTER
" A rose sprung from a rock" are the words critics use to describe Oakland, California native Angelo Luster, a saxophonist whose music invites the listener to embark upon a unique spiritual journey. You will without a doubt be enraptured by the emotion conveyed through his rich soulful sound, birthed from the union of contemporary gospel and the west coast jazz movements.
At age twelve, he was accepted on scholarship to the Young Musicians Program at the University of California, Berkeley, where he trained for six years in jazz and classical music. This led Luster to realize his purpose in life, "inspire others through my music." Luster was taught by Bill Bell and Jim Moran, who previously trained Dave Ellis, John ( Jubu) Smith, Rodney Franklin, and Benny Green. Luster, like his classmates, got a range of experience after high school through performances in jazz festivals throughout the United States and Europe.
MUSICAL EXPERIENCES
Luster received a scholarship to Grambling State University where he achieved the position of featured saxophone soloist. He also earned the honor of being spotlighted with such artists as Boyz II Men. He was favored as one of the top college musicians of America and chosen to play in the All American College Marching Band by the Walt Disney Company in 1993, and the Company's All American Jazz Band in 1994. Luster spent his summers playing in big bands behind such greats as, Rosemary Clooney, Mercer Ellington, Maynard Ferguson, Diane Schurr, Della Reese, Billy Taylor, Joe Williams, and other seasoned performers. After obtaining his Bachelor of Music degree from Southeastern Louisiana University in 1996, Luster returned home and began to perform internationally with St. Gabriel's Celestial Brass Band.
Luster celebrated the release of his first solo CD entitled "Face 2 Face", in July, 2004. The CD is an intimate reflection of his spirituality and desire to lead listeners into the presence of God. For this musical work, Luster was voted Best Male Jazz Artist of 2005 by Urban Gospel Industry Awards. He was also nominated for Best Jazz Artist and Best Gospel Artist by The Sounds of Soul Black Music Awards. Angelo was honored by the American Gospel Music Awards as Jazz Artist of the Year 2006 and in 2007 winner of the Bay area Black Music Awards " Best Gospel Musician".
Luster has recently accompanied artists such as Paul Jackson Jr., Micah Stampley and Frank McComb and Kenny Lattimore.