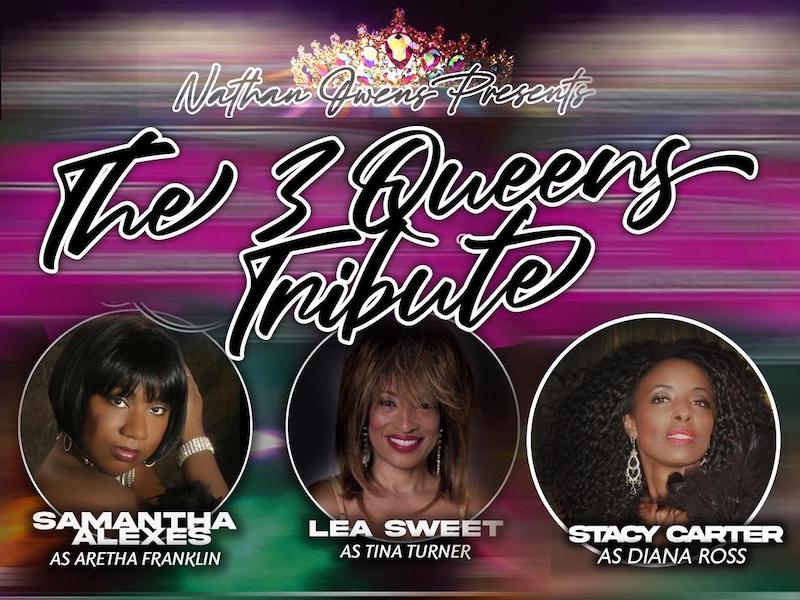 Tue May 30, 2023
Special Tribute to Tina Turner, Aretha Franklin & Diana Ross
3 QUEENS TRIBUTE SHOW
Doors: 7:30PM Show: 8:00PM
Nathan Owens 3 Queens is a high energy tribute show featuring the legendary music of The Queen of Soul, " Aretha Franklin, Queen of Rock, Tina Turner, and the Queen of Motown, Diana Ross." This show is power packed with a live smoking band delivering the groove behind them and have been selling out venues all over Northern California. Be prepared to enjoy a night of Soul, R&B, Rock, and Motown with Samantha Alexes as (Aretha Franklin) Lea Sweet as (Tina Turner) and Stacy Carter as (Diana Ross). These Queens will leave it all on the stage delivering a high-powered vocal performance that will leave you screaming for more!!!
Presented by Nathan Owens & Mark Elliott of the A-List Musiq Circle -Your Bay Area's Who's Who Entertainment Network
LEA SWEET - Grammy Nominee, Black Queen of Country Music 2021
NCEM – Best Entertainer of the year 2019 Awards
BAMMY 9-TIME Award Winner – Best Neo Soul, Best Jazz, Best Rock, Best Urban Rock, Best Country Artist, Best Tribute Artist
Sony Orchard Recording Artist, Songwriter, Model, Actress, Business Owner

Born and raised in San Francisco, California, at age 6, she was invited to see her first concert which was Ike and Tina Turner at the SF 49ers Stadium. She became inspired and dreamed of becoming a rock star and entertainer strong like Tina Turner.
Lea began writing, singing and playing songs by age 9 and continued to progress releasing two albums (I'm Taking Applications & Black Queen of Country Music) and two singles (Have Yourself A Merry Little Christmas & Can I Kiss Away A Broken Promise). Her hard work and dedication lead to her international tours in China, Europe, Netherlands, Austria, Mexico, Portugal and Venezuela performing alongside legendary Jimi Jamison, (Survivor) Loverboy Mike Reno, Bobbi Kimball (Toto), James Brown Band, Dwele, Case, George Duke, Bobby "Blue" Bland, Christopher Williams and more. She then joined the Motown Legends and Legends of Soul casino tribute bands performing classic songs from the Marvelettes, Supremes, the Vandellas and Tammi Terrell & Marvin Gaye. Enthusiastically, she then joined the Nathan Owens Pop, Rock & Soul and 2 Queens tours paying tribute to Tina Turner.
She also sang the National Anthem several times for the 49ers, the MMA fights and the Veterans Association.
Lea received her foundation for acting at CSU, Sacramento Theater landing leading roles in the main theatre and credited in local newspapers. Her movie credits include "Dying Young," Angels in the Outfield," and "Nash Bridges" 2001 Season 6, Episode 16 Something to Borrow as Sharon Stallone limousine chauffeur.
Lea brings the audience a sizzling energetic live show with her powerful vocals and entertainment skills. Not only does she dance like Tina, but she also looks like Tina leading her to one of the world's most exciting Tina Turner Tributes.
Www.LeaSweet.com
http://Www.sweeettinatributeband.com
SAMANTHA ALEXES – Ms. All World Beauties Royal Ambassador 2021
Executive Director/Owner - California All World Beauties and Man of Distinction Pageant.
Somar Label Recording Artist, Songwriter, Model, Actress, Business Owner
A Bay Area native with vocal talent as large as the Bay is Samantha Alexes. As a young girl growing up in the big city, she was exposed to many forms of the arts like singing, modeling, painting, acting, etc. At a very young age she started singing opera in a special program designed for young adults. That was just a beginning to her many genres of music she would explore.
By the time she was a teenager she had turned into a serious entertainer with numerous State and National Talent titles under her belt and became a multiple beauty pageant winner as well. Her love for the theater brought her to star in such musicals like Carmen Jones, The Wiz, Sparkle, and Pippin at Community Theatre. In 2002 she not only starred, but played a major role in the choreography and vocal arrangements for The Hitsville U.S.A. Legends of Motown Old School Tribute Show.
Her commercial credits include Nissan Japan, Coke, MTV, Exploratorium etc... She has also had the opportunity to entertain such personalities like Mohammed Ali, Bob Eubanks, Jody Foster, and Mr. Blackwell, just to name a few. Samantha Alexes is currently the featured vocalist with the Legendary Stars Show where she wows the audience with her Gladys Knight and Aretha Franklin renditions. She is also the newest artist on the Somar Record label with a newly released single "Let's Pray". She is also currently starring in the Nathan Owens Pop Rock and Soul show and Two Queens show where she wows audiences with her dynamic vocals in Casino show rooms in Reno Nevada, Lake Tahoe, Las Vegas and more.
Samantha Alexes commands the stage and captures the audience from beginning to end. Her performance is so dynamic, that it leaves you on the edge of your seat wanting more! Giving you an unforgettable experience! Samantha's friends call her Diva, once you hear this lady sing, you will definitely understand why! After 30 years of performance experience Samantha still holds dear to her heart, her one and only true mentor and music influence, Aretha Franklin ( The Queen of Soul).
Stacy Carter
Born in San Mateo, California, Stacy's singing career began in the San Francisco Bay Area when her mother entered her in the California Miss Pageant System. She enjoyed the spotlight so much that throughout her school years she sang in her school choir and in numerous onstage musical productions. Her professional singing career began during her senior year of high school when she performed regularly at Great America in Santa Clara, California. After moving to Southern California and singing locally in the Los Angeles club scene, Stacy's career took on an international flavor when she moved to Japan. During the three years she lived in Tokyo, Stacy opened for popular groups such as "Klymaxx" and "Lakeside." She also sang with numerous Japanese and American acts, performed on TV, in clubs, and at the world famous Budokan. She has recorded an album, performed voiceovers for commercials, and modeled. It was while she was in Japan, her love for singing jazz standards began to blossom. Since returning to the United States, Stacy has continued her singing career performing in places such as "KCSM Jazz on the Hill" Jazz Festival, Villa Montalvo, Stone Pine Estate in Carmel Valley, The Fairmont in San Jose and San Francisco, The Headly Room in Hotel DeAnza as well as the Ritz Carlton in Half Moon Bay. Stacy has also performed with Joel Nelson Productions and All Star Music where she performs for weddings, bar mitzvahs, and holiday parties of all types. She has trained in Madeline Eastman's Jazz Vocal workshop at The Berkeley School of Jazz. There she met and began working with Raz Kennedy, jazz vocalist extraordinaire (formerly with Bobby McFerrin's Voicestra). She has also studied under Nate Pruitt of Primary Colors. Stacy had a three-month stint performing in the lounge at Yoshi's in San Francisco. In 2013, she performed for three months at the Nagoya Marriott Associa Hotel in Nagoya, Japan and had a six-month residency at the Miyakonojo Green Hotel in Japan. Stacy also performed for three months with Cravin' Cajun at the Novotel Dubai Al Barsha before return for another six-month engagement at the Miyakonojo Green Hotel in 2015. Stacy has most recently been performing for the Five Star Absheron Hotel Group in Baku, Azerbaijan. Stacy has been teaching for over 10 years. As a vocal instructor/performance coach, she has worked at Garage Band Academy, Melody Music Studios and at John Robert Powers where she was School Director as well as an acting coach. She has also been a beauty pageant consultant, helping contestants with interview skills and poise. Her love for cultivating new talent and her ability to bring out the best in each student is why she goes beyond, for each and every one. She genuinely cares about her students and always has their best interest at heart. Most recently, Stacy competed in the California All World Beauties and Man of Distinction Beauty Pageant and won the title of Ms. California All World Beauties Elite 2022