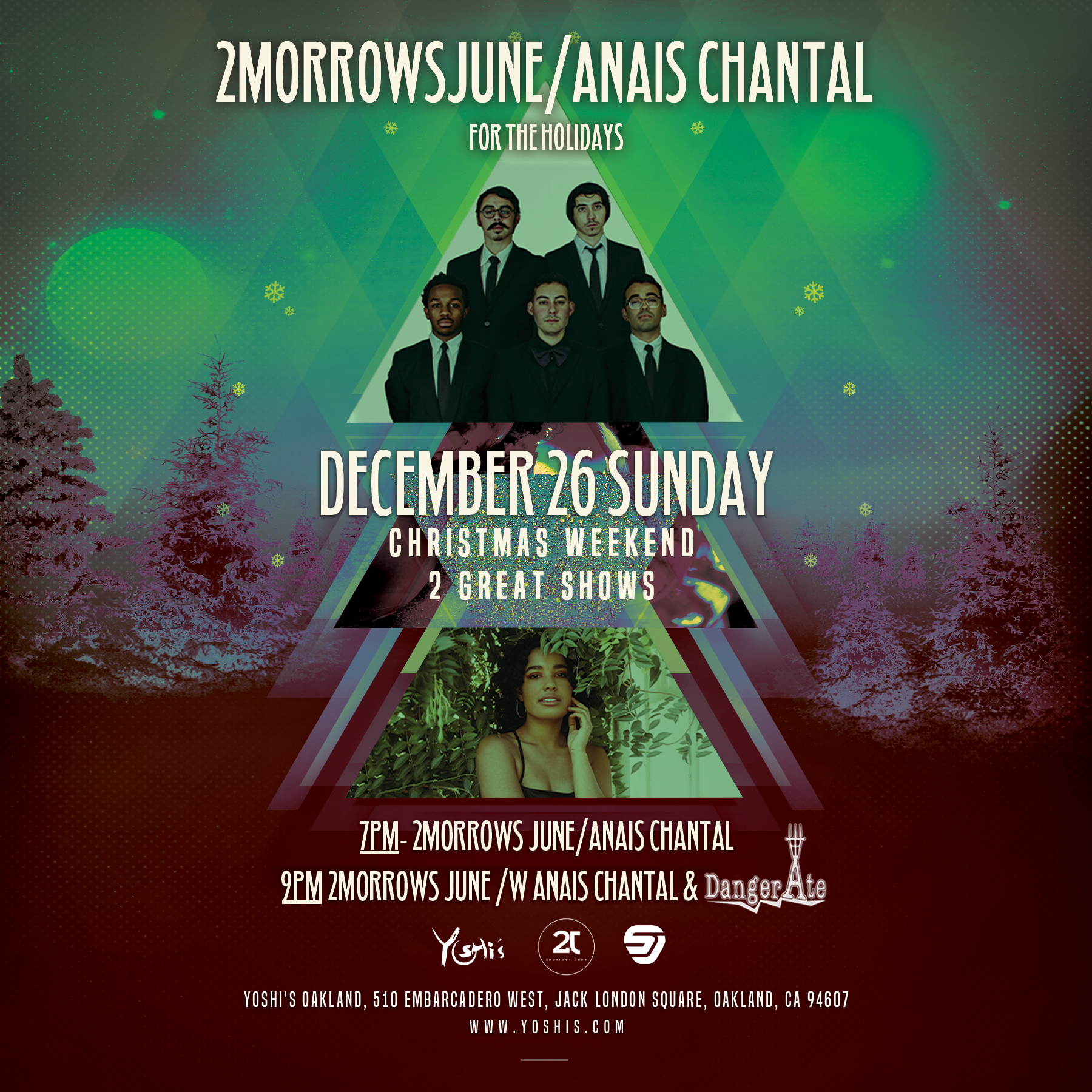 Sun December 26, 2021
2MORROWS JUNE WITH ANAIS CHANTAL & DANGERATE
Doors: 8:45pm Show: 9:00pm
2morrows June is a 5 piece pop rock band from California's Bay Area. The group started with Marcos and Fernando Molinar beside their close friend Vicente Padilla, back when their time after school was spent practicing cover songs in their bedrooms. Over time the trio branched out into their hometown of Richmond, interchanging members and musicians while they stacked 100+ shows under their belts as 'the Originalz'. The core three stayed together through the search for its sound, but it wasn't until the end of high school that they met Juandiego Britto and David Burton, the two final members of the group.
"Working together has been great. [...] Going from a 3 piece band to a 5 just felt right."
- Marcos
The past few years for the group has seen some amazing opportunities, having opened up for artists like Robin Thicke, Faith Evans, Opening up the Kings of the West Show at the Sap Arena in San Jose and selling out their first show at Yoshis Oakland, starting off their 2020 year. Their music follows influences from early 2000s pop rock, but having five members ensures puling from five different tastes.
The more they grow the more they use it to their advantage to write and explore.
Anais Chantal
When describing Anais Chantal's Birdie EP, Michael Montoya, writer for Salt Lily Magazine writes:
"In a time of surreal isolation the EP can transform the most rigid solidarity to a bustling epicenter of golden sound and color."
Finally free from the stifling confines of covid-inspired seclusion, Anais is now actively performing , wowing the crowd with her dazzling performances and mature stylings as she fuses the multiple influences inhabiting her DNA.
In addition to a robust performance schedule, Anais has just completed the first single off her current album - the haunting and ethereal "You Stay." Yet another step along the path to an enduring & profound artistic legacy.