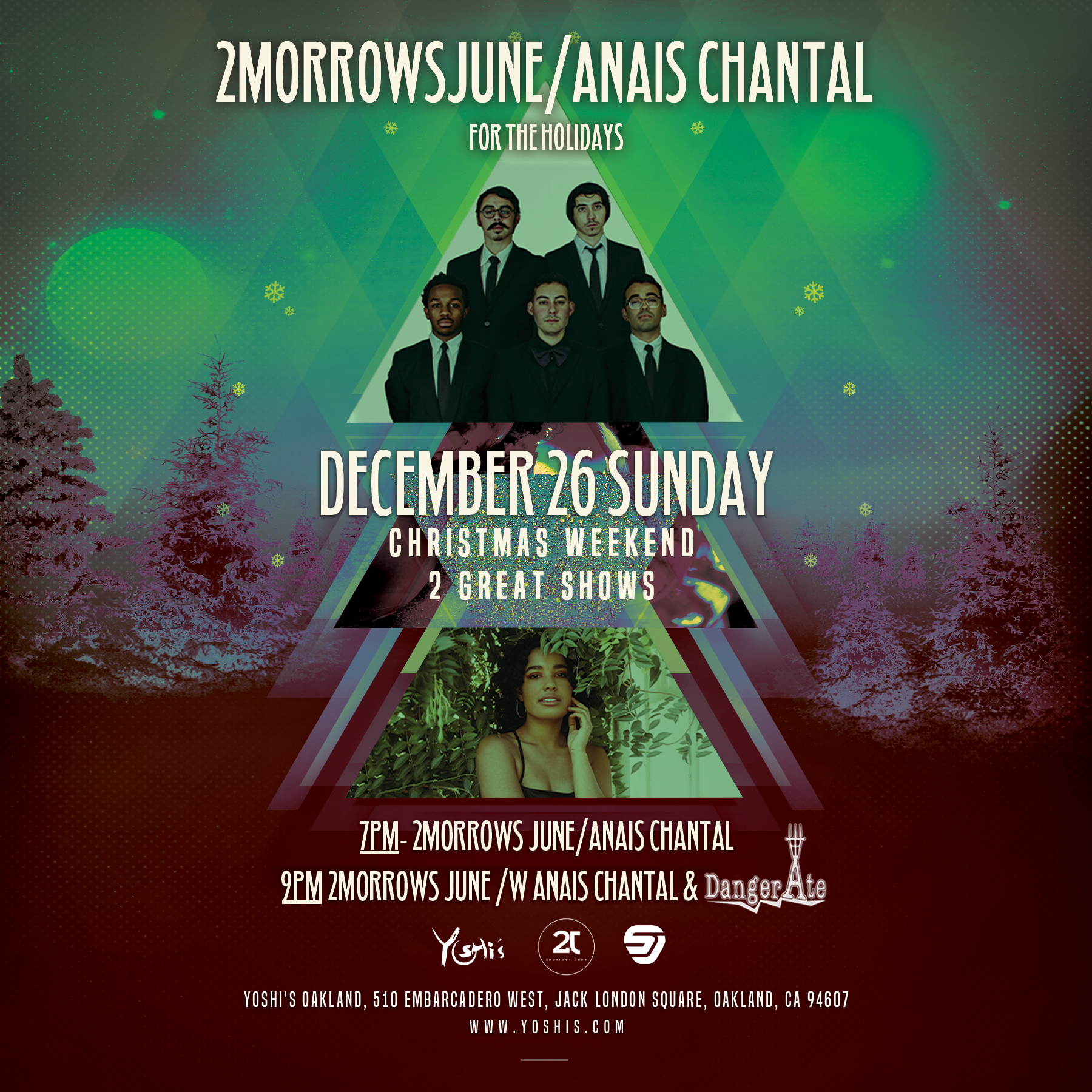 Sun December 26, 2021
2MORROWS JUNE WITH ANAIS CHANTAL & DANGERATE
Doors: 8:45pm Show: 9:00pm
2morrows June is a 5 piece pop rock band from California's Bay Area. The group started with Marcos and Fernando Molinar beside their close friend Vicente Padilla, back when their time after school was spent practicing cover songs in their bedrooms. Over time the trio branched out into their hometown of Richmond, interchanging members and musicians while they stacked 100+ shows under their belts as 'the Originalz'. The core three stayed together through the search for its sound, but it wasn't until the end of high school that they met Juandiego Britto and David Burton, the two final members of the group.
"Working together has been great. [...] Going from a 3 piece band to a 5 just felt right."
- Marcos
Over the years the group has seen some amazing opportunities, having opened up for artists like Robin Thicke, Faith Evans, opening up the Kings of the west show at the sap arena in san jose and selling out their first show at Yoshis oakland, starting off their 2020 year. Their music follows influences from early 2000s pop rock, but having five members ensures pull from five different tastes. The more they grow the more they use it to their advantage to write and explore.
the band has been working hard to create new music and content for their fans. In the meantime, The best place to catch what they've been working on is at their live shows, where they blend their music together and rock the stage. They're also interested in acting, picking up little things and learning with each music video they shoot or concept they create. They hope to do more in the future, but in the meantime they've been in the studio working on that new material.
"We are a hard working band and have so many goals and aspirations," says Fernando.
Marcos continued after saying, "We hope to be as big as One Direction, with the longevity of the Beatles or the Rolling Stones. [...] None of us would be where we are today without the love and support from our fans and friends and family. We can't wait for everyone to hear the new music, and to all our new fans, welcome to the family."