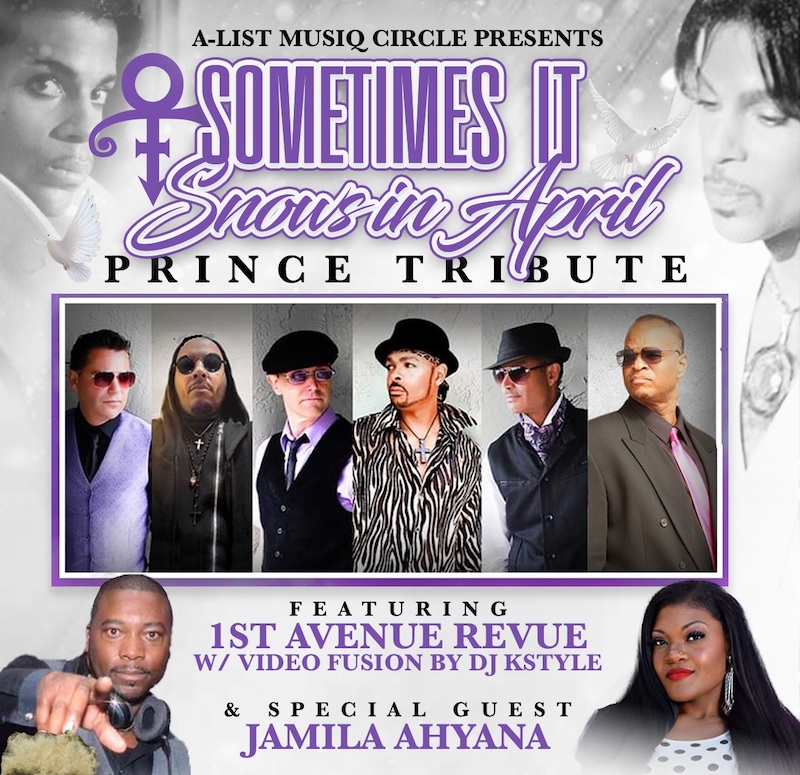 Sat April 22, 2023
Sometimes It Snows in April - Prince Tribute
1ST AVENUE REVUE
Doors: 9:15pm Show: 9:30pm
Join us Saturday night for a special celebration & tribute to the Love, Life & Legacy of "PRINCE" & his Un-timely Passing April 21, 2016 featuring 1ST AVENUE REVUE -Bay Area #1 Prince Tribute Band w/ JAMILA AHYANA & other surprise guest performing all your favorite purple funk jams & hit songs written and produced by Prince.
Also included will be a special audio / visual presentation presented by DJ KStyle, hosted by Alphonso Starr.
Come ready to "PARTY UP" with 1st Avenue Revue as they recreate the Live Purple Funk experience taking you on a journey through the colorful paisley sounds & visual look back inside the beautiful Crystle Ball life of Prince Roger Nelson
Presented by Mark T. Elliott & The A-List Musiq Circle - Your Bay Area's Who's Who Entertainment Network 1st Avenue Revue -Prince Tribute Band is a Tribute to the genius soundscape of Prince Rogers Nelson. The band formed in 2014 purely by the member's adoration of the sound and era that the music was composed in. Attention to musical detail is the primary goal while keeping member's individual style and attire. The members include Lead Vocalist and Band Director Derek Clark. Keyboard and Background Vocalist Rick Dorer. Drummer and Programmer Tony Providence. Guitarist Chris Meek and Bassist and Platinum Producer James "Jae E" Earley. 2nd Keyboardist and Background Vocalist Christian Houston. The Band members have deep roots and connections in the Bay Area music scene. 1st Avenue Revue also won awards in 2019 at the BMA and NCEMA for Best R&B/Funk Band. A musical journey simply to honor the Minneapolis Sound of the Purple Architect.